Stocks mentioned in this report: RumbleOn (NASDAQ: RMBL), Tesla (NASDAQ: TSLA), Carvana (NYSE: CVNA), CarMax (NYSE: KMX), CarGurus (NASDAQ: CARG), Cars.com (NYSE: CARS) and TrueCar (NASDAQ: TRUE)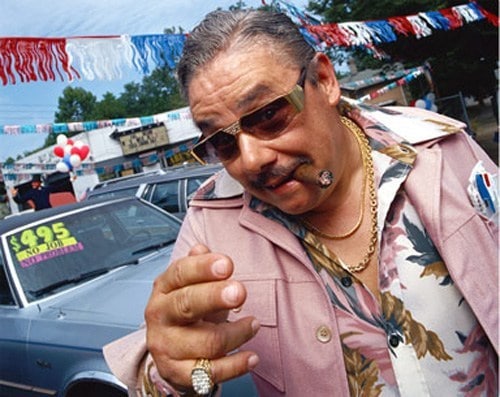 If you are like me, you can feel your blood pressure rising just thinking about buying or selling your car.
That's because buying and selling a vehicle is probably one of the most stress-inducing things a consumer can do.
How will I find a buyer?
Can I trust them? Where will we meet?
How will the money be transferred to my account? Is that check real?
What about the paperwork? Title? Bill of sale, etc.?
And for the buyer, it may even be worse.
Am I getting the best price? Is this car a lemon? Has it been in any accidents? What mechanical issues does it have that the owner is not telling me about?
It can be a nightmare… but it doesn't have to be that way…
$1,500,000,000,000 Annual Pre-Owned Vehicle Sales in the US
That is not a typo.
In the US, there were over 40 million used cars sold in 2018 with an average transaction price of $37,577.[1]
That number has mostly stayed flat over the last ten years, but the average unit price has risen as buyers are purchasing newer and more expensive used cars online.
Even capturing 0.5% of the total $1.5 trillion sales of used cars in America would amount to $7.5 billion!
Now that's what I call a fat top-line industry number investors should definitely be made aware of!!!
Prehistoric Sales System That Is Crying to Be Revamped
The pre-owned vehicle industry is still using outdated processes that are outdated and cumbersome, arguably insecure and take far more more time than would be deemed reasonable to todays' consumers.
Think about how you purchase your airline tickets now. You don't go to a local travel agent and sit at their desk while they look up airline booking data on their computer that they never let you see.
No… you go online and choose one of several airline ticket aggregators (orbitz.com, google flights, kayak, etc.) that automatically searches available seats, flight times and prices, and lets you decide what works best for you.
Once you make your selection, you immediately receive your email confirmation. All done from the comfort of your home computer or mobile device.
Buying and selling a used vehicle should be no different. We are now living in the age of buying and selling online, a transactional method that is already well-tested with other markets or consumer verticals. It is just a matter of time before this system is widely applied to the used vehicle business. For many consumers… it is the second largest investment next to buying real estate or a home.
What we are currently witnessing is an industry that is behind technological trends by at least 10–15 years, in my estimation.
The North American automotive and powersports industries is wide open for a new company to step in… harnessing, leading, and deploying technologies to become the next market disruptor.
And that is exactly what is happening now… Read on and I'll tell you more about a little known start-up that, in my opinion, is going to blow the whole used car and powersports sales market open.
The Pre-Owned Vehicle Market Is Ripe for Change
Ecommerce represented 14.3% — up from 12.9% in 2017 and 11.6% in 2016 — of total retail sales in 2018, according to Internet Retailer's analysis.[2]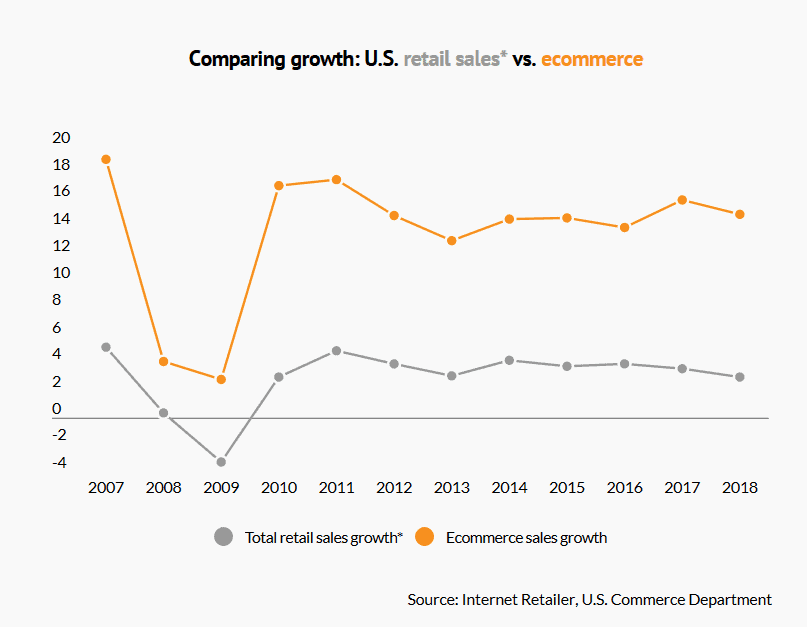 The trend clearly shows that consumer preferences are shifting, as more and more people prefer to shop online.
So why has the car business been slow to get on board with online retailing?
There are a couple of reasons.
Number one is the average transaction price. Buying a car is a high value purchase and consumers have been reluctant to make such a large transaction online. But that is changing…
Tesla Inc. (NASDAQ: TSLA), the electric-car maker, has demonstrated that there are consumers willing to purchase vehicles costing $75,000 or more without having driven them first.[3]
Number two is that car sales are regulated differently in each state. This is also starting to change…
Again, Tesla Inc. has been the rebel business model in this instance. When they first announced direct sales of their cars to consumers, they faced legislative and litigative resistance to their business plan to sell products without utilizing a network of traditional third-party dealers like other auto manufacturers.[4]
But in the end, Tesla Inc. has had major success selling directly to customers, which has helped nudge other car retailers in that direction as well.
This trend is fueling an opportune cultural change specific to online vehicle sales, based purely on data related to consumer behavior and trends witnessed in other sectors.
Online Used Car Sales Are a Reality
Over the past few years — and especially within the last 24 months — internet shopping for vehicles has grown by leaps and bounds. This shift in consumer behavior has spurred many traditional dealerships across the country to reevaluate their business model and web presence, developing their own web sale strategies.[5]
Growth and consumer awareness specific to the online used car category is being driven by new entrants such as Carvana Co. (NYSE: CVNA) and Shift Technologies Inc. (a private company), among others.
Used vehicles, unlike new vehicles, don't have to be sold through franchised car dealers, allowing for a more open market.[6]
And Carvana, which specializes in online used car sales via their website, has capitalized on that. After selling around 44,000 vehicles in 2017, it moved nearly 100,000 in 2018, and investors are putting more money into the company. The stock is up triple-digits since the start of 2019.[7]
Carvana's fully-automated, coin-operated car vending machine
Many consumers already use the internet extensively for their vehicle shopping, spending an average of about 13 hours online researching and browsing models prior to making a purchase, according to a J.D. Power study released this year. That compares to 3 1/2 hours at the dealership, the study of car-buying habits found.[8]
"…automotive executives expect that almost half of all car dealerships will disappear in less than a decade."
[9]

Big auto retailers have taken note of the heavy shift toward digital, and some have invested accordingly.
Lithia Motors, the third largest automotive retailer in the U.S., said in September 2018 it invested $54 million into online used-vehicle startup Shift Technologies, making Lithia the San Francisco-based company's largest investor.
AutoNation announced in October of 2018 it is investing $50 million in Vroom, a private company and online retailer helmed by Paul Hennessy, formerly of Priceline.[10]
"It's getting closer and closer to the point where [customers] can hopefully buy a car from us and never step foot in the dealership."
[11]

The Online Automotive Marketplace Is Totally Fragmented
The fragmented used-vehicle market is chock-full of online startups, non-traditional retailers and old-school dealerships all vying for a piece of the pie, and everyone is focused on meeting car shoppers online right in their living rooms.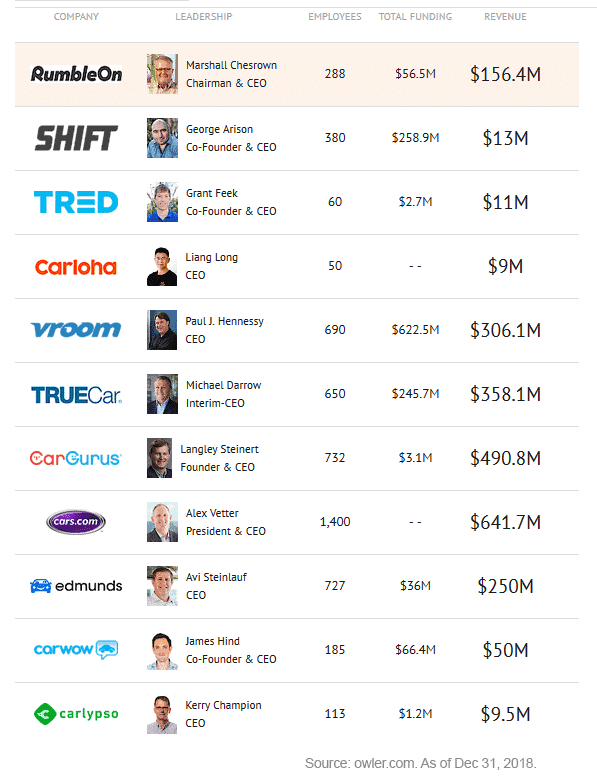 The good news for forward-thinking car dealers and newly emerging vehicle exchange platforms, is that the market is very splintered. This provides opportunities for newly emerging business ventures…
RumbleOn: Disrupting Traditional Supply Chains
As I have outlined above, the used car sales market is ripe for major disruption and I believe that RumbleOn, Inc. (NASDAQ: RMBL) could be very well-positioned to capitalize on these changing market dynamics, while at the same time, opening up opportunity for investors to participate along the way.
Let me explain why I have fallen so hard for this semi-start-up.
RumbleOn IPO'd on the NASDAQ in 2017.
They are an e-commerce company that uses innovative technology to simplify how dealers and customers buy, sell, trade or finance pre-owned vehicles and powersports through their proprietary 100% online marketplace.
Serving both consumers and dealers, RumbleOn makes cash offers for the purchase of users' vehicles.
If a sales transaction is accepted, sellers receive the cash within minutes. Cash offers are part of the enticing business strategy RumbleOn uses to lure customers to the site and get them engaged to participate in listings and offers.
RumbleOn then arranges to have the vehicle picked up from the seller's home.
No dealing with strangers showing up at your door. No worries about getting your payment securely in your bank account.
RumbleOn is modeled as a simple process for both buyers and sellers. On the seller side, a trustworthy handover and cash-in-hand, and for the buyer, the transaction is completed with limited stress.
In addition, RumbleOn also offers financing.
According to the company, they are the only platform that allows consumers and dealers to buy, sell, trade, and finance 100% online. The company is disrupting the old-school pre-owned vehicle supply chain by providing users with the most efficient, timely and transparent transaction experience.[12]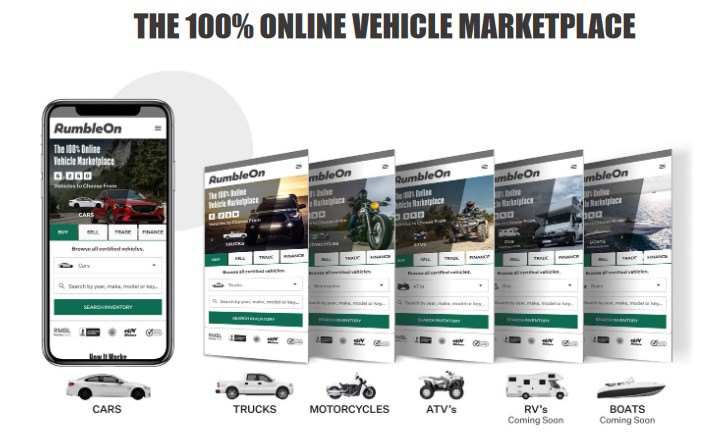 RumbleOn utilizes regional partner dealers in the acquisition of vehicles, as well as to provide inspection, reconditioning and distribution services.
Because the heavy lifting is outsourced and sales are exclusively online, RMBL employees touch no inventory, allowing them to keep operating costs much lower than a Carvana (NYSE: CVNA) or CarMax (NYSE: KMX) model, who need to build out expensive dealer lots and warehouses in order to receive more cars and attract customers.
RumbleOn generates revenue from fees on each transaction.
Their business model is nimble, capital-and-infrastructure-light, with multiple vehicle acquisition and distribution channels.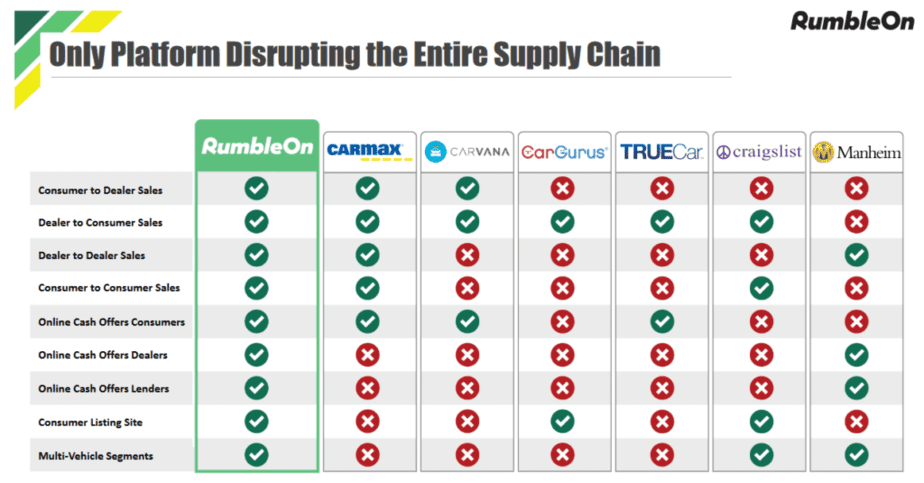 The management team is really what sealed the deal for me.
They have a deep history in auto sales and are serial entrepreneurs.
CEO Marshall Chesrown sold his company to AutoNation 20 years ago and continued to act as president of Chesrown Auto Group until he joined AutoAmerica in 2013. In 2014 he joined the online auto sales website, Vroom.
CFO Steve Berrard co-founded and was co-CEO of AutoNation, and before that was the CEO of Blockbuster Entertainment, and President of Huizenga Holdings Inc.
Another positive note, management is holding a large stake in the company.
Insiders hold 36.6% of the company's shares. In fact, they are purchasing stock on the open market. In the last 6 months, 137,365 shares were purchased AND there were ZERO sales of stock by management.
That tells me that management are believers in the company and in it for the long game.
In May 2019, the company closed a private placement of $9.5 Million in common stock at a price of $5.00 per share.[13]
Another indication that the company is moving in a super positive direction: the short interest is down over 26% as of July 2019.[14]
According to Zacks Equity Research, revenues are expected to be $233.97 million in Q2 2019, up 1,580.8% from the year-ago quarter.[15]
Earnings are still negative though as this maturing company finds its footing and grows.
One thing to note when looking at revenue for this type of business is that it is extremely seasonal and heavily affected by holidays and the weather. Typically, the 4th quarter is the slowest time of year for auto sales.
The company, when compared to its competition, looks to me like a winner in the making:
Low debt
Relative low overhead and employee count
Positive top-line revenue growth
NASDAQ listed
Scalable business model with minimal capital requirements when compared to peers
Seasoned and proven management at the helm
Large insider ownership
Massive $1.5 trillion used car market to tap into
Fragmented market with limited competition further disrupting the way consumers buy and sell autos
Decreased short sell interest
Share price is near the 2017 IPO price
This smells like a recipe for some major upside here, folks.
But don't just take my word for it. The company has garnered lots of recent research coverage in the past few months…
Multiple Analysts Rank RumbleOn as a BUY
B. Riley, FBR: On May 15, 2019 Samseet Sinha sees RMBL as a BUY with a Price Target of $9.00[16]

Craig-Hallum, Capital Group: On May 15, 2019 Steve Dyer sees RMBL as a BUY with a Price Target of $13.00[17]

JMP Securities: On July 30, 2019 Ronald V. Josey sees RMBL as a MARKET OUTPERFORM with a Price Target of $10.00[18]

National Research: On May 15, 2019 Ilya Grozovsky sees RMBL as a BUY with a Price Target of $9.50[19]

Disclaimer: The average one year target price among analysts that have covered the stock in the last year is $10.38. Research information presented is current as of September 3, 2019, and is subject to change depending on reevaluation from the banking firms mentioned above. For example, Zacks Investment Research lowered RumbleOn from a "hold" rating to a "sell" rating in a research note on Saturday, August 17, 2019.
I'm always on the hunt for unique investment opportunities within the capital markets. I seek out hidden gems — companies that have something special and are relatively unknown to the wider-scale investing public.
RumbleOn checks off many of my requirements when looking at small cap investment opportunities. With any new business idea or disruptive business model, there will be bumps along the way, for sure…
RumbleOn (NASDAQ: RMBL) last posted its earnings results on Monday, August 12th. The company reported -$0.52 earnings per share EPS for the quarter, missing analysts' consensus estimates of -$0.37 by $0.15. However, RumbleOn reported a record top-line revenue of $270.18 million during the Q2 quarter, compared to analyst estimates of $233.97 million.
Results for 2Q2019 disappointed on the bottom line, but improved top-line, and improved Powersports gross profit per unit is a positive. Guidance for 3Q2019 likely reflects a period of time for optimizing the business model. I'm optimistic the company could continue to gain traction…
At the time of publishing this article, the closing price for RMBL is US$3.40.
Based on the lowest share price target among analysts, a US$9.00 projection from investment banking firm B. Riley represents a triple or +164% upside based on today's entry.
Today's consumers have certain expectations that are not currently being met within the automotive and powersports industry. This is why RumbleOn is positioned as a standout in the space. As always, conduct your own due diligence before making any investment decisions…
Happy trading everyone!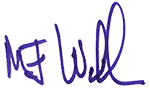 MF Williams, Contributor
for Investors News Service
P.S. To discover more opportunities in the hottest sectors in North America, sign up now to the Financial News Now newsletter to get the latest updates and investment ideas directly in your inbox!
DISCLAIMER: Investing in any securities is highly speculative. Please be sure to always do your own due diligence before making any investment decisions. Read our full disclaimer here.
Published September 2019
---
Sources:
[[1] [https://finance.yahoo.com/news/average-car-prices-more-1-110000010.html, https://www.edmunds.com/industry/press/used-vehicle-sales-hit-record-high-in-2017-according-to-latest-edmunds-used-car-report.html, https://www.prnewswire.com/news-releases/cox-automotive-2018-used-car-market-report–outlook-forecasts-higher-used-vehicle-sales-for-2018-and-a-decline-in-new-car-sales-300618757.html,  https://www.statista.com/statistics/183713/value-of-us-passenger-cas-sales-and-leases-since-1990/
[2] https://www.digitalcommerce360.com/article/us-ecommerce-sales/
[3] https://www.marketwatch.com/story/online-auto-sales-catching-on-with-dealers-2018-12-30
[4] https://www.ftc.gov/news-events/blogs/competition-matters/2015/05/direct-consumer-auto-sales-its-not-just-about-tesla
[5] https://www.buywithvan.com/used-car-business/used-car-industry-trends-predictions-roundup-2019/
[6] https://www.marketwatch.com/story/online-auto-sales-catching-on-with-dealers-2018-12-30
[7] https://www.barrons.com/articles/teslas-shift-online-could-help-carvana-stock-51553536919
[8] Ibid.
[9] https://home.kpmg/uk/en/home/media/press-releases/2018/01/car-buying-will-shift-to-online-finds-kpmg-survey.html
[10] https://www.autonews.com/dealers/sellers-are-adjusting-shifting-expectations-fragmented-used-vehicle-space
[11] https://www.autonews.com/dealers/sellers-are-adjusting-shifting-expectations-fragmented-used-vehicle-space
[12] RumbleOn investor deck available on their website
[13] https://www.businesswire.com/news/home/20190517005523/en/RumbleOn-Announces-Closing-9.5-Million-Common-Stock
[14] https://financerecorder.com/is-buying-rumbleon-inc-class-b-nasdaqrmbl-having-lower-short-interest-a-winning-strategy/
[15] https://finance.yahoo.com/news/analysts-estimate-rumbleon-inc-rmbl-143302785.html
[16] Available from RumbleOn IR, B. Riley, FBR, On May 15, 2019
[17] Available from RumbleOn IR, Craig-Hallum, Capital Group LLC, May 15, 2019
[18] Available from RumbleOn IR, JMP Securities, On July 30, 2019
[19] Available from RumbleOn IR, National Research, On May 15, 2019