You've gotta' love inflection points. Looking back, of course, they're easy to spot. But a bit tricky to ultimately predict, for most of us. But when you do get it right—Bam!
Which brings us to today's topic, Smart Cities—the way of the future...
Pipe dreams? Fantasy? Break out the spandex jackets? Could this be nothing more than a trip in the Wayback Machine of our youth. I think not, this is happening now! [1]
Along with more than a decade of building the world's greatest cities, we're on the edge of the 5G network rollout—the technology that will enable an unimaginably massive wave of connected devices and services. In other words, an inflection point, decades in the making, about to become reality here and now.
In the investment universe, inflection points are without exception, singular opportunities to make fortunes. Think internet in 1990. That's why I'm so pumped up about Smart Cities and 5G technology, and why I've been building my research file on potential investment targets for the next few years. But more about that later on...
Just What Are Smart Cities, Anyway?
Cities around the globe are home to more than half of the world's population, and they are expected to add another 2.5 billion new residents by 2050.
They face increasing environmental pressures and infrastructure needs—and growing demands from residents to deliver a better quality of life, and to do so at a sustainable cost. [2]
A Smart City is an urban area that uses different types of electronic data collection sensors to supply information, which is used to manage assets and resources efficiently.
This includes data collected from citizens and devices, that is processed and analyzed to monitor and manage traffic and transportation systems, power plants, water supply networks, waste management, law enforcement, information systems, schools, libraries, hospitals, and other community services. [3]
Smart Cities put data and digital technology to work with the goal of improving quality of life. More comprehensive, real-time data gives city-wide agencies the ability to watch events as they unfold, understand how demand patterns are changing, and respond with faster and lower cost solutions.
Imagine the Internet of Things (IoT) jacked up 100 times current bandwidth limitations. That's what happens as we bring 5G into the equation. And it's happening now.
What Are the Big Benefits of a Smart City?
As cities around the world get smarter, they become more livable and more responsive—and today we are seeing only a glimpse of what technology could mean to the future of the urban environment. [4]
McKinsey Global Institute's June 2018 report entitled "Smart Cities: Digital Solutions for a More Livable Future" provides substantial detail and analysis on the subject.
The report makes clear the fact that, after a decade of experimenting with various technological solutions, cities have come to the critical realization that their thinking must start with understanding citizen needs—first and foremost.
That understanding will drive application development and prove to be the underpinning of Smart City progress and success going forward. In other words, it's not about technology, it's about people.
"Smartness" is not just installing digital interfaces in traditional infrastructure or streamlining city operations. It is about using technology and data purposefully to make better decisions and deliver a better quality of life based on people's feedback.
Broadly speaking, the benefits of a Smart City can be broken out into several categories including mobility, security, healthcare, energy, water, and waste. Within those categories, a spiraling array of goods and services that touch every point of daily life offers tons of new business opportunities.
And while McKinsey (noted above) estimates urban governments will control 70 percent of the Smart City infrastructure, they also forecast that 60 percent of the investment financing and development of that infrastructure will be private sector. Wow, that's an awful lot of investment opportunity up for grabs.
The returns go far beyond money. McKinsey estimates that, in a Smart City of 5 million people, some 30 to 300 lives will be saved each year, crime reduction of 30 to 40 percent will be achieved along with 8 to 15 percent lower disease burden, 15 to 30 minutes cut from average daily commute times, 25 liters of water saved per person daily, and 20 to 35 percent faster emergency response times.
Smart Cities open up new business opportunities—and not only for technology firms. They'll also reshape value chains and force business to adapt.
Business and city leaders will need to adapt and to address key questions: How does the evolution and future of Smart Cities affect my current offerings? What kind of value shifts and opportunities will this create across my industry? And what type of approaches and capabilities does it take to succeed in these markets?
Current players in multiple sectors have already started to shape their existing product and service lines to suit ever-changing urban markets. Consider drugstore chains that are becoming telemedicine providers and real estate developers that are integrating automation systems, sensors, and mobility options into their properties. The smarter the city, the more new super-cool applications people will invent. That's a win/win scenario.
Rolling Over the Horizon: Autonomous Driving
OK, I admit it. Self-driving vehicles and Transportation as a Service (Taas), or Mobility as a Service (Maas) have been my pet subjects for a few years. That's partly because I have a large audience in automotive and insurance, as well as in finance and investment.
I bring this up here because I think you can easily see how Smart Cities will facilitate more rapid adoption of the next generation of transportation—a model that includes electric drive trains replacing internal combustion, ride sharing, vehicle subscription services, last mile technology such as scooters (see my recent article, Investors are Betting on E-Scooters and Micromobilty in the RideShare Economy) and transportation services packaging, among other innovations.
Just as they will accelerate adoption of a new transportation paradigm, Smart Cities will also shape multiple other sectors. That's why it's worth visualizing how a widely deployed, robust sensor network mounted on the super-fast, zero latency network that 5G will ultimately provide, could fundamentally disrupt the way we move goods and people around.
Autonomous vehicles are not yet fixtures on the road, but carmakers are already adding features such as real-time road navigation and smart parking to the current generation of vehicles. Commercial trucks, too, will need to be able to connect to systems such as load pooling and urban consolidation centers.
Although it is posting explosive growth in cities worldwide, e-hailing has relatively limited penetration with certain audiences—and new vehicle concepts could help e-hailing break through with them. 5G, with its massive bandwidth, will make this entirely doable and deliverable.
As cities continue to get smarter, mobility has become a much more crowded playing field, with companies from different industries competing for a market with rapidly shifting value.
Customer-facing mobility platforms such as Lyft (NASDAQ: LYFT), Uber (NYSE: UBER) and Loop (TSX-V: LOOP / OTCQB: LPPPF) are big bets on the future; and now traditional automakers and even public transit operators are entering this space by offering multimodal platforms or their own ridesharing services.
Several major automotive and new start-ups are launching their own on-demand services using custom-designed fleets of minibuses. Into the future, how automakers will respond when autonomous transportation services eventually break through remains to be seen. They may make and sell the required fleets, operate them as a service for other companies and cities, or successfully position their own mobility platforms.
The breadth and depth of the change in mobility and the impact those changes will have on the urban landscape could be dramatic with wide-reaching spinoffs. For example, land values are likely to shift as cities become smart, affecting real estate in multiple ways. Some formerly congested, polluted, or crime-ridden areas could become more livable, while new transit options could raise values in suburbs and exurbs.
A Healthier Place to Live
A few years back I had the opportunity to participate in an Israeli-based project involving passive sensors, cellular technology, and AI to deliver in-home elder care. The system used, among other things, motion detectors to monitor a patient's movements in and around their home.
An Artificial Intelligence (AI) or learning program was designed to learn the patient's patterns of movement, and any significant change in those patterns would send up a flag.
While simple and elementary in its form, the project represented the early stage of health care delivery within a Smart City environment, showing how a broadly disseminated, robust system of sensors tied together on a zero-latency network, and feeding data into machine learning and AI facilities, will enhance health care.
Big, Big, Big Data
The massive amounts of data generated by any future Smart City will certainly encourage machine learning and AI in multiple application settings.
Crime prevention, for example, using predictive analytics will reduce harm by mitigating crime prior to events—Division of Pre-Crime except without the floating humanoids. [5]
In fact, it's already happening. The New York City Fire Department uses data mining and predictive analytics from 7,500 factors across 17 different city-agency data streams to assign fire risk scores to the one million-plus buildings across the five boroughs. By doing so, the city hopes to preemptively reduce the 3,000 major building fires that occur each year. [6]
5G Will Be Transformational
Of course, all of the data generated by the exploding IoT within a Smart City requires bandwidth. That's where 5G comes in—which is 100X faster than today's cellular network.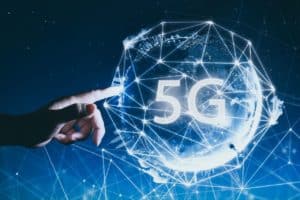 With the rollout of 5G now underway, the demand for supporting infrastructure appears to outstrip our ability to keep pace. Which is why I like the 5G component of Smart City investment. That, and the fact that it's here and now.
Mainstream global deployment of commercial 5G networks is underway, and the first 5G smartphones are slated to arrive already this year. China Telecom Group estimates a capex of $280 billion through 2030, and US capex in 5G infrastructure is expected to hit $1.2 trillion by 2035.
While in its infancy, AT&T (NYSE: T), which works with cities on Smart City initiatives, has launched 5G services in 12 cities in late 2018, and is adding it this year to Las Vegas, Los Angeles, Nashville, Orlando, San Diego, San Francisco, and San Jose.[7]
You need to understand that 5G is not simply an extension of 3G and 4G. Instead, it is a transformative ecosystem that includes a heterogeneous network that integrates 4G, Wi-Fi, millimeter wave, and other wireless access technologies. It combines cloud infrastructure, a virtualized network core, intelligent edge services, and a distributed computing model that derives insights from the data generated by billions of devices.
With new 5G speed and bandwidth, we will be moving from a user-centric world to one of massive machine-type communications where the network will move from enabling millions to billions of devices—an era that will connect these devices intelligently and usher in the commodification of information and intelligence.
The Inflection is Upon Us
There's no doubt that Smart Cities are coming around the world, and that the development trend will be long and strong, with unimaginably large upside from an investment perspective.
Of course, timing is of the essence, as always. In the short to medium term, the demand for 5G infrastructure may offer the best opportunity for investors to see exceptional returns. The fact is that Smart Cities really can't deliver anywhere near their potential benefits without the bandwidth 5G delivers.
With the upcoming 5G rollout already in play, we can all anticipate an acceleration along the growth curve going forward, and continued strong demand for those who can provide 5G infrastructure.
The high level 30,000 foot view: the evolution of Smart Cities is a transformative trend that will continue to spin off a plethora of investment opportunities, so it's well worth your while tuning into that channel.
As for the here and now, I think 5G is likely the timeliest target, which is why I'll be putting my money on the 5G square this year. Stay tuned, my friends.

Blake Desaulniers, Contributor
for Investors News Service
P.S. To discover more opportunities in the hottest sectors in North America, sign up now to the Financial News Now newsletter to get the latest updates and investment ideas directly in your inbox!
DISCLAIMER: Investing in any securities is highly speculative. Please be sure to always do your own due diligence before making any investment decisions. Read our full disclaimer here.
DISCLOSURE: LOOPshare (TSX-V: LOOP/ OTC: LPPPF) mentioned in this article is a Blake Desaulniers portfolio holding. Shares were purchased in the open market.
---
Published May 2019