It's no secret I am big on technology.
Technology is one of the few select sectors that is absolutely embedded in our future and has historically driven business growth and profits to investors over time.
In my opinion, any smart stock market investor should be tech-focused going forward, now more than ever. My analysis shows a rebound could be driven by two red-hot tech markets: 5G and the tie-in to the Internet of Things (IoT).
Both technological breakthroughs have had a hard time getting their footing over the last number of years after first struggling through the COVID pandemic and then, most recently, the market correction which has taken investors across the board for a -25% haircut (or worse in some cases.)
According to CNBC, this was the worst fall in markets in the past 50 years.[1]
That's ok though as technology always moves forward. Technology across many platforms and sectors is always constantly advancing, and in my opinion, will win in the end. Just look at the many technology companies that had rough starts but later became enormous success stories.
Take Apple (NASDAQ: AAPL), for example. Did you know the former owner and co-founder Steve Jobs sold his VW bus to finance the manufacturing of the company's first product? Look at the company now! Today it has the highest revenues of any other tech company in the world.[2]
Or look at Google (NASDAQ: GOOG). That company started out as a university software project developed by two students. Interestingly, they tried to sell the technology for $1 million and were turned down.
But that didn't stop them! They went on to form their own company using their novel search engine software that now has a market value of over $863 billion![3]
These are only two examples of the hundreds of success stories in the tech sector. While the markets might be down, tech lives!
And what I like most about technology is the fact that new opportunities are always being created. The space is vital and fluid with almost boundless potential for big gains.
4 Market Forces to Watch
The stage is now being set for what my research shows to be a once-in-a-generation money making opportunity. Four market forces are in motion that could cause explosive market growth over the next 10–15 years.
1. COVID is no longer controlling our lives.
2. The capital markets are searching for a new footing and investment opportunities.
3. There is an expectation of a new bottom or established baseline in the markets being called soon. We are so close! Now is the time to consider buying discounted tech stocks.
4. The armed conflict in Ukraine is beginning to sputter… showing signs of a possible end sooner rather than later based on Russia's openness to in-person talks with the US on a nuclear arms treaty. This is in addition to Ukraine advancing and retaking control of key battleground areas. This is my take, and you might have another or opposite position.[4]
As these 4 market forces begin to move to a resolution it is my opinion that 5G and the IoT (Internet of Things) could become a combining force to create a synergistic tidal wave of opportunity for investors in the near future.
Potential Markets Worth Trillions of Dollars
Estimates for the worth of the IoT market range from $1 trillion all the way up to $4 trillion by 2030![5],[6]
Based on my research, I don't think those numbers are so far-fetched as I'll explain later in this article...
Add to this the fact that the 5G market is already booming!

In 2021, the global 5G services market size was valued at over $48 billion! CAGR for the 5G market is expected to top 56% from 2022 through 2030.[7]
Getting in on this generational 5G investment opportunity now, very well could reap rewards for investors for many years to come. We are literally sitting on the edge of a technological paradigm shift the likes that modern civilization has not seen since the invention of the electric light bulb over 150 years ago.
Yes, it's that big!
The impact of these two united technology breakthroughs cannot be underestimated, and smart investors could see green in a big way by betting on the future!
My entrenched research has sifted out what I believe are 5 stellar leaders of the pack in the Internet of Things (IoT) sector that I think you will find most interesting.
Continue reading to learn more about the Internet of Things (IoT) and why 5G is the rocket fuel that will drive IoT to the moon in the next few years.
What Is the Internet of Things (IoT)?
In short, an IoT device, sometimes also called a smart device, is a connected device that monitors its surroundings and sends data to remote servers for processing via a reliable, fast and low latency internet connection.
(This internet connection is the missing link that 5G wireless provides. I'll discuss this further in the article).
The data is then processed and analyzed by artificial intelligence (AI) software which sends instructions to other devices to run automated programs or send alerts to enable the end user to make decisions on next steps to be taken.
IoT could become a megatrend that will be responsible for some of the greatest technological wonders we have been promised over the past few years including self-driving cars, autonomous manufacturing robots, and remote medical devices that allow doctors to diagnose patients and even carry out surgeries remotely.
However, we desperately need 5G new technology speed and ultra-low latency in order to achieve this on a wireless network.
FUN FACT: By the time you finish reading this sentence, more than 23 billion connected IoT devices around the world will transmit over 430 trillion bytes of data communications across applications in smart cities, transportation systems, medical operations, precision agriculture and industrial environments, allowing us to access critical information instantaneously.[8]
With 5G wireless technology enabled, the billions of smart devices already in existence become a growing ecosystem of connected devices that could be talking to each other in real time.
The fact is you probably interact with several IoT devices today without even thinking about it.
The illustration above is a good example of some of the 'smart' things you probably use in your life already. There are thousands of such devices that have been introduced recently that add automated energy savings, security and personalization to one's home.
Video-embedded security doorbells, smart speakers, smart electrical plugs, smart dimmer switches, smart thermostats and smart home locks are a few of the devices that have made their way into our homes already. This is just the start…
I want to share my experience with one IoT device to show some of the capabilities of these smart devices.
The Amazon Ring video doorbell was one of my first IoT devices I purchased, and I have to say, it has been a game changer from day one.
The device is a small box that mounts outside your front door. It has video and audio capabilities and is connected to the internet via my Wi-Fi connection in my house. With my smart phone or laptop, I am able to connect to that camera to virtually answer the door from anywhere in the world.
It is absolutely brilliant when I need to give instructions to the FedEx driver where to deliver my package when I am not physically in the house to receive it.
Or when I need to tell my friend or neighbor that I am running a few minutes late and will be home shortly.
I can also choose to not 'answer' if I see a sketchy person is at the door. It still allows me to monitor their actions outside my home and assess if they are a security risk or not.
The video stream is constantly being analyzed by Artificial Intelligence (AI) and as an added bonus alerts me when someone is near the camera but has not rang the doorbell.
Video data is stored remotely on cloud servers for seven days, allowing me to review who rang the door in case I missed someone.
The Ring video doorbell shows how far limited consumer level IoT technology has come in recent years — an internet connected video door camera with two-way audio, AI video analysis and alerts connected to my mobile phone — accessible anywhere in the world, all for the price of eating lunch out for a week.
I find this simply mind-blowing and am excited about even more technological advancements on the way thanks to 5G implementation that is currently being rolled out.
I have since added smart plugs and dimmer switches that are connected through the internet to my mobile phone. For me, the convenience of managing plugged-in devices and changing lighting scenarios is priceless.
Many consumers agree. The number of IoT devices is growing exponentially. In fact, Ericsson predicts that this year alone there will be about 29 billion connected devices globally.[9]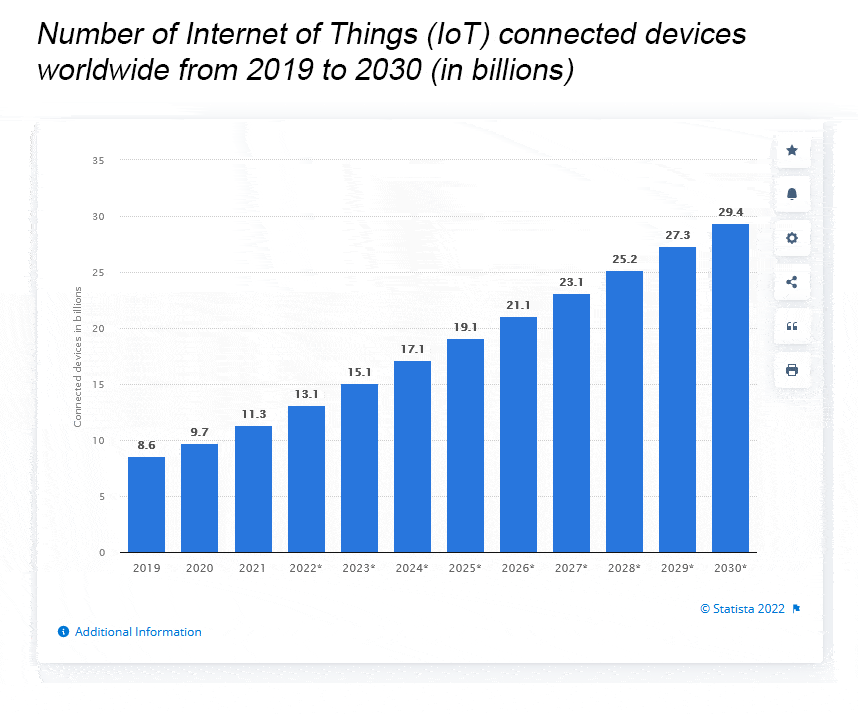 Speed Is Why 5G Is the Missing Link to IoT Success
IoT devices have one critical need — the need for speed.
via GIPHY
They are dependent on a solid, reliable and super-fast internet connection with zero or close to zero latency (lag).
Latency, or how long it takes for data to be sent and received, is critical. Devices in self-driving cars, for instance, have to be connected to a very low latency (or super-fast) internet connection to process incoming sensor data in order to make critical life-dependent decisions in real-time.
5G is the holy grail to IoT's internet connection requirements, and here's why.
5G data-transfer speeds are multiples faster than any previous technology seen until now.
For the geeks out there reading this article, here are some mind-boggling stats of 4G vs. 5G wireless connections:
10X decrease in latency, delivering latency as low as 1 ms (millisecond).
10X connection density, enabling more efficient signaling for IoT connectivity
10X experienced throughput, bringing more uniform, multi-Gbps peak rates
3X spectrum efficiency, achieving even more bits per Hz with advanced antenna techniques
100X traffic capacity, driving network hyper-densification with more small cells everywhere
100X network efficiency, optimizing network energy consumption with more efficient processing
IoT devices and increased adoption will greatly benefit from the massive increases in speed and reduced lag time that 5G speed enables.
5G brings increased network reliability and stability to all connected devices. This is a critical point, especially for connected devices such as security monitoring, assisting with all medical departments including imaging and real time procedures, driving the autonomous car revolution, to ordering your groceries in real time right from your fridge. This all depends on super-fast, real-time 5G connectivity and updates that our current 4G network cannot provide today. This is the future!
In short… the buildout of 5G is essential to future IoT development and the future devices born to operate seamlessly and without hesitation. 5G is the root of what is destined to come!
Up until the introduction of 5G wireless networks, IoT devices relied on relatively slower connections and having to manage lag, which inhibited high data use such as video or real-time data analysis that is now possible with 5G speed & technology.
Now, the future possibilities are wide open for what and where IoT devices can perform.
How Big Will 5G and IoT Markets Be?
Quite frankly, the 5G and IoT markets are already huge, and the starting gun has just been fired!
The global Internet of Things (IoT) market size was valued at over $384 billion in 2021.[10]
By all estimates, the global Internet of Things (IoT) market is expected to reach well over $1 Trillion by 2028 with CAGRs estimated in the range of +25%.[11]
Almost all sectors across the board will be affected by the uptake of IoT devices. Think healthcare, cybersecurity, software, hardware, edge computing, 5G infrastructure, industry and factories, robotics, supply chain resilience, and the list goes on...
The fact is, most businesses will likely have to consider implementing some form of IoT device or smart integration as IoT becomes critical for future success and advancement in many business ventures.
We are literally at the onramp of this technological paradigm shift.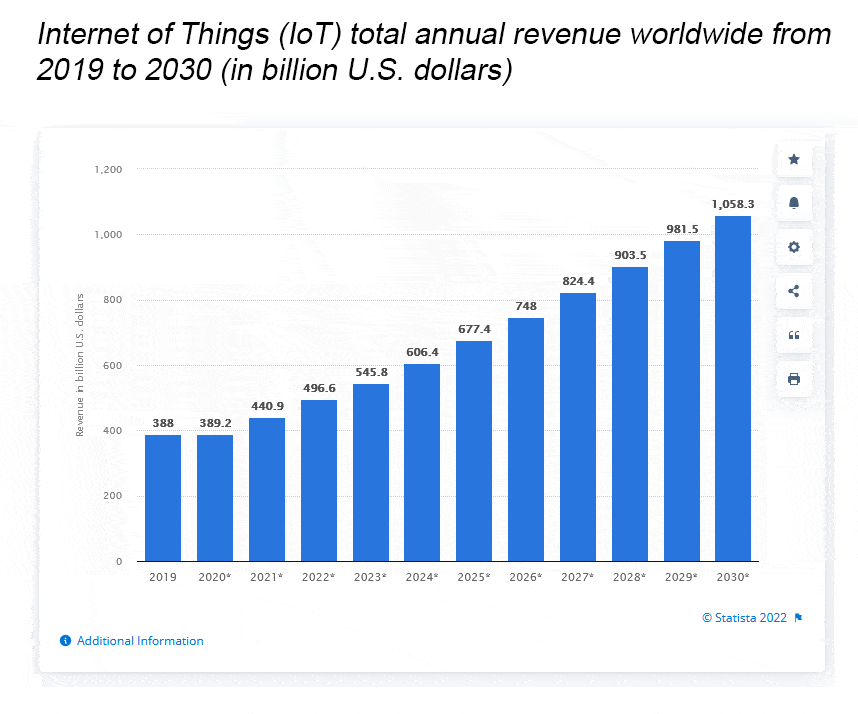 Now let's get into some of the gems I found to start your own research.
5 Top IoT Stocks
When I first started my research in IoT, I was shocked to see companies killing it during a bear market. I'm talking about +100% gains in the past six months!
The fact is these companies should not be overlooked by any smart investor looking to beef up their portfolio. The companies I found are already making solid gains for investors, and I do not see an early end to that trend given all the estimates for IoT market growth.
In addition, these companies are showing real promise coming out of the gate with positive gains after such a serious market correction. Most are in positive territory for the year.
The market demand is so huge, these companies have nowhere to go but up, in my opinion.
Without further ado, here are my top 5 IoT and 5G stocks to consider adding to your portfolio today.
1. Impinj, Inc. (NASDAQ: PI)
Impinj, based in Seattle Washington, specializes in the development and sales of RFID (Radio Frequency Identification) devices used by companies to track assets, shipments and inventory control.
The company boasts producing over 60 billion RFID tags and 3 million RFID readers in over 80 countries. Their customer base is a solid list of top international companies.
Second quarter financial results show the company is profitable, beating or exceeding guidance. The company is up over +100% for the past 12 months.
One of my favorites on the list.
2. ON Semiconductor Corporation (NASDAQ: ON)
Headquartered in Phoenix, Arizona, ON Semiconductor is a technology company that designs and develops IoT sensors used in electric vehicles (EVs), industrial robotics, 5G and cloud servers, medical devices and for the aerospace and defense industries.
The company boasts a solid history of beating Wall Street earnings estimates and was added to the S&P 500 index in June of this year.
Second quarter financials did not disappoint with the company realizing record profits. Revenues were up over +25% YoY.
A well-diversified company in the IoT space with solid revenues and profits. What more could an investor ask for?
3. CommScope Holding Company, Inc. (NASDAQ: COMM)
With over 45 years of experience, CommScope specializes in 5G broadband hardware, cables, panels, enclosures and connectors. This is a solid 5G play as this is one of the companies that provides the critical physical components used in installing 5G networks being installed nationally and internationally.
As 5G network installations are further ramped up this year and next, watch for revenues to continue to grow.
Second quarter revenues were up +9% YoY, and the company reported they ended the last quarter with available liquidity of about $900 million.
5G installations are just getting started, and I'm betting companies like CommScope will be one of the winners in the space.
4. Digi International Inc. (NASDAQ: DGII)
Based in Minnesota, Digi International is a provider of business and mission-critical IoT products, services and solutions.
Digi's customer list shows they have broad vertical expertise in energy, transportation, healthcare, agriculture, industrial and consumer segments. The company holds over 160 patents in the IoT space.
The company's stock is up a whopping +44% over the past three months. Year over year, net income per share increased +33%, adjusted EPS increased +80% and EBITDA increased +82%.
I expect to see this company continue to grow as demand for IoT devices increases.
This company should be on everyone's watch list, at a minimum.
5. Apple Inc. (NASDAQ: AAPL)
Apple stock continues to be a strong contender in any smart investor's portfolio.
The company has weathered the recent market correction much better than its FAANG counterparts. The share price is down about -8% for the year.
Consumer demand is being replaced by the enterprise market, sending the company's installed base of all active devices to a record high in the 3rd quarter.
Apple continues to see strong demand for its 5G enabled iPhone 14 models, and I expect this to only continue to increase as 5G networks come online in more regions of the US.
The company holds a huge cash balance and recently announced better than expected 3rd quarter results.
The stock is a solid play in 5G as well as in the IoT space and should be considered as a long play.
An Investor's Dream: The Combination of 5G and the Internet of Things
Listen folks… newly discovered opportunities such as these that are well positioned in the tech space do not come along very often. I've been involved in the capital markets for well over 20 years and can say from my experience this is a mega movement that should not be ignored nor overlooked.
I believe you will be literally kicking yourself in the pants a year or so from now as the stock prices of these companies could rocket up as 5G and IoT market share grows.
Take an in-depth look at the companies I have presented here, and feel free to look for other opportunities in the IoT and 5G categories by doing your own research today… I do not think you will find anything better!
MF Williams, Contributor
for Investors News Service
P.S. To discover more opportunities in the hottest sectors in North America, sign up now to the Financial News Now newsletter to get the latest updates and investment ideas directly in your inbox!
DISCLAIMER: Investing in any securities is highly speculative. Please be sure to always do your own due diligence before making any investment decisions. Read our full disclaimer here.
---
Published September 6, 2022
Updated October 4, 2022