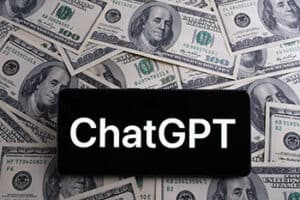 I don't know about you, but I have been absolutely floored by the amount, variety and quality of artificial intelligence apps that have been made public over the past few months.
Everything from video editing, image editing, text generators, video script generators, and social media post generators are now publicly available and changing the way we are thinking about traditional business tasks.
But hands down, the star of the show is OpenAI's ChatGPT app that was first released in November 2022.
The application has literally slammed the tech giants with a sharp right hook to the jaw and stormed center stage.
Tech giant Google has declared a "code red emergency" and CEO Sundar Pichai called for immediate action and redirected some teams to focus on building out AI products ASAP.[1]
Chatter on the internet is bringing up the impossible thought that ChatGPT could one day replace Google's search engine!
AI has become THE disruptive technology that looks to potentially knock tech giants on their ass if they don't move quickly.
Nimble investors need to be looking for the next opportunity in the fast-moving market space of AI now. There really is not a minute to waste in starting your research.
Read on and I'll explain more about ChatGPT, AI and my favorite companies that are leading the charge in the new and exciting frontier of artificial intelligence.
What Is ChatGPT?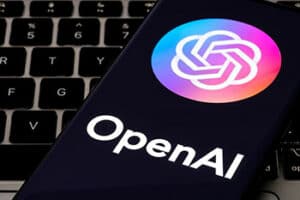 ChatGPT is an AI chatbot tool that has been fed an enormous amount of text data. The application can tap into this vast wealth of stored knowledge to provide answers on just about any question or written task.
The application was created by San Francisco-based tech lab OpenAI (Private). The company was founded in 2015 by current CEO Sam Altman as well as Tesla's (NASDAQ: TSLA) Elon Musk and other big-name investors such as Peter Thiel and LinkedIn co-founder Reid Hoffman. Musk left OpenAI in 2018 to focus on Tesla.
Microsoft (NASDAQ: MSFT) was an early investor in the company putting up a whopping $3 billion beginning in 2019.[2] That investment by Microsoft is already reaping huge returns for the company as they now have a massive advantage in the lucrative search engine market.
Microsoft's search engine Bing is now integrated with ChatGPT. Users can search for anything and instead of getting thrown a list of a thousand websites that might have the answer to their query, they are now presented with the written answer directly on their screen.
No more clicking on a hundred links hoping that one will have the answer you are looking for.
This search tool is a potential Google killer and a direct threat to their core $149 BILLION search business!
Let me get geeky for a minute and get into the basic mechanics of ChatGPT (Chat Generative Pre-trained Transformer) software.
ChatGPT is a generative AI software application that uses a machine-learning technique called 'reinforcement learning from human feedback' (RLHF) to emulate human-written conversations based on a large range of user prompts.
This kind of software app is better known as an AI chatbot.
The ChatGPT app learns human language by reading hundreds of thousands of pages of text scraped from across the internet including online encyclopedias, books, academic journals and blogs.
The application then digests and catalogs this data which it then uses to respond to a seemingly limitless number of topics.
More than a million people engaged with ChatGPT within the first week of its public launch on November 30, 2022.[3]
Users were literally left in awe of the chatbot's natural human language responses. Many users reported the feeling of having an actual conversation with a real human being.
I would recommend you take a few minutes to watch CNBC's report on "Why OpenAI's ChatGPT Is Such A Big Deal" below. It's a great summary of what exactly ChatGPT is and what it could mean for business and society in the future.
Forget the days of Microsoft's infamous bouncing paper clip, Clippy, that drove everyone crazy by popping up at all the wrong times and interrupted workflow.
ChatGPT produces super high-quality humanistic responses in real-time and only at your request.
The secret to ChatGPT's explosive popularity is that the application is continuously learning and evolving as more data is fed into the system. This allows ChatGPT to become increasingly accurate and versatile over time and to continue to deliver high-quality results for a wider range of inquiries.
OpenAI is now working on a more powerful version of their ChatGPT app called GPT-4 which is set to launch sometime this year.[4]
When you have time, try out the ChatGPT app. I think you will agree we are now entering a whole new world where science fiction meets reality.
My Followers Already Knew About AI Years Ago!
My followers know that I am a big proponent of investing in technology and especially technology that is still in its infancy.
I first brought AI stocks to the attention of my readers back in February of 2019 in this article: The Future Is Here: Investing In Artificial Intelligence Stocks. If you haven't read it, it is still a good and relevant read on the hot technology that is being unveiled now.
This could very well be the year that early investors in artificial intelligence (AI) will begin to see the fruits of their patience and realize enormous gains.
Subscribe to Financial News Now and be sure to follow FNN on social media to ensure you are seeing my latest articles!
AI Markets Are Exploding!
The global artificial intelligence (AI) market size was estimated at $119.78 billion in 2022, and it is expected to hit almost $1.6 trillion by 2030 with a registered CAGR of 38.1% from 2022 to 2030.[5]
Grandview Research is calling for global revenue forecasts in 2030 to hit over $1.8 trillion![6]
Artificial intelligence (AI) and ChatGPT are rapidly transforming many industries and are expected to have a significant impact on the global economy in the coming years.
Here are a few examples where the technology is disrupting traditional methods of doing business:
Customer Service and Support: ChatGPT can be used to power chatbots, which can respond to customer inquiries in real-time, providing quick and accurate answers to customer questions. This can improve the customer experience and reduce the need for human customer support staff.
Content Creation: ChatGPT can be used to generate articles, summaries, song lyrics, poetry and even product descriptions in a matter of seconds. This makes it a valuable tool for companies that need to produce large amounts of content quickly and efficiently.
Healthcare: ChatGPT can be used to support healthcare professionals by providing real-time information about medical conditions, treatments and procedures. This can help healthcare professionals formulate more informed and accurate diagnoses and treatments.
Finance: ChatGPT can be used to provide financial advice and recommendations to customers. This can help financial institutions improve customer satisfaction and reduce the workload for financial advisors in the firm.
Retail: ChatGPT can be used to provide product recommendations and assist customers with online shopping. This can improve online sales and the customer experience, while helping retailers increase sales, customer loyalty and repeat sales.
We have only touched the tip of the iceberg here. As the game-changing technology continues to evolve and more data is fed into the ChatGPT system, it will have a growing impact on a wider range of industries and use cases.
Companies that are early adopters of the technology could realize higher productivity, increased market share and competitive strength. As a result, investors could see increased company profits and better returns on their investments.
Investing in Companies Using ChatGPT and AI
AI and ChatGPT are red-hot investment opportunities, and any intelligent investor should consider adding a few shares to their portfolios.
5 Reasons Why You Should Consider AI and ChatGPT Investment Opportunities
High growth potential: AI is a rapidly growing field, and many companies in this space are experiencing significant revenue growth. This can translate into higher returns for early investors.
Wide-ranging applications: AI has the potential to be applied to a wide range of industries from healthcare to finance to retail. The applications in industry are virtually limitless.
Advances in technology: AI is constantly evolving, and new breakthroughs are being made all the time.
Competitive advantage: Companies that are early adopters of AI are likely to have a competitive advantage over their competitors. This could lead to increased market share, higher profits, and better returns for investors.
Long-term growth: As AI continues to mature and become more widely adopted, the market for AI solutions is expected to continue to grow over the long-term.
While most companies specializing in AI remain in the venture capital stage, there are plenty of public AI companies for those interested in positioning themselves in the space.
Here are just some of the companies that are leading the AI revolution. This should be a good starting point for your personal research as an intelligent investor.
6 Companies Leading the AI Revolution
1. NVIDIA Corporation (NASDAQ: NVDA)
NVIDIA has been a long-time favorite of mine. If you had followed my recommendation back when I called this company back on February 3, 2019 when the stock was at $37.04.
The company continues to outperform with a continued solid future ahead in my opinion.
The company is a leader in GPU-accelerated computing and AI, and has been at the forefront of developing AI technologies and solutions. Internet and tech companies buy its processors for cloud computing. NVIDIA's AI chips also are helping to guide some self-driving cars in early trials.
The company has experienced headwinds over the past year with the implosion of the crypto markets. The GPUs produced by NVIDIA were the go-to board for mining crypto currency. With the crash of those markets, crypto miners have stopped buying new GPU boards and flooded the market with used boards that gamers can pick up at a fraction of the cost of new ones.
As inventories of used GPUs cycle through the markets, NVIDIA should start to see sales pick up again by 2nd quarter this year by my estimation.
Nvidia stock is up over 4% over the past six months, closing Monday, February 13, 2023 at $217.88. If you had followed my recommendation when I first called out this company back on February 3, 2019 when the stock was trading at $37.04, you would be up an impressive +488% to date.
2. Alphabet Inc. / Google (NASDAQ: GOOG)
Google is one of the largest and most influential technology companies in the world with a strong presence in AI and machine learning. The company has invested heavily in both, developing cutting-edge products and services.
While the company has been thrown back on its heels by ChatGPT, they are certainly not out of the race. Google is set to launch its answer to ChatGPT in the first half of 2023.
Known as Bard AI, the chatbot has been under development for the past two years and entered the testing phase in early February 2023 (coincidentally shortly after a 'code red' was announced by the company).
Ultimately, the company plans on incorporating the AI technology into its Google Search tool like Microsoft's Bing is already doing.
Bard is built on Google's Language Model for Dialogue Applications (or LaMDA). Google CEO Sundar Pichai has described Bard as an "experimental conversational AI service" that "seeks to combine the breadth of the world's knowledge with the power, intelligence and creativity of our large language models."
Bard is very similar to ChatGPT. Users can input a question, request or prompt, and Bard will provide a human-like response. One advantage that Bard has is that it will be using data that is current. ChatGPT on the other hand currently uses data only up to 2021.
Like ChatGPT, Bard is also subject to providing incorrect answers.
It was recently reported that when the chatbot was asked about new discoveries from the James Webb Space Telescope, Google's Bard "made a factual error in its very first demo." It didn't take long for astronomers and science writers to point out the error.
Investors also took note and hammered the stock for a loss of 9% or a $100 billion market value loss in one day. However, if you bought Alphabet (Google) back when I recommended it back on February 3, 2019, you could have banked close to a double based on today's closing stock price.
All negatives aside, Alphabet (Google) is an enormous company with very deep pockets when it comes to pouring money into R&D. Their slower rollout of their very own chatbot and coming second to market could be perceived as a negative, but I believe they will overcome these hurdles in the coming months.
Investors should consider picking up a few shares to round out their AI portfolios.
3. Amazon.com, Inc. (NASDAQ: AMZN)
Amazon has integrated AI into many of its products and services, from its virtual assistant Alexa to its logistics and delivery systems. The company's dominance in the e-commerce and cloud computing markets has put it at the forefront of AI innovation.
The company now offers a chatbot service that customers can harness for their own purposes via their Amazon Web Services (AWS) platform.
The company could continue to see solid gains in share price as their cloud computing services continue to grow. Again, this is a company that should be included in any AI focused portfolio.
4. Microsoft Corporation (NASDAQ: MSFT)
As mentioned above, Microsoft has made significant investments in AI, including acquiring leading AI companies and developing its own AI platform. The company has also made AI a key part of its product strategy, integrating it into its products and services.
With the release and success of ChatGPT, Microsoft is now poised to challenge its competitors like Google, Amazon and Apple. It has not had this kind of technological advantage for more than two decades.
Microsoft is in talks to invest another $10 billion in OpenAI as it seeks to push its technology advantage even further.
The deal — which would mainly provide OpenAI with even larger amounts of computing power — has not been finalized and the funding amount could change.[7]
If this investment deal gets finalized, this could help push Microsoft into the number one position over Google search.
A small purchase of Microsoft shares could be a very wise move by intelligent investors.
5. Baidu Inc. (NASDAQ: BIDU)
Baidu is one of China's leading technology companies, with a strong presence in the AI market. The company has invested heavily in AI research and development, and its AI platform provides a wide range of services, including natural language processing and image recognition.
The company recently announced it will be releasing its own AI chatbot called ERNIE sometime this year.
With little details, we will have to see how well it performs when compared to ChatGPT.
My guess is the company will come out with something that is at least comparable to ChatGPT. That combined with their huge Chinese audience could help drive their search business bottom line.
Certainly one to consider adding to your watchlist.
6. CEVA, Inc. (NASDAQ: CEVA)
CEVA provides chips for the AI space and is an intellectual property (IP) vendor known for licensing its digital signal processors (DSPs) to larger chipmakers. The company licenses DSPs for several applications like imaging and computer vision, connectivity, audio, voice, speech, AI and deep learning.
Within the AI and deep-learning space, CEVA is focusing on fast-growing markets like automotive, augmented reality, and smart homes, among others. The company also licenses its deep neural network frameworks to chipmakers for enabling AI applications in their devices.
The company share price has started to recover from their lows in October 2022, down about 4% over the last six months. A good entry point, in my opinion.
While the company might not be in the spotlight of AI advances, they are unquestionably a major player for the hardware that is driving this revolution.
Certainly a company to be considered when adding shares for your AI portfolio.
The AI and ChatGPT Revolution Is an Investors Dream Come True
ChatGPT is a powerful and versatile AI technology that has the potential to have a significant impact on many industries. Companies that are leveraging this technology are likely to have a competitive advantage and benefit from the hyper-growth of the AI market over the next few years.
Intelligent investors should not miss this potential once in a lifetime investment opportunity. Start your research today with the companies I listed above. You will thank me later.
MF Williams, Contributor
for Investors News Service
P.S. To discover more opportunities in the hottest sectors in North America, sign up now to the Financial News Now newsletter to get the latest updates and investment ideas directly in your inbox!
DISCLAIMER: Investing in any securities is highly speculative. Please be sure to always do your own due diligence before making any investment decisions. Read our full disclaimer here.
---
Published February 2023