I'd like to give everyone a break from the dismal state of the markets and focus on a ray of hope sitting on the horizon: renewable energy commodities.
This covers a variety of commodities such as graphite, lithium, and nickel — essential components of modern battery technologies that will be key to our economy as we continue to transition away from fossil fuel derived energy sources.
Many of you will already have some exposure to this sector through Tesla Inc. (NASDAQ: TSLA) or Toyota Motor Corp (NASDAQ: TM), however, the energy metals market goes beyond electric cars, and there are other ways to gain more direct exposure.
Let's take a dive into what the energy metals market outlook is and look at some ways you can gain exposure to the supply side of the equation.
The Energy Transition Cocktail: Russia, Electric Vehicles (EVs), and Climate Change Targets
We've touched on the potential of energy metals before. One of our contributors, MF Williams, noted the lithium trend back in 2021 (read more here), and it's only been picking up steam since then.
The first trend is most visible — the rise of electric vehicles (EVs). By 2030 EVs are expected to account for 50% of all vehicle sales in the US, between 60–83% in the EU, and 40% in China.[1] This will result in a significant increase in the demand for the commodities essential to lithium-ion battery production, such as graphite and lithium.
The second ingredient in our demand cocktail is renewable energy. Despite a lack of government financing, renewable energy has proven to be incredibly efficient. All renewables are already more affordable than coal, and by certain calculations, renewable energy is currently the world's cheapest energy source.[2]
This is good news, as many Western nations had already committed to decarbonizing in the Paris Climate Agreement.[3] These efforts to decarbonize saw another significant catalyst in the wake of the tragic Russian invasion of Ukraine in early 2022.
Europe has typically attempted to reduce its carbon impact by focusing on a combination of EVs and a reliance on relatively low-pollution natural gas. Unfortunately, around 41% of the European Union's natural gas imports came from Russia.[4]
The shock of the Russian invasion, and the extreme violence that followed, has led to increasing calls for the bloc to end its reliance on Russian energy. This has resulted in plans for the EU to wean itself off Russian energy by 2030.[5]
Why is this important for this conversation? Well, the EU's options for energy generation are limited. Coal is a non-starter if Europe wishes to maintain its position as a leader in the fight against climate change. Nuclear power is an option favored by France, however, Germany is still hesitant to support this option for ethical and practical reasons.[6]
This leaves Europe with one real option: renewables. Europe does produce a lot of energy via renewables, around 22% on average, with some outliers like Sweden producing up to 60% of their energy from renewables.[7] However, renewables have one big problem: They struggle to meet the base-load requirement for energy.
The best way to get around this is battery technology. Batteries can store excess energy and then release it back to the grid when the sun isn't shining and the wind isn't blowing. However, that brings us to the big problem here - there is a supply-side bottleneck, for now at least, and it's going to be exacerbated by electric cars.
The EV industry alone is set to outstrip demand for key minerals like lithium, with some industry voices worried that we could run out of easily accessible material within the next decade.[8] For context, let's take a look at graphite which makes up around 50% of the average lithium-ion battery.[9]
The average EV can contain up to 70kg of graphite.[10] So for every 1 million vehicles, you should need around 75,000 tonnes of graphite. By 2030, this means we are looking at a global demand of around 8 million tonnes annually for EVs alone. When you consider that the mining industry could supply just 1.1 million tonnes in 2020, this becomes a little overwhelming.
This has spooked governments around the world who are racing to secure their own national supply of key rare minerals and renewable energy commodities. For example, the Canadian government has already committed around CA$2 billion to secure a supply chain for its EV battery economy.[11] Ottawa (Canada) has gone even further, with pledges of CA$3.8 billion over the next 3 years.
The US has followed suit and has listed graphite, lithium, cobalt and a number of other energy commodities as essential to its natural security. This is particularly problematic in the case of graphite, where the US still imports 100% of its supply from abroad.[12]
This picture isn't entirely perfect. It should be noted that supply of certain renewable energy commodities, notably lithium, is expected to outstrip demand in the medium term, and Goldman Sachs analysts are actually predicting a fairly aggressive correction in the price of lithium particularly for the next two years.
This brings us to the bit you've been waiting for: Which renewable energy commodities are likely to perform well and which should you be avoiding?
Since we can predict that the demand for certain materials, particularly nickel, graphite, and lithium, are likely to increase, then investing in companies that are looking to extract those materials is a good bet. This comes with significant risks of failure if you're investing at an early stage and reduced rewards for more mature projects.
There are some broad similarities between the different battery metals/mineral mining operations, but the outlook for each individual sector differs — so let's take a quick dive into three of the big ones: graphite, lithium, and nickel.
Graphite: Robust Demand on the Horizon and Limited Supply
There were a number of companies that rushed into graphite when it became clear that demand should rise, but much of that demand has not yet materialized. This has led to a situation where a good deal of graphite mining operations have yet to secure offtake agreements, leaving them stalled.
By far the most well known graphite mining stock is Syrah Resources (OTC US: SYAAF / ASX: SYR). Despite securing an offtake deal with Tesla, Syrah Resources is not yet profitable.[13] The company is actually experiencing losses at the moment but it is expected to hit breakeven around 2023, and the company's revenue forecasts were recently significantly upgraded.
With price targets of around AU$1.58, it is still trading a little under forecast. However, investors should also keep in mind that around 25% of Syrah's equity is in debt. If the company misses its profit targets, this could cause significant problems down the line.
Aside from Syrah, there are a number of smaller graphite projects at the early stage that might make sense for risk tolerant investors. Take NextSource Materials (OTCQB: NSRCF / TSX: NEXT).
The company isn't yet revenue generating, and it is firmly in the small-cap stage, however, it is one of a handful of companies that has already secured a supply agreement for around 100% of its phase one capacity. It has an agreement with a major Japanese EV product from 2018, and one with the German-based EV battery producer ThyssenKrupp AG.[14]
On the extreme end of the scale, we have microcap stocks that are far less along than NextSource or Syrah, adding yet more additional risk. These are stocks that risk-tolerant (or thrill-seeking) investors might want to look at.
For my part, I have made a small bet on Global Li-Ion Graphite Corp. (CSE: LION), another Canadian-based company with a presence in Madagascar. I believe that the company's properties, combined with a solid management team, have the potential to provide easily accessible high-quality graphite. However, it is too early to give them an outright buy recommendation, but you will be the first to know how my bet turns out! This is a junior market investment punt on my part.
Lithium: Oversupply Could Lead to Rough Waters
We've covered graphite — what about lithium? Until early June, lithium prices were skyrocketing. However, Goldman Sachs poured water on the fire with a report that argued that we will see drops of up to 73% in the price of lithium by next year.[15]
This meant that many major lithium mining stocks, notably Lithium Americas (NYSE: LAC), have since suffered a price correction. This effect is compounded by the large number of Chinese-based lithium mining projects coming to fruition, which will ensure strong supply-side fundamentals.
Now, this isn't to say that I'm recommending against buying lithium mining stocks. The oversupply of lithium will enable carmakers and battery makers to more effectively operate. This will hopefully lead to a price resurgence in 2025 and beyond.
For my money, the best lithium strategy will be to stagger a number of smaller investments into companies such as Lithium Americas (NYSE: LAC). This will allow investors to benefit from the incoming price shock, while maintaining outsized exposure to stocks that will see a resurgence as the demand side of the lithium market becomes even more robust.
Nickel: Vulnerable to Battery Technology Changes
The outlook for nickel is a little more mixed than graphite or lithium. Nickel is a key component for the most common form of battery chemistry for cathodes.
While there is a trend towards nickel-free battery chemistries, there are still some strong fundamentals for nickel. The most important of which being that nickel-based NCM batteries chemistries are easier to recycle, which will become a key decision maker for manufacturers as governments seek to reduce electronic waste and work towards building a cleaner environment.
Another positive for nickel is geography. It will be difficult to scale the supply of nickel anytime soon, which means that it has a much softer tail-off than other energy metals for the next year or so. This does, however, mean that there might not be the same discount on nickel companies that we'll see on lithium investments in the next 12 months, so possibly fewer opportunities to buy the dip.
For most FNN readers, Vale SA (NYSE: VALE) is likely our most watched nickel stock... While it is down from highs in June of last year, the stock has been performing well of late, and as the largest producer of nickel is probably a good way to get exposure to this important metal commodity.
What Is the Best Way to Benefit From Renewable Clean Energy Investments and Transition Away From Tesla?
So with all that said, are in-demand commodities the best way to gain exposure to the energy (electric) transition? I would say they are a key component of any green or renewable stock portfolio. A healthy combination of lithium, graphite, and nickel stocks will give you broad exposure to three of the most important commodities for battery production.
Once you have supply exposure, then I believe it's time to start looking at demand. As the report from Goldman Sachs highlights, short-term oversupply will reduce prices and give battery technology companies more breathing space to innovate and grow.[16]
This means that in the near future there will be a number of battery stocks, perhaps even fully integrated companies, that could provide even greater upside versus the commodity mining stocks most investors are currently following. I believe we need to look to the future.
I would recommend that you do your own research into the renewable energy commodity mining stocks mentioned, build a personalized investment portfolio plan, and decide how you can best invest and leverage the electric vehicle (EV) commodity opportunities on the horizon.

Saul Bowden, Contributor
for Investors News Service
P.S. To discover more opportunities in the hottest sectors in North America, sign up now to the Financial News Now newsletter to get the latest updates and investment ideas directly in your inbox!
DISCLOSURE: Saul Bowden holds LION, LAC, and other commodity stocks.
DISCLAIMER: Investing in any securities or cryptocurrencies is highly speculative. Please be sure to always do your own due diligence before making any investment decisions. Read our full disclaimer here.
---
Published July 2022
Lithium (Li) is used in everything from smart phones to laptops, and is now found in advanced battery technologies that power electric vehicles and store energy generated from renewable sources such as solar and wind.
Lithium producers could be set to reap huge gains in the coming years as the demand for lithium continues to soar, and as we continue to reduce greenhouse emissions and move to an electric powered future.
The lithium investment opportunity currently at hand is huge, and investors should act now to stake their claim in this fast-moving evolving space.
Read on to learn more about lithium and the forces that are driving this metal to record valuations.
Where Does Lithium Come From?
Putting Mexico on the Map
Bacanora Minerals (recently taken over by Chinese company Ganfeng) recently discovered what they are calling "the largest lithium deposit" in the world in northwestern Mexico. The deposit has estimated reserves of 243 million tons of lithium embedded in rock and clay.
Bacanora announced a 50-year concession with the Mexican government for mining rights and will pour about $2 billion dollars into developing the reserve. The company is set to commence operations in 2023.[1]
The discovery and subsequent operations could put Mexico on the map as a major world lithium producer. Something to keep an eye on for future investment opportunities.
Lithium is a soft, silver-white metal. It is the lightest known metal and lightest solid element. The metal is highly reactive and flammable when exposed to air.
Lithium is used in several industrial applications such as heat-resistant glass and ceramics, lubricants, flux additives for iron, steel and aluminum production, as a medical supplement to treat various mental illnesses, and, of course, lithium rechargeable batteries.
Most of the world's lithium reserves are concentrated in just a few countries. Chile claims to hold over half of the world's lithium reserves. Australia, Argentina and China are the next largest holders of lithium reserves.
Currently, the biggest lithium producers in order of production are Australia, Chile, Argentina and China.
The largest lithium importers are China, Japan, South Korea and the United States.[2]
3 Ways Lithium Is Produced
Lithium is mined in three different ways:
Hard rock mining
Brine deposits
Geothermal water extraction
Lithium mined from spodumene can be turned into both lithium carbonate and the highly valued lithium hydroxide used in lithium battery production. Australia lithium production is primarily from hard rock spodumene mines.
A second extraction method comes from brine operations which is produced much like sea salt mines. The brine is held in large holding ponds where it is dried out by the sun. Once the water has evaporated the salt is then collected and lithium carbonate salt is extracted from the mixture.
Lithium hydroxide is created from a secondary chemical reaction with the lithium carbonate. Brine production is mainly concentrated in South America.
A third lithium extraction method, geothermal water, is in its early stages of development but promises to be a much more sustainable and commercially viable option. This method uses geothermal wells to extract lithium rich water. The lithium is extracted as both the more valued lithium hydroxide and lithium carbonate.
Which Mining Method Is Greener?
From a green energy perspective, both hard rock mining and brine deposits extraction methods have their drawbacks.
Green Lithium Mining in Germany
Vulcan Energy Resources (OTC US: VULNF / ASX: VUL) is currently exploring the use of geothermal water extraction at its main site located in the Rhine Valley, Germany. They announced significant reserves with lithium concentrations of 181mg/liter of water. Full commercial production is set to commence in 2023–2024.
Vulcan's chief executive Francis Wedin told an industry conference, "We have a resource which is large enough to satisfy a very substantial amount of the demand in the European markets here for many, many years to come."[3]
Hard rock lithium is extracted from open pit mines which scars the landscape and uses fossil fuels to heat the rock during the extraction process.
Brine operations use a large of amount of water and are often located where water is scarce, leading to another set of environmental problems.[4]
Of the three extraction methods, geothermal promises to be the greenest as it emits zero carbon and uses very little water and land.
Something to consider as an investor as the world moves to a carbon-free economy and more and more investors demand zero-carbon and environmentally sound lithium investment opportunities.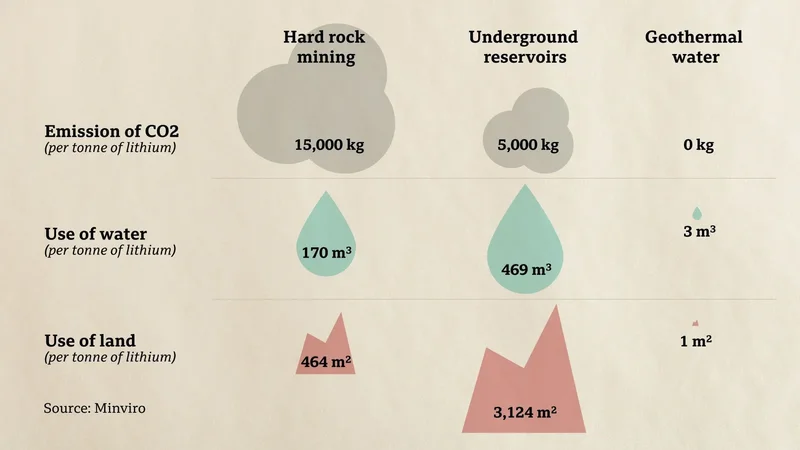 EVs Driving Explosive Demand
By far, EVs (Electric Vehicles) are the biggest driving force of lithium production bar none.
In 2020, EVs used about 39% of production. Estimates see that demand rising to more than 60% by 2025. The remaining demand comes from consumer demand surrounding electronics batteries, energy storage batteries and other industrial uses.[5]
Sales of EVs will continue to grow rapidly as world governments continue to embrace this EV movement and offer further incentives to consumers.
Sales of new EVs grew significantly leading up to 2019, when the market experienced a temporary slowdown to 2.1 million vehicles due to the COVID pandemic.
"EVs have lithium booming — and this time, there is no bust in sight. Demand is expected to outstrip metal production for at least the next five years with few new mining projects on the horizon."
— Bloomberg News, October 2021[6]
In 2020, however, existing policies and targeted stimulus responses spurred demand, increasing by 40% to over 3 million vehicles or 4% market share of new car sales.
By early 2021, estimates of passenger EVs around the world was more than 10 million vehicles.[7]
The International Energy Agency (IEA) predicts that by 2030 this number may be a whopping 125 million vehicles as world governments adopt increasingly aggressive policies to curb carbon emissions.
Estimates go as high as 220 million vehicles in this timeframe.[8]
Estimates for growth in lithium demand vary with no clear consensus on a baseline. Needless to say, all the estimates for growth in demand that I found in my research were huge.
My guess why these estimates vary so widely stems from a lack of historical precedent. The world is quite literally at a watershed moment where our entire civilization as we know it is retooling from a fossil fuel-based energy platform to one of solar, wind and other renewable sources of energy that have a low or zero carbon footprint.
Nothing like this has occurred in the course of human history.
This is why I believe that investing in lithium now is a generational investment opportunity. We are in the beginning stages of a new energy era where lithium is central to energy usage & storage.
Current lithium mining operations are insufficient to keep up with expected demand. That means lithium prices will continue to go parabolic, and lithium miners and producers could see their stock prices explode.
Benchmark Mineral Intelligence sees global deficits in lithium supplies surging more than 60 times to 950,000 tons in 2030 driven by increased sales of EVs.[13]
China Gobbling Up Global Reserves
As demand skyrockets, China is snatching up mining rights to lithium reserves around the world, essentially putting a noose on lithium supply.
The effect of this Chinese land grab has exacerbated global lithium shortages and prices have surged for the critical metal.
In 2021 alone, China acquired 6.4 million tons of lithium in reserves and resources. That is about the same amount that was acquired by ALL companies globally in 2020.[14]
Currently, Chinese companies own about 90% of the world's rare earth mines and manufacture 80% of the lithium batteries.[15]
"Chinese companies have done the math and realized how much lithium they're going to need to meet either battery or EV growth plans and have decided to try to secure that by going after some of the most promising junior projects in development"[16]
— Seth Goldstein, senior equity analyst at Morningstar
The lithium market used to be dominated by just three companies — Albemarle (NYSE: ALB), Sociedad Quimica y Minera de Chile (NYSE: SQM) and FMC Corp (NYSE: FMC) — which used to account for 85% of market share.
This has changed dramatically as Chinese companies such as Tianqi Lithium (SZ: 002466) and Ganfeng Lithium (OTC US: GNENF) have become significant players.[17]
Tight supply coupled with intense demand has pushed lithium prices to near-historic levels.
Historically, lithium reached an all-time high of $31,519/ton in November of 2021.
3 Hot Lithium Stocks to Fuel Your Portfolio
In my research I found three lithium producers that look to be the best in the field. Of course, you will have to do your own research, but this should be a good starting point.
Note: all charts are for the past 6 months from the publishing date of this article.
1. Alpha Lithium Corporation (OTC: APHLF / TSX-V: ALLI)
Alpha Lithium is a junior mining play located in the famed lithium-rich region of the "Lithium Triangle" in Argentina. The company holds 100% ownership of almost 68,000 acres surrounded by other multibillion-dollar lithium assets. They also own over 12,000 acres in the lithium-producing region known as Hombre Muerto, also located in Argentina.
The company is currently testing their proprietary extraction process to increase lithium extraction with a lower impurity ratio.
Alpha Lithium recently announced they secured $30 million dollars in investment from Uranium One. The funds will go to further development of their holdings.[18]
In addition, the company also announced it closed an oversubscribed $25 million bought deal offering conducted by Echelon Markets. The net proceeds will be used to fund strategic acquisitions, exploration and general working capital.[19]
By all indications, this company could be positioned to become a major player in the lithium mining world. Definitely one to keep on the radar.
2. Lithium Americas Corp. (NYSE: LAC / TSX: LAC)
Lithium Americas is currently in the exploration phase and is confirmed to begin production in mid-2022. Their goal is to be producing 40k tons of lithium carbonate equivalent.
The company has holdings in the US and Argentina and has recently partnered with Ganfeng Lithium, working on a brine project in Argentina.
Recently, the company announced that the initial purchasers of convertible senior notes due in 2027 have exercised their option to purchase an additional $33,750,000 aggregate principal amount of notes.
"With the Offering complete and our US$205 million senior secured facility fully repaid, we have significantly enhanced our balance sheet while minimizing potential dilution to shareholders and reducing interest cost."
— Jon Evans, President and CEO[20]
In addition to repaying the loan, the company intends to use the remainder of the proceeds to repay other indebtedness, further enhancing the company balance sheet.
Lithium Americas currently has a reported $480 million in cash.
Additionally, management is very strong with deep experience in lithium mining and production.
Don't miss adding this onto your radar and potential trading list.
3. American Lithium Corp. (OTCQB: LIACF / TSX-V: LI)
American Lithium is an exploration-stage company currently exploring and developing lithium brine deposits in Nevada and hard rock lithium in Peru. In addition, the company is developing a uranium reserve also located in Peru.
The Nevada property is located in the same region as Albemarle's (NYSE: ALB) Silver Peak lithium mine and several other advanced-stage lithium projects. It is also located near the Tesla (NASDAQ: TSLA) Gigafactory.
Their Peruvian hard rock lithium deposit is touted as the world's 6th largest deposit.
Echelon Capital Markets recently initiated coverage of the company with a speculative buy rating and 12-month target price of $6.48/share. Roth Capital has called for $5.93/share and VSA Capital projects $5.50/share.
The stock is deemed a speculative buy and investors should be aware of the risks when investing in any exploration-stage company, however... overall, American Lithium has performed well. I believe there is more to go!
Lithium: Smart Investors Already Know
Renewable investments & technology is growing rapidly and the key element to power this tech, right now, is lithium.
Without a doubt, lithium metals should be in every intelligent investor's portfolio.
Demand is already outstripping supply. Countries like China are putting further pressure on supply by buying up known reserves around the world.
I see a great opportunity in the space for the next few years as world governments continue to move their economies into a carbon free economy.
MF Williams, Contributor
for Investors News Service
P.S. To discover more opportunities in the hottest sectors in North America, sign up now to the Financial News Now newsletter to get the latest updates and investment ideas directly in your inbox!
DISCLAIMER: Investing in any securities is highly speculative. Please be sure to always do your own due diligence before making any investment decisions. Read our full disclaimer here.
---
Published December 2021