Marijuana continues to trend as a news topic on a daily basis. Whether it is a recent medical discovery or the constant political wrangling over the legality of the plant, marijuana is once again dominating the news cycle.
Just last week President Biden announced a presidential pardon for those convicted of marijuana possession under federal law. He went on to further encourage governors to do the same at the state level.[1]
The world has come full circle on the medicinal plant.
Marijuana has been ubiquitous throughout history as a plant that was used by humans in a variety of ways. From paper to medicine to a replacement for certain plastics to clothing, marijuana has shared the stage with human civilization since the beginning of time.
Over the past century, marijuana met a brief period where it was banished from use and made illegal for various political and corporate reasons. Now 7 states have workplace laws that companies cannot discriminate against workers who use MJ away from the workplace, with California being the most recent.[2]
The Marijuana Hype Cycle
As in any new industry, the hype can be greater than the reality.
The Prime Alternative Harvest Index tracks some of the top marijuana companies in the sector. For the fifth year in a row, they are reporting double-digit negative returns.[3]
No doubt many investors have lost many sleepless nights fretting over their crashing marijuana portfolios.
But investors have to understand one thing: The marijuana industry is still in its infancy, and growing pains are part of the space for early investors.
Take a look at the image below. This illustrates perfectly what has happened in the marijuana sector. There is the initial hype when investors flood into the space looking for quick gains. Then reality begins to set in, and those investors are running for the exits sending share prices to the floor.
I believe we are now in the bottom part of the curve where slow US federal legalization is happening. From here the curve should begin to rise again as the space matures at the federal level.
As the saying goes, "Good things come to those who wait." In this case, early marijuana sector investors could be in a good position to see their investments rise again.
Read on and I will show you why staying the course in the marijuana sector is smart along with 10 cannabis companies you should have on your portfolio radar today.
The Marijuana Sector Continues to Grow at a Double-Digit Rate
While your stock portfolio might not be currently in sync, the fact is the marijuana sector is projected to grow at around 25% CAGR from now until 2030!
2021 saw US legal cannabis sales valued at over $20 billion, and sales this year are expected to reach almost $33 billion.[4]
Estimates point to global sales of marijuana to reach as high as $52 billion by 2026.[5]
Look at the map below. It shows where each state currently stands on marijuana legalization.
You can see there has been a tidal wave of full legalization.
There are still a few hold-out states that only have limited access or no access to legal marijuana.
The Feds are still struggling to come up with a bill for national legalization.
Believe it or not, marijuana is still listed as a Schedule 1 drug on the DEA list — the strictest category for drugs that have "no currently accepted medical use and a high potential for abuse."
This is the part of the curve I am referring to in the chart above… slow legalization.
While many states have fully welcomed adult marijuana sales and the corresponding millions in tax revenues, the majority of states have not made the move yet.
Patience is key here.
Next month, voters in five states will decide whether to legalize marijuana. Interestingly, four out of the five states are traditionally conservative, which highlights how marijuana reform has become a bipartisan political initiative.[6]
More and more states and countries are being swayed towards legalization by the growing pro-marijuana public opinion. This bodes well for those marijuana companies that are already positioned in the marijuana space.
The 10 Best Marijuana Investment Opportunities
I compiled this list of marijuana investment opportunities by looking for companies that are actively making efforts to capture more market share, have positive market sentiment and have potential growth catalysts.
While all of these companies I mention below are what I would call higher-risk investments, I believe it could be a good time to pick up a few shares while they are at or near rock bottom prices. The marijuana market is changing rapidly and those companies that are already well-positioned could see some handsome gains in the future.
The long-term outlook is setting up to be excellent for the marijuana industry, and the companies below stand to benefit from the ongoing growth and maturation of the sector, in my opinion.
1. Innovative Industrial Properties, Inc. (NYSE: IIPR)
Innovative Industrial Properties is a real estate investment trust otherwise known as a REIT. It invests in greenhouses and industrial facilities catering to the medical marijuana industry.
The company was founded in 2016 and started with one property. Currently the company has 105 properties with almost 8 million square feet of rentable space spread out across 19 states.
Piper Sandler analyst Alexander Goldfarb gives the REIT an Overweight rating (equivalent of Buy) with a $230 target price — an increase of +53% from current levels.
The company has the advantage of being one of the largest and experienced marijuana landlords in the business. This could play out well once US federal legalization happens.
2. Constellation Brands, Inc. (NYSE: STZ)
Constellation Brands is more well known for its sales of beer, wine and spirits. It is a leader in the alcoholic beverages space.
In 2017, Constellation Brands entered the marijuana business by buying a 9.9% stake for $191 million in marijuana giant Canopy Growth (NASDAQ: CGC). In 2018, it upped that stake to 36.6% by investing another $3.9 billion in the company.
In 2020, Constellation Brands purchased another stake for $173.9 million for a total 38.6% share of Canopy Growth.
Constellation Brands has brought in new management and is working closely with Canopy Growth to achieve its goals of becoming profitable.
The company sees a huge potential for marijuana-infused beverages once legalization happens on the federal level. Its investment in Canopy Growth positions the company to become one of the biggest players in the potentially huge market of adult cannabis-infused beverages market.
Until that happens, Constellation Brands is still a solid investment. Sales were up +2% year-over-year, and it pays a dividend to shareholders.
Constellation Brands is betting on the future federal legalization of marijuana and the subsequent rollout of cannabis infused beverages.
3. OrganiGram Holdings Inc. (NASDAQ: OGI / TSX: OGI)
OrganiGram Holdings produces and sells cannabis and cannabis-derived products in Canada where marijuana is fully legal.
The company released its third quarter earnings in July and reported revenues that were up over +79% year-over-year. This beat Wall Street estimates by US$3 million.
In the second quarter of 2022, Renaissance Technologies (Private) raised its stakes in OrganiGram Holdings by +363%, bringing them to US$0.98 million. Renaissance Technologies owns roughly 1.07 million shares of the company and is the largest shareholder.
The current share price is reasonable at just over US$1.
I recommend adding OrganiGram to your radar. I believe the company looks promising for future growth and gains for investors.
4. Tilray Brands, Inc. (NASDAQ: TLRY / TSX: TLRY)
Tilray is one of the biggest companies in the marijuana sector and possibly one of the healthiest.
The company has diversified into the US alcohol industry by acquiring Breckenridge Distillery as well as several craft beer companies. Interestingly, Tilray is looking at using these brands to develop and promote non-alcoholic beverages that are infused with cannabis once US federal legalization occurs.[7]
The diversification of the Tilray Brands will continue to help the company's bottom line.
The company has reported 13 straight quarters of positive adjusted EBITDA. This is no small feat considering the ups and downs seen in the marijuana space over the past couple of years.
Despite these consistent positive quarters, the company's share price is down -30% over the past three months and even more over the last six months. From what I can see the only reason for this sell-off is due to the current overall negative market conditions. The current share price is now a huge discount for investors looking to pick up shares in what I believe to be a solid performing diversified marijuana company.
Any investors looking for bottom fishing opportunities should not pass Tilray up.
5. Allied Corp. (OTCQB: ALID)
Back in March of 2021, I wrote a detailed report about Allied Corp, an international cannabis producer and exporter. I liked the company then and I still like it today.
Allied continues to expand its operations in exporting dried flower from its Colombia operations. Last month, the company shipped the world's largest legal cannabis shipment in history at a whopping 3,425kgs from Colombia to its international clients.
Allied now boasts clients and supply channel partners spanning five continents.
In addition, Allied has three CBD wholly owned brands that sell products in the US.
Allied is still one of my favorite cannabis stocks and should not be missed by any intelligent investor.
6. Curaleaf Holdings, Inc. (OTCQX: CURLF / CSE: CURA)
Curaleaf Holdings' second quarter financial results show revenue, profit on sales, margin on sales and adjusted EBITDA are all up year-over-year..
Recent revenues were up a little over +8% year-over-year and beat expectations by over US$2 million.
The company operates in 23 states including New Jersey, Arizona, Florida, Illinois and Massachusetts. It owns and operates 128 dispensaries and 26 cultivation locations in the US.
Curaleaf recently announced it is expanding operations in Europe. They have signed a definitive agreement to acquire a 55% stake in Four 20 Pharme GmgH, a fully EU-GMP & GDP-licensed German producer and distributor of medical cannabis with its own product line.
Wall Street analysts are bullish on Curaleaf.
On July 22, Seaport Global analyst Sonny Randhawa initiated coverage of Curaleaf with a Buy rating and a $9 price target.
On August 9, Alliance Global Partners analyst Aaron Grey revised his price target on Curaleaf to $12 from $15 and reiterated a Buy rating on the shares.
Keep this one on the radar for sure.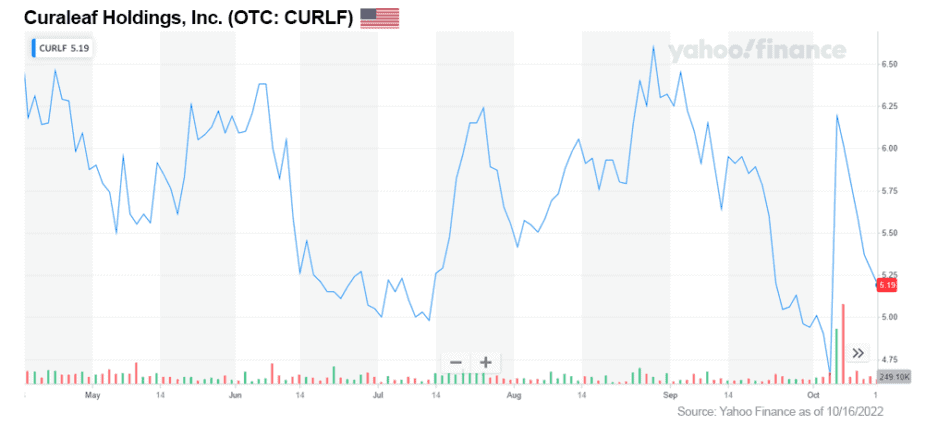 7. Ayr Wellness Inc. (OTCQX: AYRWF / CSE: AYR)
Ayr Wellness is a vertically-integrated multi-state operator that cultivates, manufactures and retails cannabis products and branded packaged goods.
It currently operates 50 dispensaries.
The company recently announced it has received final approval for a license to sell adult-use cannabis at its Massachusetts dispensary. The company also received approval to open the first phase of its cultivation expansion in Massachusetts.
Analysts are bullish on Ayr Wellness.
On July 22, Seaport Global analyst Sonny Randhawa initiated coverage of Ayr Wellness with a Buy rating and a $13 price target.[8]
Large cap companies such as Altria Group, Inc. (NYSE: MO), Constellation Brands, Inc. (NYSE: STZ), and Philip Morris International Inc. (NYSE: PM) are eyeing opportunities in the marijuana market and are making hefty investments in marijuana companies.
I believe Ayr Wellness could be a good candidate for acquisition.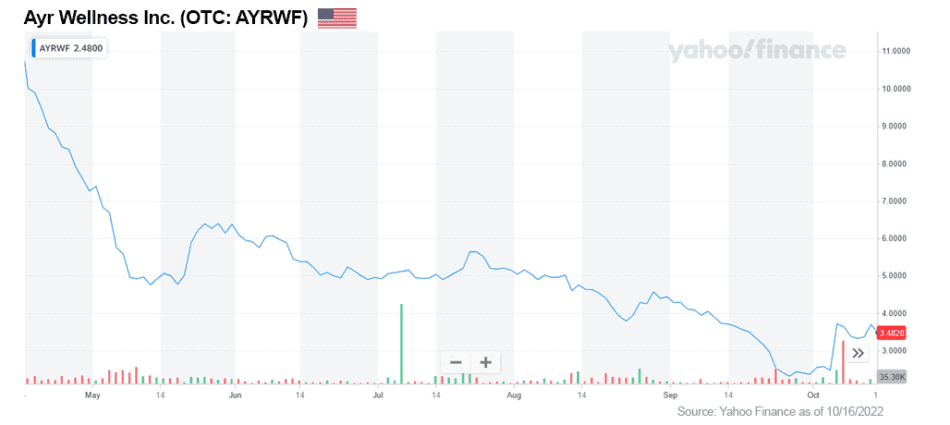 8. MariMed Inc. (OTCQX: MRMD / CSE: MRMD)
MariMed is a small marijuana producer that engages in cultivation, production and dispensing of marijuana in the US and internationally.
The company recently announced second quarter earnings of $33 million which was up +1.2% year-over-year.
In July of this year, the company announced it has received approval to operate an expanded production kitchen in Maryland.
In August, they announced a new cannabis-infused ice cream as well as signing an agreement to acquire ownership of an adult-use cannabis dispensary license in Illinois.
The company is small but making positive moves towards growth. Another good takeover candidate, in my opinion.
MariMed sought a cross-listing in Canada and began trading on the Canadian Securities Exchange (CSE) in July of this year.[9] Co-Founder and President Jon Levine stated that the company was late to list on the CSE because it was considering the possibility of the SAFE Banking Act passing sooner and paving the path for an uplisting.
Given the downturn in the cannabis market, response to the cross-border Canadian listing has been slower than anticipated, but Levine is excited about the prospects of a market uptick in the future.
9. Village Farms International, Inc. (NASDAQ: VFF)
Village Farms produces and supplies cannabis products to other licensed providers in Canada and internationally.
Village Farms' wholly owned subsidiary, Pure Sunfarms, was ranked as the 17th fastest growing company by the Globe and Mail's Report on Business. Pure Sunfarms' three-year revenue growth rate of +2,320% also ranked it as the fastest growing Canadian cannabis company.[10]
Recent second quarter earnings came in a little over $82 million, which was up over +17% year-over-year and beat expectations by almost $6 million.
Wall Street is bullish on Village Farms International.
In August of this year, Alliance Global Partners analyst Aaron Grey revised his price target on Village Farms International, Inc. to $6 from $10 and reiterated a Buy rating on the shares.
I like this company for its growth potential. It is also a leader in recreational marijuana cultivation in Canada specializing in production from British Columbia and Alberta.
10. Green Thumb Industries Inc. (OTCQX: GTBIF / CSE: GTII)
Green Thumb Industries is probably more well known for its products sold under the Beboe, Dogwalkers, Doctor Solomon's, Good Green, Incredibles, and RHYTHM brands, which are sold in the US.
Second quarter earnings were up over +14% year-over-year for a total of just over $254 million. The company's EPS of $0.10 beat estimates by $0.06. Revenue year-over-year beat projections by $5.5 million.[11]
Analysts are bullish on Green Thumb Industries.
On July 22, Seaport Global analyst Sonny Randhawa initiated coverage of Green Thumb Industries with a Buy rating and a $15 price target.
On August 4, Alliance Global Partners analyst Aaron Grey revised his price target on Green Thumb Industries to $25 from $40 and reiterated a Buy rating on the shares.
Green Thumb's approach to growth is focused on states with large populations and limited licenses, including Illinois, Massachusetts, New York, Florida, and Ohio.
It initially operates in medical cannabis markets that show momentum towards future recreational legalization. A perfect example is Illinois and Massachusetts being two of its largest markets that just approved adult recreational marijuana use.
This is a solid company that should be considered for your marijuana portfolio.
The Marijuana Market Has More to Come!
The markets have been brutal to marijuana investors these past couple of years, but this not the time to give up hope!
On the contrary this is the time to take another look at the companies operating in the space and choosing the best of breed — all currently at ridiculously low valuations.
Investors who hold the best marijuana stocks and continue to maintain patience and stay the course will be the best positioned for marijuana's second renaissance.
Take another look through my Top 10 marijuana picks. I think you will agree there are a few gems in there.
MF Williams, Contributor
for Investors News Service
P.S. To discover more opportunities in the hottest sectors in North America, sign up now to the Financial News Now newsletter to get the latest updates and investment ideas directly in your inbox!
DISCLAIMER: Investing in any securities is highly speculative. Please be sure to always do your own due diligence before making any investment decisions. Read our full disclaimer here.
---
Published September 6, 2022
Updated October 4, 2022