Editor's Note: On December 1, 2022, Patriot One Technologies Inc. changed their name to Xtract One Technologies Inc. and symbols to TSX: XTRA / OTCQX: XTRAF / Frankfurt: 0PL
Already in January of this year, America experienced 34 mass shootings (shootings with four or more persons killed or injured, not including the shooter) in this month alone.
Of those 34 incidents, 42 people lost their lives and another 113 were injured.[1]
Gun violence is so prevalent in the US that it hardly makes it to headline news.
And last year, the US experienced a record number of gun violence deaths and injuries.[2]
Here's a startling fact:
Gun violence is a leading cause of premature death in the US. Guns kill more than 38,000 people and cause a whopping 85,000 injuries each year.[3]
Simply put, the US has a huge gun problem. The debate rages on how best to mitigate the problem and the devastating societal effects — with no clear solutions provided by the political circus in Washington.
The only clear choice at the moment is in the private sector, specifically in weapons detection technology.
The technology has seen incredible advances since I first covered this topic over three years ago in November of 2018. As the fast-changing industry experienced market innovations, I covered it again in April of 2019 and once more in August of 2019.
It is a topic I am obviously deeply passionate about and have a keen interest in. Wishing for an end to the horrific bloodshed that is ravaging the American landscape is a dream we can hopefully realize sooner than later.
My hope lies in the advancement of technology that is being developed by eight weapons and threat detection companies I have discovered during my in-depth research on the subject.
Read on to learn more about the underlying technologies that are driving modern weapons detection systems and which companies I like most in the space.
Weapons Detection of the Past
Weapons detection systems have come a long way since the original metal detectors that were first used in airport check-in lanes and federal building entrances.
They were notorious for false positives or worse; completely missing their intended targets:
Another problem with weapons detection systems of the past was the painfully slow inspection rates. People entering a secured area had to cue up in a single file line, removing everything from their pockets, belts, jewelry, shoes and even jackets.
If they were unlucky, people were identified with a false positive alarm and had to be rescanned using a handheld metal detector and physical pat down. This takes more manpower and slows down the amount of people that can be accurately scanned per hour into any stadium or concert, for example.
After all that, the person then had to redress, reassemble their outfit, and pick up their personal belongings which typically took another several minutes.
It remains an ordeal from hell for many of us.
Major Technologies Fuel Advances in Modern Weapons Detection Systems
Thankfully the future of weapons detection looks a whole lot better and less intrusive for the subjects that are being scanned.
Weapons detection companies are harnessing the huge advances in Artificial Intelligence (AI), Machine Learning and Cloud Computing to analyze data collected by their respective proprietary scanning technologies.
The detection systems typically gather data by bouncing some form of waves such as radar, wifi, milliwaves, etc., off of the subject. The returning wave holds data that is then received and analyzed.
Edge or cloud computing offered by Microsoft (NASDAQ: MSFT) Windows Azure or Amazon (NASDAQ: AMZN) Cloud Servers, for example, allow customers to tap into vast arrays of computing power never before accessible to the general public.
The computational power is multiplied with the help of AI, which can analyze vast amounts of data quickly and efficiently. It can also learn from its mistakes and become more accurate over time.
Typical setups vary between the companies, but generally there is some form of transmitter/receiver of the wave signal. Oftentimes the technology scanners can be disguised as a post or maybe a pole, or draped with banners to hide the underlying weapons scan being conducted as people walk through a designated area.
The beauty of this technology is the unobtrusive nature of scanning large crowds with minimal aggravation. The subjects do not need to be in any formal lineups; they can keep their clothes and personal effects on as well as their backpacks and bags.
Ideally the subjects will not even know they are being scanned for weapons. And they can relax knowing the area is free of weapons or threats.
Below I will get into more detail about each company and their technology, as well as which company I feel has the largest chance of a successful commercial application.
8 Weapons and Threat Detection Companies Leading the Way to a Safer America
The last time I wrote on weapons detection technology companies, there were only three viable companies. All were publicly traded. To my surprise, two new publicly traded companies have come online as well as three privately held companies that look promising. Threat detection has become such a serious issue, we now have multiple companies competing to make America safe!
I threw the three privately held companies in the mix on the chance they might be open to private placement or could be candidates for upcoming public listings. You will need to contact them directly to learn about any opportunities they might hold.
Without further ado, here are 8 companies that are working on keeping America safe.
5 Publicly Traded Weapons and Threat Detection Companies
1. Patriot One Technologies (TSX: PAT / OTCQX: PTOTF / FRA: 0PL)
I've been following Patriot One since their initial listing on the TSX Venture board over five years ago. The company has executed on much of its promises and was upgraded to the TSX main board in April 2019.
The company has consolidated its many detection platforms and technologies into an integrated suite called the Multi-Sensor Covert Threat Detection Platform, which is a multi-sensor and AI powered gateway.
The platform uses various sensors (microwave radar, magnetic reaction) and video. The data that is gathered from these sources is analyzed by AI. Threats are identified in real-time, and alerts are sent to security staff through their connected mobile devices.
The advantage of the Patriot One platform is that large crowds can be scanned unobtrusively. Once a threat is identified, security staff can be immediately notified and can neutralize the threat with minimum interference to the event or surrounding patrons. Sensors are located in concealed walk-through towers eliminating the need to build up a fortress-like security grid.
Patriot One's current CEO Peter Evans joined Patriot One about a year ago and has been reorganizing the company to better focus on their strengths and client targets.
Recently Evans sent a letter to investors outlining where the company is now and what management is doing to take Patriot One to the next level. It is a good read and highly recommended if you are an existing investor of Patriot One or looking to learn more about the company.
The CEO letter can be found here.
The company is already executing on the CEO's promise with a new contract with the US Office of the Inspector General (OIG). The OIG has chosen Patriot One's Multi-Sensor Gateway screening solution for use in their headquarters in Washington DC.[4] This is a great start for the company this year.
The stock saw a nice bump with the news. I predict that the company will continue to win over new clients this year, and long-term investors will be rewarded for their patience.
My personal favorite.
2. Liberty Defense Holdings, Ltd. (TSX-V: SCAN / OTCQB: LDDFF / FRA: LD2A)
Liberty Defense has been hard at work in the weapons detection space for several years now.
It has licensed its "HEXWAVE technology" from Massachusetts Institute of Technology (MIT), one of the top academic institutions in the world, as well as technology transfer agreement patents related to active 3D radar imaging technology that detects metallic and non-metallic weapons.
In addition, the company has licensed millimeter wave-based, High-Definition Advanced Imaging Technology (HD-AIT) body scanner and shoe scanner technologies as part of its technology portfolio.
On August 12, 2021, the company announced a slew of key new hires in sales and business development with some very impressive resumes.
With these recent hires, it appears the company might be making some solid moves to finally put their technology portfolio to work and start generating revenues.
The company recently announced a new contract with a global Hindu religious and social organization with 3,300 temples around the world. The organization will be testing the Liberty Defense HEXWAVE scanners at its temple located just outside of Atlanta.
This is definitely one to keep on your radar, in my opinion. Early investors might see a pop if new customer and sales agreements are signed early on. I really like this company's advancements in the space. This could very well be the winner in the race to secure America.
3. Plymouth Rock Technologies Inc. (OTCQB: PLRTF/ CSE: PRT / FRA: 4XA)
Plymouth Rock has been busy since I last looked into their operations. The company now has a solid lineup of weapons detection systems as well as two drones that can be used to carry its weapons detection tech to scan wide areas from the air. How cool is this?
MIRIAD is a prototype compact sensor that is being developed for use on unmanned aircraft systems or drones. The tech is based on millimeter-wave technology that captures radar images that are then analyzed by AI where threats are identified.
Plymouth Rock also has a shoe scanner that uses the same tech as the MIRIAD. The system allows the screening of subjects without the removal of footwear, increasing inspection rates at mainly security airport checkpoints.
The company's other technology, WI-TI, uses WiFi signals to scan large areas for potential concealed threats. Much like millimeter-waves, the WiFi signals are analyzed for signatures of known weapons, and alerts are passed on to security staff as necessary. I'm not sure how proven this threat detection method relates to everyday life… there is still much to study.
Finally, Plymouth Rock's CODA 1 system is a compact radar device that can be used for low-power stand-off weapons detection. The system is now in production and has been submitted to the Department of Homeland Security APEX Screening at Speed (SaS) program, pending approval.
The company appears to be very active in R&D and has recently raised funds for further product development and ultimately sales.
Plymouth Rock is a personal long-hold favorite.
4. Evolv Technologies Holdings, Inc. (NASDAQ: EVLV)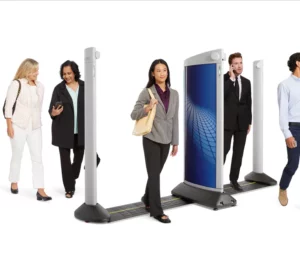 Evolv Technologies is a relatively new kid on the block.
The company focuses on weapons detection with high throughput of subjects without having to empty pockets or conduct pat downs. The technology combines sensors with AI for data analysis.
The company boasts a solid lineup of product solutions that allow high-speed weapons detection without slowing the flow of foot traffic.
Evolv Cortex AI Platform is the company's proprietary AI analysis software. Evolve Insight Analytics is its security dashboard that is connected to the Evolv Express and Evolv Edge touchless security screening platforms.
The company boasts it holds more than 100 patents on their technologies.
Evolv announced 3rd QTR results, and they are seemingly impressive given this new birth within this sub-sector.
Total revenue for the 3rd QTR of 2021 was $8.4 million, an increase of +473% YoY
Total contract value booked in the third quarter was $16.9 million, an increase of +365% over the past year period
GAAP net income for the third quarter of 2021 was $23.2 million, or $0.15 per diluted share, compared to a GAAP net loss of $6.3 million, or $0.70 per basic and diluted share, for the third quarter of 2020
Evolv is certainly a company to include on your watchlist.
5. VSBLTY Groupe Technologies Corp. (OTCQB: VSBGF / CSE: VSBY / FRA: 5VS)
VSBLTY does not have a weapons detection system per se. Instead, it uses advertising billboards with mounted cameras that scan crowds.
The video data is analyzed with facial recognition technology to identify known or wanted criminal threats. The video feed is also used by security personnel to scan for any visual weapons threats.
Three Private Weapons and Threat Detection Companies
1. Actuate Systems Inc.
Actuate integrates with existing surveillance video feeds to scan for visual weapons. The video data is scanned by AI where threats are identified, and officials are alerted via connected mobile devices.
The company received $8M Series A funding from Tribeca Venture Partners, well known for their early support for a myriad of highly successful companies.[5]
Crunchbase lists seven investors in the company overall.[6]
It might be worth reaching out to the company for private placement opportunities or at a minimum keep this one on the radar for a future IPO opportunity. I still need more information about their tech when compared to others in the category.
More information on the company can be found on their website: https://actuate.ai
2. IPVideo Corporation
IPVideo's ViewScan is a touchless security screening device that boasts to be highly accurate with a high throughput of subjects.
More information on the company can be found at their website: https://ipvideocorp.com/
3. ZeroEyes
ZeroEyes uses existing video data to analyze, identify and alert security personnel of active threats. The system, however does not detect concealed weapons.
The company recently received over $20M in Series A funding from Octave Ventures. Crunchbase lists a total of five investors in the company.
More information on the company can be found on their website: https://zeroeyes.com/
Investing In Our Future Safety Could Become Much Bigger Than You Think…
Weapons detection systems are becoming more sophisticated in their ability to detect both visual and concealed weapons. The technology is also making scanning large crowds feasible with minimal personal intrusion.
The technology will continue to grow and will become ubiquitous in almost all public spaces including places of worship, concerts, sporting events and government buildings to serve as examples.
The time to choose a weapons detection company for your investment portfolio is now. As COVID restrictions continue to ease and the economic recovery continues, more and more public venues will reopen. The space will only grow as demand rises and public venues search for a solution to keep their patrons safe.
With stock prices trading at lows within the weapons detection category, now might be a good time to consider investing as we approach a post-COVID economy.
As always, please remember to do your own due diligence before making any investment decisions.
MF Williams, Contributor
for Investors News Service
P.S. To discover more opportunities in the hottest sectors in North America, sign up now to the Financial News Now newsletter to get the latest updates and investment ideas directly in your inbox!
DISCLAIMER: Investing in any securities is highly speculative. Please be sure to always do your own due diligence before making any investment decisions. Read our full disclaimer here.
---
Published February 2022