Mass shootings continue to ravage the American landscape. 2023 could now become the most lethal year on record with more than 25,000 people killed in gun violence (so far) with four months still to go.[1]
In an effort to halt the flow of lethal weapons in public spaces, owners of these venues are increasingly turning to cutting-edge weapons detection companies to screen their patrons at the entrances of schools, concerts, hospitals, expos and other public areas where large numbers of people gather.
I began covering weapons detection companies back in 2018 when the technology was relatively in its infancy. At that time, many of these technologies were still in their R&D phase with very few fully working models available for public use.
Today, this has changed in a big way.
The systems are increasingly ubiquitous in world-famous venues, screening hundreds of thousands of patrons each year for deadly lethal weapons. This increase in usage can be attributed to one main factor: the massive leap in the software technology that now fuses artificial intelligence (AI) and machine learning to the data coming from the various physical screening stations used.
This is my fifth article on the subject. It has been over a year and a half since I last dove into the weapons detection technology space. I thought it was time for an update in order to discuss the Top 3 weapons detection companies I have found to date.
My other articles can be found here:
The playing field has narrowed considerably over the past five years with my Top 3 contenders taking the clear lead in product advancements and demonstrating increased use of their respective critical technologies in many world-renown public venues.
These companies aren't just revolutionizing security; they're now redefining it.
My research included direct conversations with two of the companies, Liberty Defense Holdings, Ltd. (OTCQB: LDDFF / TSX-V: SCAN / FRA: LD2A) and Xtract One Technologies Inc. (OTCQX: XTRAF / TSX: XTRA / FRA: 0PL), formerly Patriot One Technologies (OTCQX: PTOTF / TSX: PAT / FRA: 0PL).
Unfortunately the third company, Evolv Technologies Holdings, Inc. (NASDAQ: EVLV), did not respond to my multiple email and phone requests for an interview.
In addition to these interviews, I conducted independent research using publicly available information from each of the respective company websites, company press releases and information drawn from other public sources.
This article delves into the strengths, weaknesses, and long-term investment potential of each of these three prominent players in this field.
I am providing exclusive insight into this specific security technology revolution for consideration as an investment in not one, but potentially two publicly trading weapons detection companies that right now seem to be reshaping the security landscape.
Weapons Detection and AI
Weapons detection technology has come a long way since I first started covering this space over five years ago.
The goal of the technology has always been to identify and detect lethal weapons on a person as they pass through a screening process at their first point of entry. In addition, the flow of patrons passing through these screeners should be rapid and not cause congestion — nor inconvenience patrons due to false positives. The real-time data received from these weapons detection systems must be accurate.
While the physical screening equipment has largely remained unchanged using various scanning walk-through methods, it is the software (and more specifically the fusion of artificial intelligence and machine learning into the data systems) that has paved the way for a new breed of weapons detection systems that are at the forefront of creating safer public environments.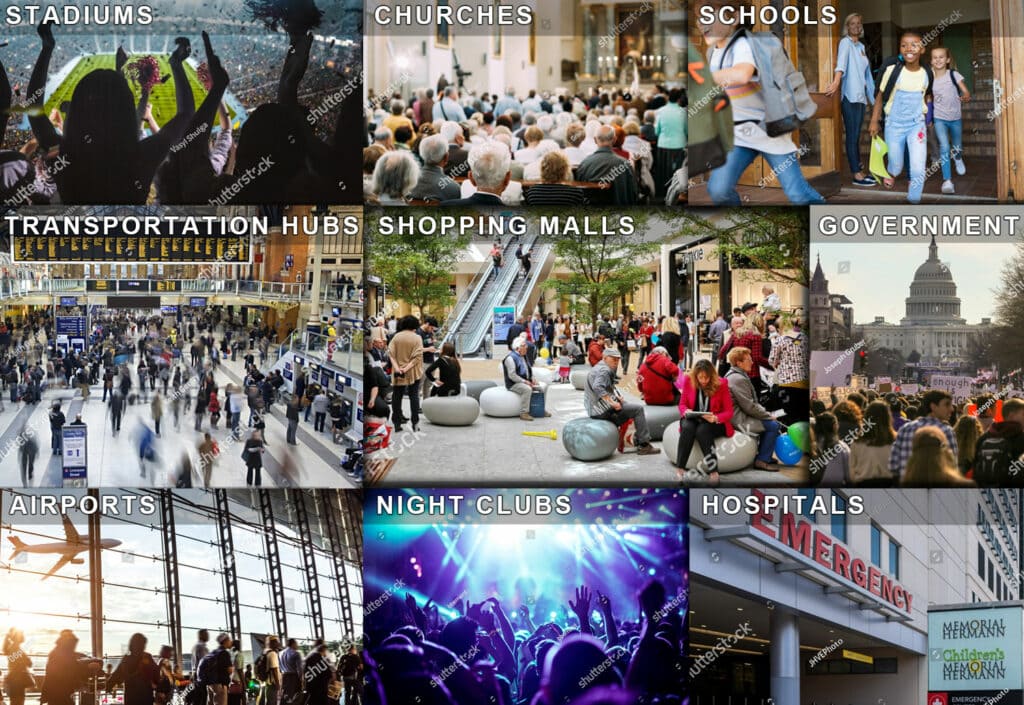 Remember, we are talking about protecting schools, airports, shopping centers, places of worship, night-clubs, hospitals, stadiums, transportation hubs, private and government buildings… anywhere people are exposed to a potential threat.
In a world where security is becoming paramount, innovation is taking center stage, ushering in a new era of security powered by cutting-edge AI technology.
Imagine a future where threats are identified before they manifest. This future is not only possible but investable thanks to these Top 3 visionary companies: Liberty Defense, Xtract One Technologies, and Evolv Technologies.
The Pulse of Investment Potential
The global physical security market size has been valued from USD$112.67–$119.75 Billion in 2022. This market is expected to grow globally to over US$209 Billion by 2032. That is almost double compared to what the market is today and a compound annual growth rate (CAGR) of about 8% from 2023 to 2030.[3], [4]
Why Invest in Weapons Detection Technology?
Innovation Beckons: These companies aren't just riding the wave of innovation; they are creating it. Investing now means riding the crest of their potential profitable future.
Profits with Purpose: These investments aren't just about financial growth; they are about participating in the creation of a heightened secure future for many generations to come. We as investors should continue to do our part by funding opportunities that help the world become a safer place.
In evaluating the long-term investment potential of these companies, several factors come into play:
Market Demand: The increasing need for heightened security measures across multiple applications including screening patrons at the entrance of schools, concerts, hospitals, expos and other public areas where large numbers of people gather bodes well for growth for weapons detection companies.
Technological Innovation: The success of weapons detection companies hinges on their ability to stay at the forefront of technological advancements in AI and screening technologies.
Competition: The weapons detection technology landscape has recently become competitive. Companies that can differentiate themselves and offer unique solutions with solid accuracy will have an edge.
And while innovation of this caliber carries an upfront price, shrewd investors know that pioneering technology often lays the foundation for substantial long-term returns. Think of Apple's iPhone and the massive profits it brought to the company, and the investors with the foresight to bet on this and take a stake.
The investment potential here could be staggering.
Let's take a look at these three cutting-edge enterprises and see how they compare.
Today's Top 3 AI Weapons Detection Titans
Liberty Defense Holdings, Ltd. (OTCQB: LDDFF / TSX-V: SCAN / FRA: LD2A)
I had the pleasure of talking with Jay Adelaar, Senior Vice President of Capital Markets at Liberty Defense, and discussing where the company is at with their technology and what next steps are required to bring their product to market.
The company's HEXWAVE technology is based on millimeter wave-based scanners. The data coming from HEXWAVE is analyzed by sophisticated AI and machine learning software to identify potential weapons or potential threats.
The founding Liberty Defense development team members previously worked for L3Harris Technologies, Inc. (NYSE: LHX) This team was responsible for developing security equipment for L3Harris that were eventually sold for over $5 billion.
The team has applied their collective expertise in millimeter wave detection technology to the Liberty Defense HEXWAVE technology and the results are positioned to be impressive.
Jay explained to me that the company has put seven years and $50 million in R&D into advancing the technology, and its commercial weapons detection system is finally ready for commercial sales.
And it seems that investment appears to be paying off…
The company's key advantage over its competitors is the fact that their HEXWAVE technology could have the ability to detect non-metallic weapons. Think of 3D printed weapons, ceramic knives and plastic IEDs.[5]
No other weapons detection company that I've come across can detect these items at this time. If these claims are true, this would become a game-changer within the weapons detection technology landscape.
Jay pointed out that the technology is not an everyday metal detector. Instead the novel technology is actually looking for shapes and objects on the body.
Those shapes are then processed by proprietary AI software to determine if it is something inoffensive (such as keys) or whether it is a potential lethal weapon that should be stopped on-site.
This could become an enormous advantage over the competing technologies if this claim holds true, in my opinion.
Jay told me that beta testing has already been completed at Baltimore Orioles Major League Baseball games; the Swaminarayan Akshardham, which is the largest Hindu temple on the east coast and second largest in the world; Toronto Pearson Airport; and at an 85,000-person stadium in Wisconsin, among other locations.
Jay mentioned that the company is at the point where the technology has been cleared by the FCC for use in indoor and outdoor settings and is ready for commercial sales.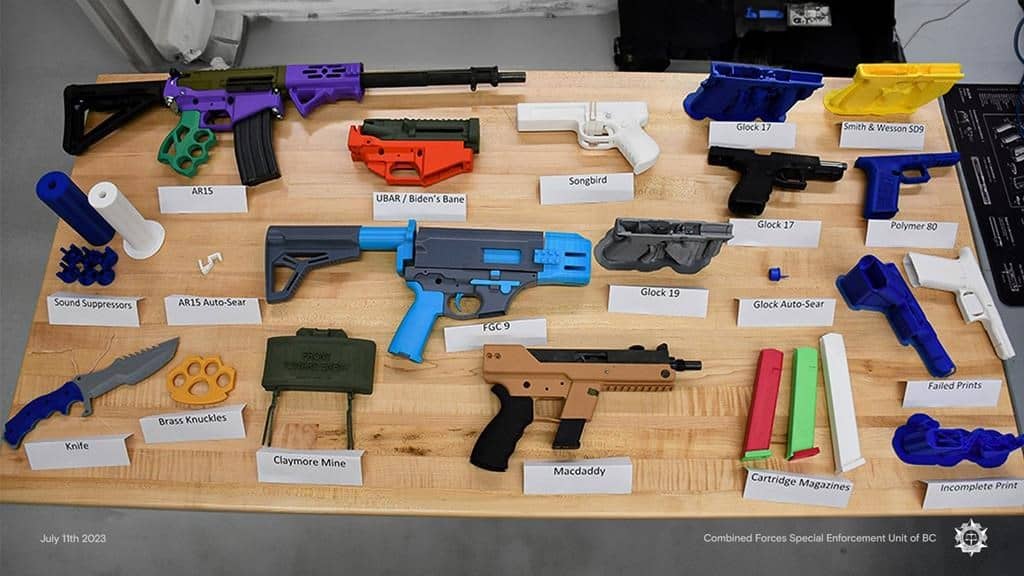 As I listened, I could imagine a world where I would not have to take off my shoes at the airport any longer. The scan is done and pass through happens quickly.
As for third party testing, nothing yet has been done other than receiving FCC approval last year. Jay mentioned, "We will be doing testing with the TSA next month and plan to test with Safeskies and NCS4 for commercial applications at a later date." He further stated "There is no formal testing required for deployment."
This is not a development or engineering story anymore but has moved into a sales and revenue story, according to Jay.
Already impressive clients and partners are lining up to purchase security units.
Smiths Group plc (OTC: SMGZY / FRA: QS2A), a $6 billion public company, purchased five units. It is in talks with Liberty Defense about becoming the company's distributor for North and South America for all sectors except for the aviation space. (Jay told me Liberty is holding onto the aviation space for themselves.)
Toronto Pearson Airport purchased one of two units after successful beta testing earlier this year.
Another unit went to a corrections distributor to be used in an entrance at a jail.
An additional three units went to a courthouse in Indiana.
Liberty Defense is one of two companies approved by the TSA to fulfill their September 25 mandate for screening airport staff and employees for explosives and other materials, including non-metallic weapons. That approval opens up hundreds of US airports to purchasing and installing Liberty screening units.
The company has just received an order for multiple HEXWAVE units to be installed at Los Alamos National Laboratory in New Mexico.
In the corrections market, Liberty Defense has a distribution partnership with Lenev.
The company just announced a distribution and partnership agreement with GRASP Innovations based in the Netherlands for sales and distribution in Europe.
An incredibly impressive list considering Liberty recently started commercial sales.
One of my concerns with Liberty Defense (OTCQB: LDDFF / TSX-V: SCAN / FRA: LD2A) is the fact that the company is by many factors… cash poor. The company has put everything into R&D, and commercial sales have only just begun.
It cannot offer any leasing or subscription self-finance-based offer for their security devices at this time, which might discourage some potential customers who are unable to shoulder all the upfront costs for their future units.[6]
At the moment, the company is using factoring, or a 3rd party finance company, in order to finance the production of units for guaranteed initial purchase orders (IPO's). This obviously cuts into the company's profit margin and will certainly affect the bottom line.
Additionally, as Jay pointed out, the junior capital markets are challenging right now. Liberty Defense will need to raise additional capital in order to manufacture the needed weapons detection screening units and put forth a solid sales and distribution plan moving forward.
Overall, Liberty Defense is a justified punt within the junior technology sector. It has years of work and expanse building out their technology in what could become the only screening device that could detect non-metallic weapons. Third-party testing is sorely needed though to verify these claims to the market.
This junior company could be on the cusp of exploding revenues if it can only navigate past the biggest hump of raising additional capital to support Liberty One's commercial sales and marketing plan moving forward. It would seem the company has built out its technology but requires additional capital to fully realize its efforts from an adoption or sales perspective.
"This is the next generation of screening. As you know, it's the last line of defense before you get onto an airplane, and that is the millimeter wave machines. We're talking that same technology but making it a walkthrough system using the best millimeter wave engineers in the world. We finally cracked that code and we're commercializing."
— Jay Adelaar, SVP of Capital Markets at Liberty Defense
Liberty Defense should certainly be on your watch list at a minimum. Don't get me wrong, there are certain risks:
Minimal cash on hand of CAD$1 million
Dire need to raise $5-10 million now
3rd party testing of the system is pending
However, the potential for gains here could be enormous if the company gets it together and raises the capital needed in order to advance into a hyper-sales growth plan.
Xtract One Technologies Inc. (OTCQX: XTRAF / TSX: XTRA / FRA: 0PL)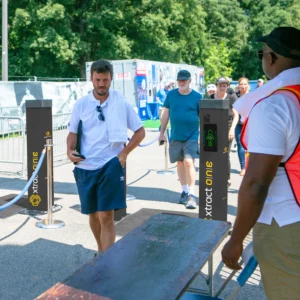 Xtract One (OTCQX: XTRAF / TSX: XTRA / FRA: 0PL), formerly known as Patriot One Technologies (OTCQX: PTOTF / TSX: PTOF / FRA: 0PL), was first covered in November 2018.
The company has come a long way during the last five years. Most importantly, a necessary change in management was made a couple of years ago.
The new and current CEO/ Director, Peter Evans, has completely revamped the company, conducting a cleaning of house, if you will.
It would seem under his leadership, the company is much more focused on its target markets and on the path to becoming a leading global security screening company.
From my point of view, Peter has turned the company around 180 degrees.
I had the immense pleasure of talking with Peter a few weeks ago. I was very impressed by his energy and his excitement directed towards the company's future. This guy is in it for the win, and I have to believe he will succeed in his endeavor.
Peter has been laser focused on getting his security technology improved and part of that was the acquisition of Xtract AI, a boutique AI software development company based in Vancouver, BC. This led to the company rebranding — and a name change from Patriot One to Xtract One — while adding in the artificial intelligence tech into not only the business itself, but also the name.
Peter immediately saw the potential in the quality of AI development the acquired company was doing and incorporated that into the Xtract One screening product offering. That is now reflected in a product Xtract calls the 'Smart Gateway.'
Peter told me that the company is constantly working on innovations for its products and actively working with customers to get them what they need to improve onsite security in a timely manner.
And this is paying off in dividends for Xtract One.
Businesses, it seems, have been lining up for the new screening units, and Xtract One saw a doubling of sales in their 3rd QTR year-over-year.
Some current clients include Kia Automotive, Hyundai, casinos and schools. These are very large brands and sectors that have signed up.
Probably one of the biggest feathers in the company hat is a contract with Madison Square Garden (MSG) in New York City.
Peter said, "Madison Square Garden tested us 24 different times at events like the Tribeca Film Festival, the Tony Awards, Billy Joel concerts and UFC concerts and they came to the conclusion after testing all the technologies that rigorously that we were the one they wanted to bank their future on."
That partnership has opened up an incredible number of opportunities for the company. Radio City Music Hall, Tribeca Film Festival, NBA and NHL teams among others can now be counted as clients.
As for deployment at MSG, Peter went on, "...MSG will start deploying in September in preparation for the NHL and NBA start of seasons, which are the beginning of October. Radio City Music Hall will be deploying in preparation for the start of the holiday season. ...the Beacon Theatre will go in right after that so between August and October all the MSG properties will be fully deployed."
This has also given Xtract One national exposure as a leader in the security screening space.
Xtract One was recently approved by the TSA (Transportation Security Administration) to be included in their security screening product catalog. A large accomplishment indeed.
It was also selected by the US Department of Veteran Affairs to secure all entrances at their Richmond VA Medical Center.
Xtract One was also chosen for a strategic partnership with the Oakview Group, a pre-eminent venue management organization in North America that operates more than 350 arenas.
One huge advantage that this junior company has is it is managing its tight cash-position and plans to stay that way. Peter stated that he believes the company has enough cash on-hand to see it through to break-even and eventually reaching a cash-flow positive scenario.
The CEO said Xtract is not interested in raising additional funds whether it be debt, through factoring their customer invoices, or any additional equity financings.
Peter explained to me that the company is holding the course with its current revenue model, winning contracts, increasing subscription revenues, and building the business on achieving a cash-flow positive position moving forward.
The company, it would be estimated, is on track to get to a breakeven point in the near future.
This gives the company the advantage of offering customers subscription-based software-as-a-service (SaaS) services and equipment.
And it allows more customers to have access to Xtract One screening units as the upfront costs are deferred over time, whereby increasing customer engagement rates. I love subscription-based business models over the long term which offer greater convenience, cost savings, and scalability — not to mention recurring profits over time.
One of my concerns about the company is its scanners only detect metallic objects at this time. That will have to change if it is going to remain a viable weapons detection company. 3D-printed weapons are becoming more prevalent, and that threat will eventually need to be addressed.
I do have faith Peter is already working on 'weapon shape identity' utilizing AI (artificial intelligence) technology, which is currently being utilized on the company's detection systems.
Xtract One has turned into a solid junior company with, I believe, a proven leader at the helm committed to innovations in security technology. A must for any savvy investor's watchlist at a minimum.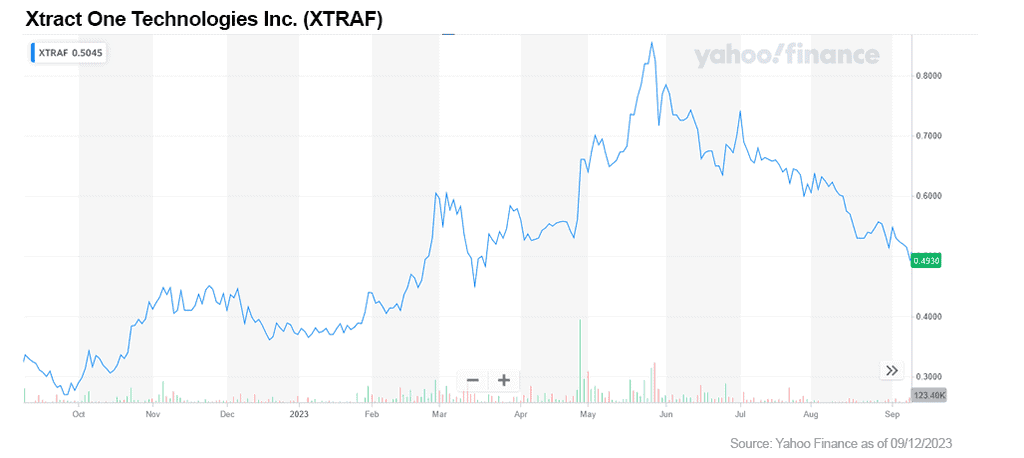 Evolv Technologies (NASDAQ: EVLV)
As I mentioned earlier, it is unfortunate Evolv Technologies (NASDAQ: EVLV) would not answer my repeated requests for an interview for this article. I reached out to the people at Evolv several times via email and phone with zero response.
That said, I have had to amass my research on the company through its website, press releases and other publicly available information sources.
The company has the largest market cap of these three leading weapons detection companies that I have highlighted here.
Evolv Technologies: US$971.968M
Xtract One Technologies: US$99.78M
Liberty Defense: US$16.523M
Evolv has seen very solid sales growth over the past year and its share price reflects that.
The company holds claim to some big name clients such as SoFi Stadium (Los Angeles Chargers), Acrisure Stadium (Pittsburgh Steelers), Target Field (Minnesota Twins), Amalie Arena (Tampa Bay Lightning), and AO Arena (home to three sports teams in Manchester, England and where a suicide bomber killed 22 people and injured 500 more at an Ariana Grande concert in 2017).
One of my biggest concerns though is that the company's screening units only detect metallic objects, and by some accounts it is not very effective in that.
The technology has actually never been tested and reviewed by an independent third party.
In March 2022, Evolv claimed it had a "fully independent" third-party review. But through a records request done by IPVM, an authority on physical security technology, the research company found some very disturbing findings. In fact, the company was said to be lying.[7] [8] [9]
Inside the report by IPVM and also later reported by the BBC, IPVM examined over 1,000 pages of documents showing how the National Center for Spectator Sports Safety and Security (NCS⁴), a reputable national authority on public safety, failed the public in multiple ways. The NCS should be shamed for their involvement with this study.
Specifically, these documents show:[10]
Evolv paid NCS⁴ for the testing, which was not disclosed by either party. Reportedly, Evolv falsely called this report "fully independent." It is not.
NCS⁴ let Evolv dictate the testing process and testing criteria, which skewed the scoring system and final results in favor of Evolv.
Evolv directly edited the NCS⁴ report, going through at least 14 drafts — which IPVM obtained — including tracked changes naming Evolv executives that repeatedly deleted important material.
NCS⁴'s testing found Evolv did not reliably detect knives, with 0% detection for some knives and 53% overall for all knives tested. This was deleted from the public report.
Evolv did not detect non-ferrous metals, meaning it would not detect plastic explosives or many types of improvised explosive devices (e.g. lead pipe bombs). This was deleted from the report.
Evaluators recommended that Evolv be transparent about these poor results, but these evaluator comments were deleted from the report.
NCS⁴ collaborated with Evolv on marketing and PR for the report.
NCS⁴ received additional tens of thousands in sponsorship payments from Evolv, including $10,000 luncheons.
At least one school district says the company was not forthcoming about how poorly the system detects knives.
Utica City Schools in upstate New York spent $3.7 million on an Evolv system. That system has since been put into storage after it failed to detect a knife that was used in a stabbing at the school.[11]
Acting superintendent of Utica City Schools Brian Nolan said the system also missed a state trooper's service weapon — twice — when he went through the sensor with the gun on his hip.
---
Some school administrators are reporting that the scanners have caused "chaos" — failing to detect common handguns at commonly-used sensitivity settings, mistaking everyday school items for deadly weapons, and failing to deliver on the company's promise of frictionless school security.[13]
---
Vice recently reported on a similar situation in South Carolina where the Evolv weapons detection system did not detect a Glock pistol.[12]
"It's good at finding weapons of mass destruction, or AK-47s, or AR-15s or machetes," Nolan said. "But as for the knife, the much-trusted weapon of high school student choice, not so much."
Evolv also often fails to detect pepper spray cans, Nolan added, another common weapon brought to school by high school students.
On the flipside, Evolv is very good at sounding false positives for non-weapons such as water bottles, umbrellas, binders and laptops. One workaround for this problem was that students were told to carry their laptops in their arms while they passed through the screener.
"How I see it is: Evolv's marketing paints a picture that fundamentally clashes with the reality on the ground."
— Donald Maye, a security researcher at IPVM
Evolv has responded to these allegations on their website.
Powerful accusations to be sure. This is a story that is still developing.
Interestingly, the market did appear to react after the December 6, 2022 release of the IPVM report with the share price dropping -41% over ten days.
Since then the market has shrugged off the allegations sending the share price rocketing up over +200% since the beginning of the year.
Buyer beware, in my opinion.
Given the fact that Evolv has still not conducted any other 3rd party testing leaves its system's effectiveness unknown.
Until that happens, I cannot honestly give any type of investor recommendation for Evolv Technologies
Some within my network would question an immediate short position on the stock. I find it very strange that investors, including the overall market, are not rattled by these claims.
Astute Investors Know: AI-Driven Technology Is Driving Massive Profits
The convergence of AI and security has birthed a promising sector within the technology landscape. Liberty Defense, Xtract One Technologies, and Evolv Technologies each offer unique approaches to weapons detection.
Liberty Defense (OTCQB: LDDFF / TSX-V: SCAN / FRA: LD2A) stands out as a technological leader due to the fact that the company's technology could potentially detect non-metallic weapons — a growing threat in today's security environment.
Liberty Defense also may have the most upside as they have the lowest market cap of the three companies reviewed. The company's biggest obstacle to being a powerhouse in the field will be its ability to raise enough capital and increase its commercial sales.
A bit riskier of an investment but it has the potential to pay dividends in the near future.
Liberty Defense Quick Stats (as of 9/12/2023):
Current Share Price: US$0.13
Market Cap: US$16.523M
Shares Outstanding: 127.1M
Float: 122.92M
EBITDA: -9.83M
The company has seen its share price fall by over -53% in the last year.
Quarterly Revenue Growth (y-o-y): N/A
Xtract One (OTCQX: XTRAF / TSX: XTRA / FRA: 0PL) is a solid sales leader with one of the best leadership teams in the space leading the charge to success.
This is a solid company that is currently in a position to become cash positive within the near future, and with its proven weapons detection technology making progress has some of the biggest venues in the world as their clients.
A solid investment opportunity as the company continues to grow its commercial client list, and a very reasonable market-cap related to potential upside.
Xtract One Quick Stats (as of 9/12/2023):
Current Share Price: US$0.5045
Market Cap: US$97.23M
Shares Outstanding: 197.78M
Float: 165.33M
EBITDA: -17.35M
The company has seen its share price rise by over +70.19% in the last year.
Quarterly Revenue Growth (y-o-y): -6.70%
Evolv Technologies (NASDAQ: EVLV) has some serious allegations that the company will need to address in the short term.
This company has managed to break all barriers and sales continue to increase. This reminds me of a company with a highly skilled & effective pharmaceutical sales approach, trained and ready to promote a new drug that will help anyone listening (sound familiar?).
The overall effectiveness of the company's technology is a big question mark at this point. This could be a matter of time before this negative press comes to haunt the company share price, in my opinion.
A solid investment opportunity as the company continues to grow its commercial client list, and a very reasonable market cap related to potential upside.
Evolv Technologies Quick Stats (as of 9/12/2023):
Current Share Price: US$6.48
Market Cap: US$1.02B
Shares Outstanding: 150M
Float: 78.91M
EBITDA: -91.89M
The company has seen its share price rise by +208% in the last year.
Quarterly Revenue Growth (y-o-y): 118.60%
My Final Assessment
So to sum up my careful evaluation of all three companies, I would invest my budget accordingly:
55% would be on Xtract One (OTCQX: XTRAF / TSX: XTRA / FRA: 0PL). Solid company, growing client list, self-financed — leading to a cash positive position and very strong leadership.
25% on Liberty Defense (OTCQB: LDDFF / TSX-V: SCAN / FRA: LD2A), as the company has the only technology that claims to detect non-metallic weapons, and it also has the largest potential upside.
Finally I would put the remaining 20% of my investment budget in a potential short position in Evolv Technologies (NASDAQ: EVLV). The company has not demonstrated the effectiveness of its technology in a 3rd party evaluation.
For the astute investor attuned to technology's pulse, these companies offer a chance to ride the wave of innovation and reap huge rewards. But with a word of caution. Please do your own due diligence.
The time is now, the future is calling — will you answer?
MF Williams, Contributor
for Investors News Service
P.S. To discover more opportunities in the hottest sectors in North America, sign up now to the Financial News Now newsletter to get the latest updates and investment ideas directly in your inbox!
DISCLAIMER: Investing in any securities is highly speculative. Please be sure to always do your own due diligence before making any investment decisions. Read our full disclaimer here.
---
Published September 2023
Editor's Note: On December 1, 2022, Patriot One Technologies Inc. changed their name to Xtract One Technologies Inc. and symbols to TSX: XTRA / OTCQX: XTRAF / Frankfurt: 0PL
Already in January of this year, America experienced 34 mass shootings (shootings with four or more persons killed or injured, not including the shooter) in this month alone.
Of those 34 incidents, 42 people lost their lives and another 113 were injured.[1]
Gun violence is so prevalent in the US that it hardly makes it to headline news.
And last year, the US experienced a record number of gun violence deaths and injuries.[2]
Here's a startling fact:
Gun violence is a leading cause of premature death in the US. Guns kill more than 38,000 people and cause a whopping 85,000 injuries each year.[3]
Simply put, the US has a huge gun problem. The debate rages on how best to mitigate the problem and the devastating societal effects — with no clear solutions provided by the political circus in Washington.
The only clear choice at the moment is in the private sector, specifically in weapons detection technology.
The technology has seen incredible advances since I first covered this topic over three years ago in November of 2018. As the fast-changing industry experienced market innovations, I covered it again in April of 2019 and once more in August of 2019.
It is a topic I am obviously deeply passionate about and have a keen interest in. Wishing for an end to the horrific bloodshed that is ravaging the American landscape is a dream we can hopefully realize sooner than later.
My hope lies in the advancement of technology that is being developed by eight weapons and threat detection companies I have discovered during my in-depth research on the subject.
Read on to learn more about the underlying technologies that are driving modern weapons detection systems and which companies I like most in the space.
Weapons Detection of the Past
Weapons detection systems have come a long way since the original metal detectors that were first used in airport check-in lanes and federal building entrances.
They were notorious for false positives or worse; completely missing their intended targets:
Another problem with weapons detection systems of the past was the painfully slow inspection rates. People entering a secured area had to cue up in a single file line, removing everything from their pockets, belts, jewelry, shoes and even jackets.
If they were unlucky, people were identified with a false positive alarm and had to be rescanned using a handheld metal detector and physical pat down. This takes more manpower and slows down the amount of people that can be accurately scanned per hour into any stadium or concert, for example.
After all that, the person then had to redress, reassemble their outfit, and pick up their personal belongings which typically took another several minutes.
It remains an ordeal from hell for many of us.
Major Technologies Fuel Advances in Modern Weapons Detection Systems
Thankfully the future of weapons detection looks a whole lot better and less intrusive for the subjects that are being scanned.
Weapons detection companies are harnessing the huge advances in Artificial Intelligence (AI), Machine Learning and Cloud Computing to analyze data collected by their respective proprietary scanning technologies.
The detection systems typically gather data by bouncing some form of waves such as radar, wifi, milliwaves, etc., off of the subject. The returning wave holds data that is then received and analyzed.
Edge or cloud computing offered by Microsoft (NASDAQ: MSFT) Windows Azure or Amazon (NASDAQ: AMZN) Cloud Servers, for example, allow customers to tap into vast arrays of computing power never before accessible to the general public.
The computational power is multiplied with the help of AI, which can analyze vast amounts of data quickly and efficiently. It can also learn from its mistakes and become more accurate over time.
Typical setups vary between the companies, but generally there is some form of transmitter/receiver of the wave signal. Oftentimes the technology scanners can be disguised as a post or maybe a pole, or draped with banners to hide the underlying weapons scan being conducted as people walk through a designated area.
The beauty of this technology is the unobtrusive nature of scanning large crowds with minimal aggravation. The subjects do not need to be in any formal lineups; they can keep their clothes and personal effects on as well as their backpacks and bags.
Ideally the subjects will not even know they are being scanned for weapons. And they can relax knowing the area is free of weapons or threats.
Below I will get into more detail about each company and their technology, as well as which company I feel has the largest chance of a successful commercial application.
8 Weapons and Threat Detection Companies Leading the Way to a Safer America
The last time I wrote on weapons detection technology companies, there were only three viable companies. All were publicly traded. To my surprise, two new publicly traded companies have come online as well as three privately held companies that look promising. Threat detection has become such a serious issue, we now have multiple companies competing to make America safe!
I threw the three privately held companies in the mix on the chance they might be open to private placement or could be candidates for upcoming public listings. You will need to contact them directly to learn about any opportunities they might hold.
Without further ado, here are 8 companies that are working on keeping America safe.
5 Publicly Traded Weapons and Threat Detection Companies
1. Patriot One Technologies (TSX: PAT / OTCQX: PTOTF / FRA: 0PL)
I've been following Patriot One since their initial listing on the TSX Venture board over five years ago. The company has executed on much of its promises and was upgraded to the TSX main board in April 2019.
The company has consolidated its many detection platforms and technologies into an integrated suite called the Multi-Sensor Covert Threat Detection Platform, which is a multi-sensor and AI powered gateway.
The platform uses various sensors (microwave radar, magnetic reaction) and video. The data that is gathered from these sources is analyzed by AI. Threats are identified in real-time, and alerts are sent to security staff through their connected mobile devices.
The advantage of the Patriot One platform is that large crowds can be scanned unobtrusively. Once a threat is identified, security staff can be immediately notified and can neutralize the threat with minimum interference to the event or surrounding patrons. Sensors are located in concealed walk-through towers eliminating the need to build up a fortress-like security grid.
Patriot One's current CEO Peter Evans joined Patriot One about a year ago and has been reorganizing the company to better focus on their strengths and client targets.
Recently Evans sent a letter to investors outlining where the company is now and what management is doing to take Patriot One to the next level. It is a good read and highly recommended if you are an existing investor of Patriot One or looking to learn more about the company.
The CEO letter can be found here.
The company is already executing on the CEO's promise with a new contract with the US Office of the Inspector General (OIG). The OIG has chosen Patriot One's Multi-Sensor Gateway screening solution for use in their headquarters in Washington DC.[4] This is a great start for the company this year.
The stock saw a nice bump with the news. I predict that the company will continue to win over new clients this year, and long-term investors will be rewarded for their patience.
My personal favorite.
2. Liberty Defense Holdings, Ltd. (TSX-V: SCAN / OTCQB: LDDFF / FRA: LD2A)
Liberty Defense has been hard at work in the weapons detection space for several years now.
It has licensed its "HEXWAVE technology" from Massachusetts Institute of Technology (MIT), one of the top academic institutions in the world, as well as technology transfer agreement patents related to active 3D radar imaging technology that detects metallic and non-metallic weapons.
In addition, the company has licensed millimeter wave-based, High-Definition Advanced Imaging Technology (HD-AIT) body scanner and shoe scanner technologies as part of its technology portfolio.
On August 12, 2021, the company announced a slew of key new hires in sales and business development with some very impressive resumes.
With these recent hires, it appears the company might be making some solid moves to finally put their technology portfolio to work and start generating revenues.
The company recently announced a new contract with a global Hindu religious and social organization with 3,300 temples around the world. The organization will be testing the Liberty Defense HEXWAVE scanners at its temple located just outside of Atlanta.
This is definitely one to keep on your radar, in my opinion. Early investors might see a pop if new customer and sales agreements are signed early on. I really like this company's advancements in the space. This could very well be the winner in the race to secure America.
3. Plymouth Rock Technologies Inc. (OTCQB: PLRTF/ CSE: PRT / FRA: 4XA)
Plymouth Rock has been busy since I last looked into their operations. The company now has a solid lineup of weapons detection systems as well as two drones that can be used to carry its weapons detection tech to scan wide areas from the air. How cool is this?
MIRIAD is a prototype compact sensor that is being developed for use on unmanned aircraft systems or drones. The tech is based on millimeter-wave technology that captures radar images that are then analyzed by AI where threats are identified.
Plymouth Rock also has a shoe scanner that uses the same tech as the MIRIAD. The system allows the screening of subjects without the removal of footwear, increasing inspection rates at mainly security airport checkpoints.
The company's other technology, WI-TI, uses WiFi signals to scan large areas for potential concealed threats. Much like millimeter-waves, the WiFi signals are analyzed for signatures of known weapons, and alerts are passed on to security staff as necessary. I'm not sure how proven this threat detection method relates to everyday life… there is still much to study.
Finally, Plymouth Rock's CODA 1 system is a compact radar device that can be used for low-power stand-off weapons detection. The system is now in production and has been submitted to the Department of Homeland Security APEX Screening at Speed (SaS) program, pending approval.
The company appears to be very active in R&D and has recently raised funds for further product development and ultimately sales.
Plymouth Rock is a personal long-hold favorite.
4. Evolv Technologies Holdings, Inc. (NASDAQ: EVLV)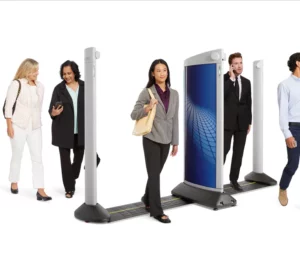 Evolv Technologies is a relatively new kid on the block.
The company focuses on weapons detection with high throughput of subjects without having to empty pockets or conduct pat downs. The technology combines sensors with AI for data analysis.
The company boasts a solid lineup of product solutions that allow high-speed weapons detection without slowing the flow of foot traffic.
Evolv Cortex AI Platform is the company's proprietary AI analysis software. Evolve Insight Analytics is its security dashboard that is connected to the Evolv Express and Evolv Edge touchless security screening platforms.
The company boasts it holds more than 100 patents on their technologies.
Evolv announced 3rd QTR results, and they are seemingly impressive given this new birth within this sub-sector.
Total revenue for the 3rd QTR of 2021 was $8.4 million, an increase of +473% YoY
Total contract value booked in the third quarter was $16.9 million, an increase of +365% over the past year period
GAAP net income for the third quarter of 2021 was $23.2 million, or $0.15 per diluted share, compared to a GAAP net loss of $6.3 million, or $0.70 per basic and diluted share, for the third quarter of 2020
Evolv is certainly a company to include on your watchlist.
5. VSBLTY Groupe Technologies Corp. (OTCQB: VSBGF / CSE: VSBY / FRA: 5VS)
VSBLTY does not have a weapons detection system per se. Instead, it uses advertising billboards with mounted cameras that scan crowds.
The video data is analyzed with facial recognition technology to identify known or wanted criminal threats. The video feed is also used by security personnel to scan for any visual weapons threats.
Three Private Weapons and Threat Detection Companies
1. Actuate Systems Inc.
Actuate integrates with existing surveillance video feeds to scan for visual weapons. The video data is scanned by AI where threats are identified, and officials are alerted via connected mobile devices.
The company received $8M Series A funding from Tribeca Venture Partners, well known for their early support for a myriad of highly successful companies.[5]
Crunchbase lists seven investors in the company overall.[6]
It might be worth reaching out to the company for private placement opportunities or at a minimum keep this one on the radar for a future IPO opportunity. I still need more information about their tech when compared to others in the category.
More information on the company can be found on their website: https://actuate.ai
2. IPVideo Corporation
IPVideo's ViewScan is a touchless security screening device that boasts to be highly accurate with a high throughput of subjects.
More information on the company can be found at their website: https://ipvideocorp.com/
3. ZeroEyes
ZeroEyes uses existing video data to analyze, identify and alert security personnel of active threats. The system, however does not detect concealed weapons.
The company recently received over $20M in Series A funding from Octave Ventures. Crunchbase lists a total of five investors in the company.
More information on the company can be found on their website: https://zeroeyes.com/
Investing In Our Future Safety Could Become Much Bigger Than You Think…
Weapons detection systems are becoming more sophisticated in their ability to detect both visual and concealed weapons. The technology is also making scanning large crowds feasible with minimal personal intrusion.
The technology will continue to grow and will become ubiquitous in almost all public spaces including places of worship, concerts, sporting events and government buildings to serve as examples.
The time to choose a weapons detection company for your investment portfolio is now. As COVID restrictions continue to ease and the economic recovery continues, more and more public venues will reopen. The space will only grow as demand rises and public venues search for a solution to keep their patrons safe.
With stock prices trading at lows within the weapons detection category, now might be a good time to consider investing as we approach a post-COVID economy.
As always, please remember to do your own due diligence before making any investment decisions.
MF Williams, Contributor
for Investors News Service
P.S. To discover more opportunities in the hottest sectors in North America, sign up now to the Financial News Now newsletter to get the latest updates and investment ideas directly in your inbox!
DISCLAIMER: Investing in any securities is highly speculative. Please be sure to always do your own due diligence before making any investment decisions. Read our full disclaimer here.
---
Published February 2022