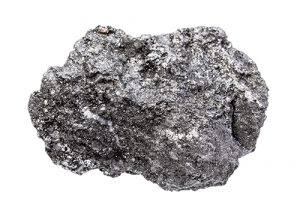 Battery metals have been the focus of junior and microcap investors over the past several months as companies like Tesla (NASDAQ: TSLA), NIO (NYSE: NIO) and a myriad of electric vehicle manufacturers big and small have dominated the NASDAQ.
Lithium, nickel, cobalt, copper and manganese producers and explorers have all done well, but graphite companies have been the hottest of the bunch recently as the market is starting to recognize the crucial nature of this mineral.
Battery manufacturers can tinker with the percentages of the other components I mentioned within a lithium-ion battery. For instance, at Tesla's Battery Day last year, it introduced a nickel-manganese battery for mid-range vehicles, replacing the cobalt with much cheaper manganese.
Tesla is trying to get battery costs down as low as possible so that it can reduce the sticker price of its vehicles to be more in line with comparable class combustion engine models.
However, manufacturers can't eliminate graphite in its role as the anode, or negative electrode, component of the battery. Researchers have spent years and tremendous effort trying to find suitable alternatives to graphite. They have so far failed to find a material with the enhanced power or energy density while still maintaining cycling stability that is comparable to or superior than graphite.[1]
While lithium gets the most attention due to it being the "gasoline" part of the battery, there can actually be 10-20 times more graphite than lithium in a lithium-ion battery.[2] According to Benchmark Minerals, demand will begin to become increasingly apparent as early as 2023. Until some other technology comes along, it's likely not going to be as replaceable to cobalt for certain battery chemistries.[3]
1.1 million metric tons of graphite was mined globally in 2020 while there is 320 million metric tons of estimated reserves in the ground.[4] In comparison, 82,000 metric tons of lithium was mined globally last year while there is 21 million in estimated global reserves.[5]
That would put graphite and lithium approximately in line with the relative demand for input into batteries or further energy storage and battery technology. However, 650,000 metric tons, or 59% of the graphite mined came out of China.[4]
Given the sensitive and critical nature of this material, it's strongly preferred by governments and electric vehicle manufacturers in the west to reduce the reliance on China.
Not all graphite is created equal. When it comes to early mining companies, veintype findings surrounding graphite is preferable to amorphous or flake graphite because of its superior properties such as high crystallinity together with extensively high natural purity.[6] This in turn reduces the cost for purification.
While graphite as a whole is produced in much larger quantities, only a small percentage of that is vein graphite, with current production being nearly exclusively limited to Sri Lanka.
Dynamic Exploration and Mining Company Soon to Be a Key Player In EV and Energy Storage Supply Chains
One company that I particularly like is Gratomic Inc. (TSX-V: GRAT) / OTCQX: CBULF). GRAT has already moved many times in price over the past several months and as of May 18, 2021 the market cap sits at around US $122 million. So, anyone buying in at this valuation must be given a good reason to do so. I think that it has those reasons.
GRAT / CBULF currently holds controlling interest in the Aukam Graphite Project located in southern Namibia, with negotiations ongoing for acquisition of the remaining 37%. This past-producing vein graphite property covers 141,600 hectares.[7]
The graphite on this property is of such high purity naturally that it does not require the use of harsh chemical treatments, such as acid leaching, which tends to degrade the quality and performance of the mineral. Acid leaching causes pitting in the graphite, which negatively affects the performance ability. Instead, Gratomic is able to take its mineral resource to battery grade levels through water processing and a patented air classification process.[8]
The company has recently announced its intent to develop a pilot facility to internally process up to 1,000 tons of SG16 battery grade anode materials in the second half of 2021 at its Port of Lüderitz Bay facility.[9] If successful, this will be followed by the construction of a demonstration facility, which will process up to approximately 2,000 tons per annum beginning in 2022 and up to 20,000 tons per annum once the demonstration facility is converted into a full final production phase. The facility will be located at the Company's owned warehouse located at the Port of Lüderitz Bay, in close proximity to Aukam.[9]
The Company is currently in the commissioning phase of its onsite processing plant at its flagship Aukam property, where the first stages of graphite processing is intended to occur. After the graphite is processed and air classified at Aukam, it will then be transported to Lüderitz Bay for finishing, which includes micronization, spheronization, and Forge Nano's patented ALD Coating in preparation for use as a battery anode material. The product would then be shipped from the Port of Lüderitz Bay directly to battery OEMs. Gratomic aims to introduce a superior anode graphite material to the booming electric vehicle and battery storage markets.[10]
In addition to the property in Namibia, Gratomic (TSX-V: GRAT) / OTCQX: CBULF) owns the Montpellier Graphite Property and Buckingham Property in Quebec. These are smaller properties than Aukum, but they could be icing on the cake as North American electric vehicle companies are generally looking to secure a local supply of input materials. Gratomic disclosed that it has CAD$8 million in cash and no debt.[11] The company should have enough cash to get through the year.
As electrical vehicles become more popular, the demand for raw materials that go into batteries are increasing. Graphite seems to be an integral material that is poised to continue to gain popularity. Currently lithium-ion batteries are the most popular choice for batteries used in electric vehicles and they generally use graphite anodes since they seem to cope well with the flow of lithium-ions.
According to Resource World, "Electric vehicle production is rapidly ramping up significantly with dozens of new models to hit showrooms in the coming years, representing a huge new market for battery minerals."[12]
For example, General Motors (NYSE: GM) is investing US$20 billion to launch 20 new EVs by 2023, including an electric Hummer. Ford (NYSE: F) is investing US$11 billion in EV manufacturing. Being naturally of high purity, Gratomic's vein graphite is ideal for use in this application, requiring simpler, less expensive and more efficient processing methods, resulting in a final product with lower amounts of deleterious elements."[12]
In Closing…
The company is in a unique position for a junior miner with its business strategy, focusing on mine-to-market commercialization of carbon-neutral, high purity vein graphite. Its near-term production and revenue potential at a mining operation with an expected multidecade mine life plus a solid growing demand for its graphite products, will make it a key player in EV and Renewable Resource supply chains.[12] With vein graphite in need and demand, Gratomic (TSX-V: GRAT) / OTCQX: CBULF) is certainly a company to keep an eye on.
Happy investing!
Kal Kotecha, PhD
for Investors News Service

P.S. To discover more opportunities in the hottest sectors in North America, sign up now to the Financial News Now newsletter to get the latest updates and investment ideas directly in your inbox!
DISCLAIMER: Investing in any securities is highly speculative. Please be sure to always do your own due diligence before making any investment decisions. Read our full disclaimer here.
Disclosure: Gratomic Inc. is a Kal Kotecha portfolio holding under his Junior Gold Report. Junior Gold Report (Dr. Kotecha) is currently engaged and paid by Gratomic for marketing services. His relationship with Gratomic should be deemed a potential conflict of interest.
---
Published May 2021