The psychedelics sector could be even more profitable for investors than early cannabis stocks!
"The green rush for cannabis took well over a decade to fully develop. But for psychedelics it's now happening in over just a few months."
T
railblazing Delic Holdings (OTCQB: DELCF / CSE: DELC) is on the fast track to market domination in the sector, supported by investment heavyweights Paul Rosen, co-founder of PharmaCan Capital Corp. and who served as its first President and CEO, and Kraig Fox, former managing director of $275 billion global investment firm Guggenheim Partners and former CEO of Hightimes Holding Corp.
Delic Holdings (OTCQB: DELCF / CSE: DELC) Could Be the #1 Stock to Buy
in the Fast-Emerging Psychedelic Pharmaceutical Drug Market
Early investors already participating in this red-hot psychedelics space are pocketing gains as high as +2,233%.
If you held back too long and missed out on 4-figure stock gains in the early days of the cannabis revolution…
Then it's time to take a look at what Bloomberg calls the incredible investment opportunity in fast-growing psychedelic drug stocks.[2]
Two years ago, there wasn't a single publicly listed mental health psychedelics company.[3]
Today that has all changed. Now a handful of quality psychedelics companies have turned in jaw-dropping profits!
Profits like: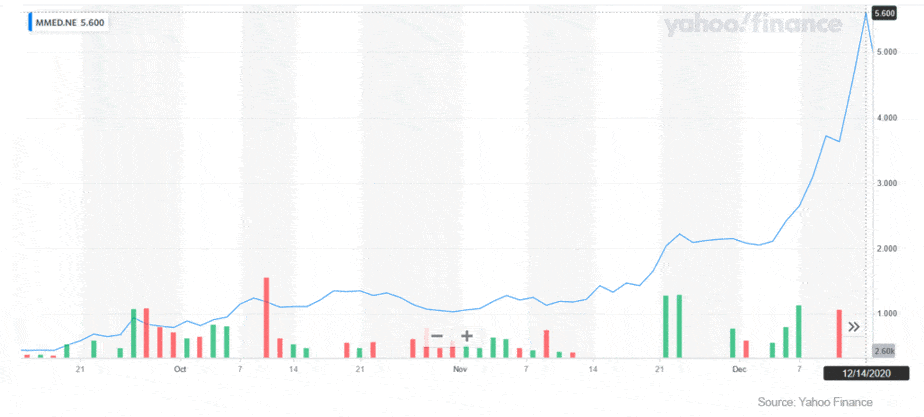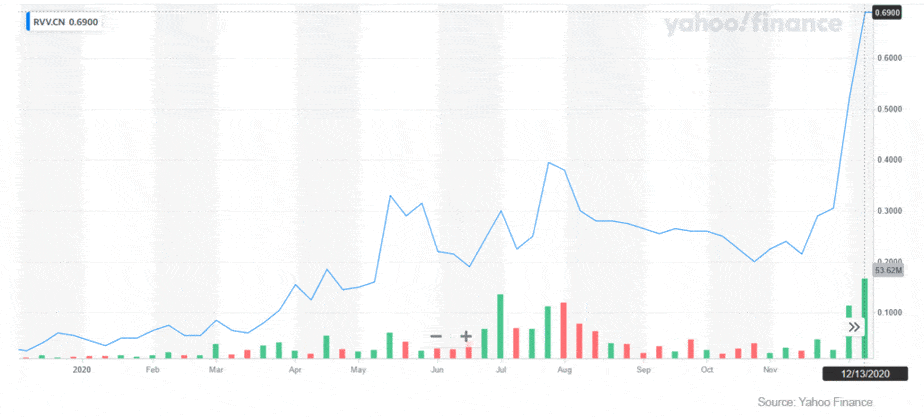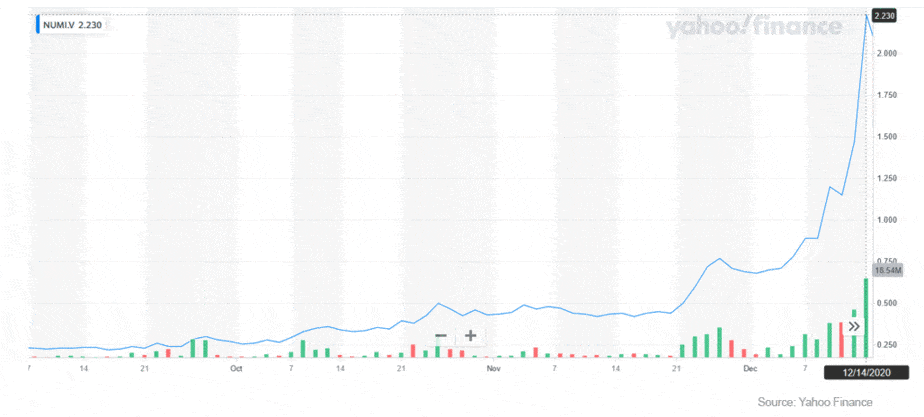 Analysts, financial advisors and retail investors are starting to take notice.
It's "where the money is," stock market guide RealMoney wrote in November.[4]
"It's like a gold rush," Bloomberg proclaimed in January.
A few days later, Bay Street analyst Bill O'Hara advised that:
"Investors are always looking for the next big thing.
They had cannabis.
They're saying, what's next?
And it turns out to be psychedelics."
Now investors are asking, "Where should I invest?"
To start your research, download the Delic Investor Presentation below.
Learn More!
Get Your Free Delic Holdings
Investor Presentation Here
Yes! Send me my
FREE Investor Presentation
The Biggest Investors Are All In
You can start by seeing what companies venture capital and other big investors are backing.
Before they put their weight behind a company, you can be sure they've sent in a team of analysts to comb through the company's business model, management team, financial structure, and growth plan.
FACT: Heavyweight backers are already pouring into the new psychedelics space.
PayPal founder and billionaire investor Peter Thiel and billionaire fund manager Mike Novogratz have invested in Compass Pathways (NASDAQ: CMPS). So far Compass has only one drug in its pipeline.[5]
Shark Tank host and billionaire Kevin O'Leary and Toms Shoes founder Blake Mycoskie have put in with Mind Medicine (NEO: MMED). The New York-based biotech has a full pipeline of developmental psychedelic drugs, which will take years to make their way to market.
Hedge fund billionaire Steve Cohen, GoDaddy founder Bob Parsons, venture capitalist George Sarlo, and heir to the Hyatt Hotels fortune Joby Pritzker are all investing heavily in psychedelics.[6]
The World's Smartest Business People Are Betting on the Enormous Rise in the Psychedelics Space
These big names have brought a lot of investor attention to the stocks they're backing.
"I like investing in novel solutions to big problems. Treating mental illness and substance-use disorders more effectively may be the largest problem ever."
[7]
— Kevin O'Leary, Shark Tank host and billionaire
But the truth is, the vast majority of the companies operating in this space don't have enough going for them to attract the backing of heavyweights…
And most never will. Only the companies with the greatest potential to reach billion-dollar valuations can draw that kind of business talent & support.
That's what makes fast up-and-coming Delic Holdings (OTCQB: DELCF / CSE: DELC) so exciting!
Delic's Billion-Dollar Backers
Delic has support from an impressive roster of some of the most successful value creators of this era.
Paul Rosen was a co-founder of PharmaCan Capital Corp. and served as its first President and CEO.
Some of the other impressive names who have joined him include Kraig Fox, former Senior Managing Director of Guggenheim Partners…philanthropist Garyn Angel…serial entrepreneur and venture capitalist Martin Tobias…Apollo Neuroscience founder Dave Rabin, MD, PhD…and more!
The involvement of these icons of industry is just one of the reasons why Delic could be the number one way to profit from the new psychedelics revolution.
Delic is highly positioned in the right market now…with the right business model…with the right business strategy…at exactly the right time.
POWERFUL INVESTMENT REASON #1
FDA Grants Fast Track to Psychedelic Drug Development
After Traditional Mental Health Drug Industry Fails
It's no secret that the traditional drug industry has failed when it comes to treating mental health disorders.
For a half-century medical scientists have come up short in their attempts to develop effective treatments for depression, anxiety, substance abuse, alcoholism, PTSD, and a range of other mental health disorders.
Numerous studies have found that what has become standardized pharmaceutical drugs being used today are no better than placebos.
Up to 71% of people who use antidepressants relapse with a very low response rate of only 30%. Not to mention the significant side effects.[8]
As one report bleakly puts it, the current roster of psychiatric drugs includes nothing more than "expensive Tic Tacs."[9]
The need for effective treatments is so desperate that the FDA recently granted landmark "breakthrough therapy" status to psychedelic drug development.[10]
Not just once either, but twice in two years.
Breakthrough science-based status can speed drug approvals by years, and is only granted when there is an urgent unmet therapeutic need and when a compound under research shows 'big promise.'
Less than two percent of all drugs in development are considered urgent enough to be granted breakthrough status.[11]
This is how huge this psychedelics sector is to investors, and it's just getting started!
The FDA's willingness to fast track psychedelics is based on solid and growing evidence that psychedelic compounds have a profound ability to treat depression, anxiety, and substance abuse better and faster than any other drug ever developed.[12]
An explosion of groundbreaking research from of the likes of Yale, Johns Hopkins, and the US National Institutes of Health are calling psychedelic medicine "a revolution," "a game changer," a "miracle drug," and "the biggest advance for mental health in the past 50 years."
[13]
With that promise, it's no wonder that:
The Legal Psychedelic Drugs Market Is Taking Off at Rocket Speed
Mental health problems are widespread and getting worse, particularly due to the COVID-19 pandemic.
Over 54 million adults in the US are experiencing high levels of psychological distress including 32% of those aged 18–29. [14]
This segment of the population is in dire need of relief that psychedelic medicines could offer.[14]
The market for psychedelic medicines is projected to soar from next to zero to $16.5 billion by 2027, sprinting at an astounding annual 16.3% pace.[15]
From there it is not unreasonable to believe psychedelic medicines could take over the entire $70 billion mental health drug market. I truly believe this! This movement is that profound.
There is already ample evidence that psychedelic drugs are far more effective than the current traditional standards of care.
They not only relieve symptoms better, they are also faster-acting, achieving results in hours instead of weeks, which is how long it typically takes with the current pharma drugs available.[16]
Study after study confirms the superiority of incorporating psychedelics over all other pharma-based drugs, which is inspiring a wave of startups to seize an opportunity that could be even bigger than the cannabis market revolution.
With about two dozen publicly listed psychedelics stocks, nearly all are focused on launching years-long efforts to develop psychedelics-based pharmaceuticals.
But Delic is taking a shorter path to profits, a strategy developed and proven by trailblazing cannabis investor and entrepreneur Matt Stang, CEO of Delic.
POWERFUL INVESTMENT REASON #2
Delic Founders Pivotal to Fast Rise of Cannabis Industry Now
Applying Same Disruptive Model to Shape Psychedelics Industry
Industry trade magazine Marijuana Retail Report recognizes Delic CEO Matt Stang as "one of the main players in the world's largest brand names" in cannabis.[17]
Stang rose to fame as a branding and revenue-generating force at the cannabis conglomerate Hightimes Holding Corp, later becoming an owner and investor in the company.
His initiatives for High Times grew to a whopping 80% of the company's revenue by 2015.[18]
Matt Stang was also instrumental in the early legalization of cannabis in multiple states, becoming a driving force advocating for cannabis legalization for many years.
He is now determined to provide his leadership skills in the newly-emerging psychedelics industry, implementing an even more improved business profit model far beyond what he accomplished within the cannabis sector.
It would be a career-defining turning point...
POWERFUL INVESTMENT REASON #3
Innovative Focus on Only FDA-Approved Psychedelic
Drugs Gives Delic Potential Multi-Year Head Start
There are currently 29 psychedelic drugs in clinical trial.[19]
Drug development is a process that costs millions of dollars and takes seven to 10 years on average.[20]
Instead of that tortuous, expensive, and uncertain road, Delic's enterprising founders created a disruptive business model that approaches the enormous potential of the psychedelics market from a completely different angle, reaching early positive cash flow and profitability now for investors like you and me.
Founders Matt Stang and wife Jackee Stang saw that the market's biggest potential was not initially in drug development, while this does bring incredible value.
(More on Delic's science ambitions later…)
Instead, it's a market that does not need a multi-billion dollar research and development process.
Does not need years of clinical trials to establish efficacy and safety to produce profits.
Does not need the long and difficult challenge to gain FDA approval.
Because for one little-known and under-utilized psychedelic, all that was accomplished decades ago.
The compound is FDA-approved for off-label use, has a high safety profile, is incredibly cheap in its generic form, and can be quickly and easily administered to patients at high profit margins through Delic's wholly owned health and wellness clinics.
Recent research from Yale and others is proving that:
The Greatest Mental Health Breakthrough in 60 Years…
Is a Baby Sedative
Drugs based on the psychedelics compounds found in psilocybin, peyote, ayahuasca, and MDMA, among others, are all illegal federally across North America.
Let me reiterate... Only one psychedelic drug is legal at all levels today.
It has a remarkable ability to ease depression and other psychological conditions, and its use is being promoted by some of the world's top medical authorities, including clinical leaders at Yale, Johns Hopkins, and the US National Institute of Mental Health, among others.
It's called ketamine.
And Delic intends to make it easily available to anyone who needs it.
In common use since the 1960s, ketamine is a drug so safe that it's what doctors use to sedate children and infants before surgery.[21]
The World Health Organization added ketamine to its authoritative list of "Essential Medicines" in 1985, saying it is "the most widely used agent in the world" for surgical sedation.[22]
And it just might be the catalyst that ignites a $70 billion revolution in mental health medications.
Here's why...
In large doses ketamine induces a mildly hallucinogenic effect, which it does "safely and reversibly," according to a 2015 Yale study.[23]
Now researchers are finding that it has what Ronald Duman, who was at that time director of Yale University's Division of Molecular Psychiatry, called:
A "Dazzling" Capacity to Treat Depression[24]
It was Duman's Yale colleagues, neuroscientists John Krystal and Dennis Charney, who discovered ketamine's powerful antidepressant qualities in the 1990s.
Their discovery was welcomed by medical scientists as a "revolution," a "game changer," and a "miracle drug."[25]
And not just for depression, but for the whole gamut of mood disorders, including anxiety, post-traumatic stress disorder (PTSD), obsessive-compulsive disorder (OCD), and even alcohol and drug or opioid abuse.[26]
It's so effective, in fact, that Gerard Sanacora, director of the Yale University Depression Research Program, calls ketamine "revolutionary," a true "miracle drug" for the treatment of mental health disorders.[27]
Carlos Zarate of the US National Institute of Mental Health says it's "a paradigm shift."[28]
And patient Carl Gruber, who joined a clinical trial after many years of suffering major depression, says of his experience after just one ketamine treatment:
"Within minutes I felt my depression lift completely. Not only did I no longer feel depressed, I felt as though I had never been depressed."[29]
Clinical studies have shown that Ketamine has a 70% response rate in treatment- resistant depression as soon as 24 hours after a single treatment.[30]
There is a tremendous need to bring a treatment this effective to those who need it.
And that's where Delic rises to the challenge.
Delic Isn't Waiting on Psychedelics-Based Medicines
from Big Pharma or on Costly R&D

Today, ketamine is the only psychedelic drug that is fully legal in the US and Canada.
Which is why the pharmaceutical industry has by large ignored the proof from countless clinical studies that ketamine blows away every other traditional medicine ever developed when it comes to relieving depression.
Delic's innovative business strategy is based on retail-level clinical administration of already legal and highly effective ketamine treatments, building upon its internal ecosystem to drive future business.
The company is already well on its way...
POWERFUL INVESTMENT REASON #4
Disruptive Business Model Has Few Barriers to Entry,
Low Startup and Operating Costs, High Profit Margins
Delic's initial business model not only bypasses the risk and expense of drug development, it has the potential for even higher – considerably higher – early profit margins.
Analysts agree...
After analyzing the potential market for legal psychedelics, investment advisory RealMoney concluded in a November 2020 report that:
"...ketamine is currently where the money is." [31]
Delic performed an analysis of real-world ketamine clinics, factoring in start-up and above-line costs, projected revenue per customer, market size, competitive environment, and other important factors.
The conclusion of their research is that ketamine clinics offer Delic the fastest, surest path to profits, with enormous growth opportunity and potential national market dominance.
Startup and operating costs are low, as clinics don't need much beyond several rooms and a staff of just two or three to launch and operate.
A robust business model building out a delivery framework across multiple health and wellness clinics across America could catapult Delic (OTCQB: DELCF / CSE: DELC) to new heights by providing additional drug therapies beyond ketamine, once additional psychedelic drugs are eventually made legal.
Delic Has First Mover Advantage in a Fractured Market
With No Dominant Players
In February 2021, Delic announced the successful acquisition of profitable clinic chain Ketamine Infusion Centers LLC (KIC).
KIC owns and operates three treatment centers in Arizona and California that are now part of the growing Delic family.
Equally or more important, the acquisition brought KIC's highly skilled management team into the Delic fold.
The KIC team brings real-world experience in opening and scaling up clinics using their proprietary business formula.
Building the Largest Chain of Psychedelic Wellness Clinics in the Country
In September 2021, Delic announced the acquisition of an established and profitable ketamine infusion clinic group called Ketamine Wellness Centers (KWC).
KWC owns and operates 10 clinics nationally, and is one of the biggest ketamine therapy providers in the US.
This new major acquisition brings an additional 10 profitable clinics into the Delic family . The clinics are spread out across the western and midwestern parts of the US giving Delic further brand recognition and a larger physical footprint nationally.[32]
In my opinion, this could be a game changer and the catalyst for Delic to expand into other psychedelic mental health offerings — including the addition of medically approved psilocybin treatments and MDMA into Delic's existing business model beyond just Ketamine.
As a result of this revolutionary expansion, Delic will profit from a management team that comes with over 10 years of experience in ketamine infusion clinics. KWC has a proven "cookie cutter" approach to clinic build out and "best practices" understanding of how to best increase its footprint and operate profitably.
This model could result in a chain of Delic-owned clinics that are inexpensive to open and operate, quick to reach positive cashflow, and that are highly scalable.
Potential Multi-Million Year-Two Revenue for New Clinics Alone

Delic will now boast (pending closure of the KWC acquisition) a total of 12 profitable ketamine infusion clinics and the ability to expand into 30 additional states. Looking ahead for investors, I believe this could also make Delic the largest ketamine therapy provider in the nation, and an opportunity that smart investors should take note of.
Delic's game-changing operational strategy is to blanket the US with ketamine clinics over the next 18 months, expanding outward from there with its highly scalable health and wellness clinic expansion model.[33]
The Ketamine Infusion Centers (KIC) and Ketamine Wellness Centers (KWC) acquisitions are a huge step forward in that plan.
POWERFUL INVESTMENT REASON #5
Developing Psilocybin-Related Intellectual Property
to Secure Long-Term Recurring Profits
Delic is turning its attention to the future of psilocybin-related research and intellectual property income streams (IP).
There is mounting evidence that psilocybin, found in a unique species of mushrooms, could be effective as a possible therapy for mental health disorders such as PTSD, anxiety, stress disorders, depression, alcoholism and multiple other mental health issues.
At the end of February 2021, Delic announced its acquisition of Complex Biotech Discovery Ventures (CBDV), a licensed psilocybin and cannabis research laboratory based at the University of British Columbia (UBC) in Vancouver.
Newly renamed Delic Labs, it boasts a large client base of blue chip cannabis and psilocybin biotech companies. Delic Labs has a solid history of profitability that will immediately impact Delic's revenue and provide positive cash flow.
Founder & CEO of Complex Biotech Dr. Markus Roggen is one of the most influential scientists in the cannabis industry, recognized as one of The Cannabis Scientist magazine's Power List Top 20 for 2020.[34]
The acquisition allows Delic to not only benefit from the scientific lab's current positive revenue, but to also collaborate with Dr. Roggen and his scientific team to build and commercialize new psilocybin-related income streams and future intellectual property.
More importantly, newly acquired Delic Labs has been granted a "Section 56 exemption" by Health Canada, giving legal authority to perform research and analysis of psilocybin metabolites.[35]
This Federal exemption allows Delic Labs to focus on developing a robust intellectual property portfolio of psilocybin and cannabis compounds to tackle the multiple mental health issues facing North America.
Delic Holdings (OTCQB: DELCF / CSE: DELC) Could Be the #1 Stock to Buy
in the Fast-Emerging Psychedelic Pharmaceutical Drug Market
With this strategy, Delic is on track to become a leader in what is ultimately one of the fastest growing sectors right now.
In my opinion, an early investment now could lead to profitable rewards. I'm such a believer that I've invested my own money in this company!
Delic already has a head start on market development, with a robust outreach program that is rapidly building a database of likely customers/patients, already reaching hundreds of thousands of people per month.
As Delic continues to release positive news on new and up-and-coming acquisitions, investors are likely to continue to pour into the stock.
Next Steps for Investors
Treatment for mental health disorders is ripe for disruption as the current roster of prescription drugs are failing those who need it most. Evidence is showing psychedelic drugs can be far more effective.
I believe Delic Holdings (OTCQB: DELCF / CSE: DELC) is positioned to address this growing market demand.
From the experienced management team who have already seen success in the cannabis industry to its impressive list of heavyweight backers, I'm convinced the company can do the same with psychedelics.
I recommend you add Delic to your watchlist immediately and begin your due diligence right away!
And if you're still on the fence, I've summarized my top 7 ULTIMATE REASONS why I believe you should consider an investment in Delic today.
1
Delic is positioned as an early leader in a huge $70 billion market with enormous unmet demand.
2
Delic founders are following the proven billion-dollar business model they helped create to drive enormous value in the cannabis market. With management's previous time spent at High Times, the largest cannabis publication in the world founded in 1974, this comes with an enormous connected network. This value-add for shareholders entering the psychedelics sector cannot go unnoticed.
3
Delic recently acquired Ketamine Infusion Centers LLC (KIC) and Ketamine Wellness Centers (KWC) with operations primarily spread across the western and midwestern US. The acquisitions give Delic a total of 12 operating and profitable ketamine infusion centers and the ability to expand into 30 additional states. This is a potential game changer to not only increase much-needed mental health solutions to a wider audience both young and old, but at the same time, increase immediate growth by expanding their clinic roll-out across America.
4
An innovative focus on science and IP related to psilocybin gives Delic a potential multi-year head start. The company recently acquired Complex Biotech Discovery Ventures (CBDV), a licensed profitable psilocybin and cannabis research laboratory with existing blue chip clients. Delic benefits from CBDV's current revenue as well as now having a scientific team to build and commercialize psilocybin-related intellectual property for solutions associated with PTSD, anxiety, stress disorders, depression, alcoholism, and multiple other mental health issues. This is absolutely enormous!
5
The company has low start-up and operating costs, targeting strong profit margins, unlike competitors that require millions of dollars and several years to bring products to market. Delic through a smart acquisition strategy is making this a reality now for investors.
6
Delic is positioned to have first mover advantage and capture a market segment that has no dominant players yet.
7
Next to Compass Pathways, Delic is one of the very rare psychedelics companies with support from big name billion-dollar value creators who are either on the board of directors or serve in an advisory capacity. These heavy backers are proven value creators!
THE TIME TO ACT IS NOW: I recommend you start your research on Delic Holdings (OTCQB: DELCF / CSE: DELC) immediately before its share price could soar higher.
Ask your broker about Delic today. As always, it's vital that you do your due diligence and consider any investment within the context of your portfolio holdings and investment goals.
That having been said, there's no doubt in my mind that the time and effort you spend learning more about Delic will be especially worthwhile.
I'm in, how about you?

Blake Desaulniers, Contributor
for Investors News Service
P.S. To discover more opportunities in the hottest sectors in North America, sign up now to the Financial News Now newsletter to get the latest updates and investment ideas directly in your inbox!
DISCLOSURE: Delic Holdings Inc is a Blake Desaulniers portfolio holding. Blake Desaulniers has not received any payment for the writing of this article.
SPONSORED ARTICLE DISCLAIMER: Investing in any securities is highly speculative. Please be sure to always do your own due diligence before making any investment decisions. Read our full disclaimer here.
---
Published March 2021
Revised September 2021