Semiconductors are literally at the foundation of modern life. We live in a world that would not exist without them. Their use is certain to expand in the coming years as new and novel technologies come online such as Artificial Intelligence (AI) and the Internet of Things (IoT) — all heavily chip dependent technologies.
The global economy's heavy dependence on semiconductors is exactly what has many industries so worried. Demand has far outstripped supply, and I believe, based on my research, that we are at least one year out before things start to get better.
Some factories around the world and at home are being put on pause due to shortages, consumer prices are shooting skyward, and governments are scrambling for answers to get this critical component to our modern economy back on track.
The savvy investor always knows... where there is a crisis, there is an investment opportunity, and this one is no different.
Read on to find out where to start your investment research in the red-hot semiconductor space.
So How Did Semiconductors Become So Scarce?
The shortage started back in 2018 when the previous administration started a trade war with China and slapped 25% tariffs on $34 billion worth of Chinese imports, including semiconductors.[1]
Those tariffs are still in effect today and subsequently have slashed Chinese semiconductor imports by a whopping one-half of their previous level to just 5% of the total of semiconductor imports coming to the US.[2]
That loss of 5% in the semiconductor supply does not sound like much, but during this shortage it has had a massive effect.
A year later in 2019, another US policy banned the sale of American-made components — including semiconductors — to the Chinese telecom giant Huawei.[3] The policy was not well thought out and was unilateral in execution. This led China to pursue other avenues to acquire necessary components.
The Chinese immediately changed supply chains to Japan and South Korea, boosted their own production of chips, and began hoarding them as a safeguard against any future US actions.
On the US domestic side, chip manufacturers had lost a huge client in Huawei and subsequently downsized production.
"The Trump administration had a clumsy approach to a complex supply chain. The fiasco contributed to the current shortages, hurting American businesses and workers."

— Trade Economist Chad Bown of the Petersen Institute for International Economics[4]
Reality struck in early 2020 when the COVID pandemic hit the brakes on the world economy, and semiconductor factories around the world were left sitting idle.
What was not foreseen at the time was the incredible surge and enormous demand for chip reliant laptops, computers and gaming consoles from consumers. This was a result of the COVID lockdown culture where people were now working from home and kids were mandated to attend virtual classes online.
PC sales reversed a years-long decline and saw a 4.8% surge in sales for 2020.[5] Other tech gadgets had their biggest year on record with nearly $442 billion in retail sales, according to the Consumer Tech Association.[6]
To make matters worse, Renesas Electronics Corporation (OTC US: RNECY), a leading Japanese chip manufacturer for the automotive industry, had two devastating fires that took portions of their production capacity offline, further cutting into the supply chain.[7]
The final blow to the semiconductor supply has been the strong post-COVID economic recovery and surging demand for semiconductor-heavy autos and tech gadgets. Demand for semiconductor-related goods is absolutely skyrocketing.
Consumers are hungry for new cars and trucks, smartphones, and gaming consoles but they are finding that the supply is not there due to a lack of semiconductors in the manufacturing process.
This week in 2nd quarter earnings calls, both Tesla (NASDAQ: TSLA) and Apple (NASDAQ: APPL) announced they are having problems acquiring the needed semiconductor components to complete assembly of their products, thus restricting production and ultimately sales. [8]
The end result is a US and global economy ready to take off but stalled by a lack of semiconductors.
Supply Chain Bottleneck
Many of the top semiconductor companies, Apple (NASDAQ: AAPL) and Qualcomm (NASDAQ: QCOM) to name two, are known as "fabless," which means they only design the chips and the technology in them. Other companies known as "foundries" are then contracted to make the actual chips.
Exacerbating the situation is the fact that the number of semiconductor foundries has become increasingly consolidated over the years, leaving only two major players doing the actual production.
Taiwan Semiconductor Manufacturing Co. (NYSE: TSM) is hands down the industry 800-pound gorilla producing a whopping 92% of all advanced semiconductor chips and about 60% of the simpler ones used in the auto industry. The rest are made by Samsung Electronics Co. (KSE: 005930.KS) based in South Korea.
Taiwan Semiconductor Manufacturing Co. (NYSE: TSM) reported $17.6 billion in profits last year on revenues of about $45.5 billion. With a market cap of around $550 billion, it ranks as the 11th most valuable company in the world.
Most of the roughly 1.4 billion smartphone processors worldwide are made by TSMC.[9]
The geopolitical implications of having two companies control most of the world's semiconductor production is troubling to say the least.
Being dependent on Taiwanese chips "poses a threat to the global economy," research firm Capital Economics recently wrote.[10]
It certainly puts the China/Taiwan confrontation in a new light. What would happen if China invaded Taiwan to reunify the countries, as they often threaten to do? War between China and Taiwan would bring extreme repercussions to the world economy on a major level.
I'll leave that discussion to another article…
Geopolitical issues aside, currently both TSMC and Samsung are producing chips at maximum capacity.[11] There really is nowhere else to go at this point for more supply.
US Races to Find New Semiconductor Supply Chains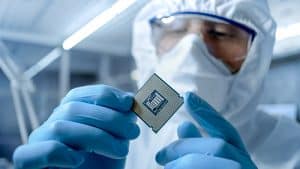 The current administration and industry leaders are racing to rebuild and beef up semiconductor infrastructure and supply chains, but the problem will not be fixed overnight.
US chip manufacturing capabilities have been in decline since the 1990s.
While the US still leads the world in chip design and intellectual property with homegrown giants like Intel Corp. (NASDAQ: INTC), NVIDIA Corp. (NASDAQ: NVDA) and Qualcomm (NASDAQ: QCOM), it now accounts for only 12% of the world's chip manufacturing, down from 37% in 1990, according to Boston Consulting Group.[12]
According to the Congressional Research Service, North America ranked fifth in fabrication capacity at 11 percent, behind South Korea, Taiwan, Japan and China.[13]
Building new factories is the obvious remedy here, but a sophisticated semiconductor plant will take years to come online and cost upwards of $10 billion dollars.[14]
Intel recently announced plans to invest $20 billion in two new factories in Arizona to boost production. They are also planning to make chips for other firms in addition to their own processors. This is a significant move that strikes at the heart of TSMC's primary business.
TSMC has also announced plans for a new factory in Arizona which is set to open in 2024.[15]
TSMC said they are committed to spending $100 billion during the next three years to further increase manufacturing capacity. $28 billion of that investment will be used this year to boost production in current facilities, according to TSMC Chief Executive Officer C.C. Wei.[16]
In a June report, the current administration proposed several measures to beef up the nation's semiconductor supply chain, including $52 billion in subsidies for domestic production in the "US Innovation and Competition Act" Congress may pass later this year. The report also calls for more government help with industry research and development, job training and luring foreign chip making investments in the US.[17]
They have also put pressure on semiconductor manufacturers around the world to give US companies priority access to available chips, but with all producers at maximum capacity, that probably will not have much effect.[18]
The semiconductor problem has taken years to arrive and will most likely take years and hundreds of billions of dollars to rectify.
"Almost all microchips that go into all new vehicles including Audi come from TSMC in Taiwan. We expect bottlenecks in the supply chain to last through 2022."

— Dimitris Dotis, Audi brand specialist[19]
Other countries would need to spend at least $30 billion a year for a minimum of five years "to have any reasonable chance of success" in catching up with TSMC and Samsung, wrote IC Insights, a research firm, in a recent report.[20]
I believe it is safe to say that semiconductors will continue to be a red-hot market into the coming years and a good place for any investor to add to their portfolio as a long-term investment strategy.
Top 7 Semiconductor Stocks for the Long-term Investor
Below are seven semiconductor related stocks that I believe are solid starting points for your research and potential investment.
Taiwan Semiconductor Manufacturing Co. (NYSE: TSM)
Taiwan Semiconductor Manufacturer Company (also known as TSMC) is the world's largest dedicated integrated circuit foundry. TSMC is working closely with global leaders to ease supply chain issues and increase production as quickly as possible. They have announced plans to build additional foundries in Arizona. The 800-pound gorilla of semiconductor manufacturing is not going away anytime soon.
While Samsung Electronics Co. (KSE: 005930.KS) is also a leading foundry in the world, I did not see them as having much upside at this point, so they were not included in this list of stock picks.
Intel (NASDAQ: INTC)
Intel Corporation, the world's largest semiconductor company and primary supplier of microprocessors and chipsets, is gradually reducing its dependence on the PC-centric business by moving into data-centric businesses — such as AI and autonomous driving.
In fact, its data-centric businesses accounted for 48.6% of revenues in 2020. The contribution of data-centric businesses to total revenues has grown gradually over the past five years and should become significant in the near future.
Intel is in a very good place to benefit from the rebuilding of US semiconductor manufacturing infrastructure.
Applied Materials Inc (NASDAQ: AMAT)
Headquartered in Santa Clara, California, Applied Materials is one of the world's largest suppliers of equipment for the fabrication of semiconductor, flat panel liquid crystal displays (LCDs), and solar photovoltaic (PV) cells and modules. The company also offers deployment and support services related to the equipment supplied.
NVIDIA Corporation (NASDAQ: NVDA)
NVIDIA Corporation is the worldwide leader in visual computing technologies and the inventor of the graphic processing unit, or GPU. Over the years, the company's focus has evolved from PC graphics to artificial intelligence (AI) based solutions that now support high performance computing (HPC), gaming and virtual reality (VR) platforms.
Followers of my articles know that I am huge fan of NVIDIA stock. Lots of upside here in the coming years, in my opinion.
Lam Research Corporation (NASDAQ: LRCX)
Established in 1980 and headquartered in Fremont, CA. Lam Research Corporation supplies wafer fabrication equipment and services to the semiconductor industry. Its products are used by semiconductor manufacturers in front-end and WLP processes, creating memory, microprocessors, and other logic-integrated circuits for a broad range of electronic devices.
Brooks Automation (NASDAQ: BRKS)
Brooks Automation is a leading worldwide provider of automation, vacuum, and instrumentation solutions for multiple markets including semiconductor manufacturing, life sciences, and clean energy. Their technologies, engineering competencies, and global service capabilities provide customers speed to market, and ensure high uptime and rapid response.
Since 1978, they have been a leading partner to the global semiconductor manufacturing market and through product development initiatives and strategic business acquisitions; they have expanded their reach to customers in the life sciences industry, analytical & research markets, and clean energy solutions.
ASML Holding N.V. (NASDAQ: ASML)
ASML is a world leader in the manufacture of advanced technology systems for the semiconductor industry. The company offers an integrated portfolio for manufacturing complex integrated circuits.
ASML designs, develops, integrates, markets and services advanced systems used by customers (the major global semiconductor manufacturers) to create chips that power a wide array of electronic, communications and information technology products.
Don't Miss This Train
The seven companies above should get you started in your research. The semiconductor sector is red hot and does not appear to be cooling off for at least another year.
With the attention of world governments and hundreds of billions of investment dollars pouring into the sector, growth is all but guaranteed.
Add to that the future explosive growth of technology on many fronts and you have a recipe for success in my opinion.
MF Williams, Contributor
for Investors News Service
P.S. To discover more opportunities in the hottest sectors in North America, sign up now to the Financial News Now newsletter to get the latest updates and investment ideas directly in your inbox!
DISCLAIMER: Investing in any securities is highly speculative. Please be sure to always do your own due diligence before making any investment decisions. Read our full disclaimer here.
---
Published July 2021