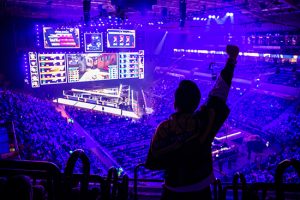 The growth numbers and the expected upside in the emerging esports sector will surely rev up the heart rate of most savvy investors.
With plenty of reasons to play and a full roster of investment targets in the market, we'll take a look at who the potential big winners in this exploding space could be.
So what are esports, anyway? Well, there's a whole generation who have grown up playing video games — first, on consoles in bedrooms and basements, then on computers and laptops. That morphed into online gaming as bandwidth improved and processors got more powerful.
Now, much of the action has gone wireless and mobile, with player participation anytime anywhere — players competing with each other in a growing number of popular games.
Well-known titles such as PUBG, Minecraft, League of Legends, and Call of Duty, among others, attract huge audiences of players and viewers.[1] Moreover, those competitions have evolved into professional leagues, just like the NBA, MLB, NFL and the NHL, for example.
Esports is well on its way to achieving global audiences that match the numbers of fans tuned into real world sports — along with the potential for the same scale of revenues involved in the big leagues of real world pro sports.
Esports Joins the Big Leagues
Esports has become a lucrative industry in recent years, generating hundreds of millions of dollars in profit.
This popularity has allowed it to function much like other professional sports leagues: players are paid by the operators in exchange for their participation; the operators are paid by the distributors in exchange for the right to broadcast the games and by the audience in exchange for the right to watch.
Also, as with other sports and industries, esports is attractive for the advertisers and partners that are featured alongside the games.[2]
Take FIFA, for example. Todd Sitrin, SVP and GM of the EA competitive gaming division observes that "Competitive FIFA viewership growth has skyrocketed. This growth was fueled by an expanded EA SPORTS™ FIFA 19 Global Series which now includes millions of competitors, seventeen football league partners hosting top-flight leagues, and dozens of licensed events being executed throughout the year."
The event, which was broadcast from London's O2 Arena, saw more than 47 million viewers across online platforms.
In 2021, the global esports market was valued at just over US$1.08 billion, an almost 50 percent increase from the previous year. Additionally, the esports industry's global market revenue is forecast to grow to as much as US$1.62 billion in 2024. By 2024, there are expected to be over 577 million viewers of esports worldwide.[3]
If you have any doubt that esports are going big league, big time, take a look at the top paid competitors. Earnings of a Danish professional gamer, Johan Sundstein, better known among his peers as "N0tail," have reached almost US$7 million through playing Dota 2. And there's plenty of money to go around. The International 2019, a major esports tournament, offered a total prize pool of US$34.33 million.
The thing is… this party is just getting started. Where the average revenue per audience member in real world sports amounts to $50 annually and up, depending on the sport, the esports number is more like $8. Since the esports industry is in its infancy, there is still plenty of room to grow per viewer revenues. And remember, you're talking about audiences in the hundreds of millions of devotees.
While it's getting harder all the time to reach sports audience members with traditional media, esports succeed where others fail.
This audience is typically comprised of those aged 20–40, the so-called Gen Zs and Millennials who are difficult to reach, ad blocking, media savvy, and mobile digital native. They have turned off traditional advertising across social media and long ago ditched legacy media such as TV and newspapers.
Gaming is a huge part of their daily life and they are significantly more likely to be gamers than traditional sports fans.
The Esports Juggernaut Is Just Getting Started
To underline just how serious esports have grown, have a look at Canada-based OverActive Media (TSX-V: OAM). The company has been built specifically for esports by execs who know how to operate major league sports properties in the real world.
President and CEO Chris Overholt formerly served as CEO of the Canadian Olympic Committee, as VP and CMO of the Miami Dolphins and Sun Life Stadium (now Hard Rock Stadium), and served in senior leadership roles with the Florida Panthers and Maple Leaf Sports and Entertainment.
Surrounding Overholt, you'll see a group of professionals with similar big league backgrounds.
Among them, COO Alyson Walker was formerly part of Brand Partnerships & Client Strategy at Bell Media, one of Canada's top-tier communications companies with operations including television broadcasting and production, radio broadcasting, digital media and internet properties.
In addition, other members of the OverActive management team include Tyler Keenan, Nike Golf's Canadian Brand Director; Mike Armstrong, Brand Strategy Lead at Google and Director, Sports & Digital Innovation Marketing at CBC, Canada's national broadcaster; and Adam Adamou, Executive Chairman of International Datacasting Corp., just to name a few.
These are people who know big league sports marketing and how to translate real world success into the esports arena — smart people backed by smart money. That should tell you just how much potential this segment has.
While some esports companies focus on one component of the esports industry, OverActive Media is one to watch with revenue-generating...
professional esports team and franchises
content producers with live and online events
brand marketing, partnerships and IP licensing
facility ownership
With the philosophy "own the franchise, own the audience," OverActive Media is doing just that. They now have exposure and access to a community of over 130,000,000! [4]
OverActive Media (TSX-V: OAM) is a company that deserves a serious early look by investors, having raised an impressive CAD$40 million (US$32M) this past spring.[5]
If you're not breathing just a little hard by now you may need to check with your doctor to confirm that you still have a heartbeat.
The only real question is, how do we shuck this juicy oyster when looking for other esports opportunities? Well, there are a few angles.
Where to Start Investing in Esports
As I explained above, there are many opportunities for investing in the lucrative esports sector. Below are some prime areas for you to explore as you educated yourself on the market as well as some companies with potential to help you start your research.
Game Developers and Publishers
Games companies are primarily involved in the business of developing and distributing gaming software. In several cases, these companies own and operate competitive esports leagues.
Activision Blizzard (NASDAQ: ATVI) is a leading developer and publisher of interactive entertainment software. The company operates three primary business segments: Activision (console-focused), Blizzard (PC-focused) and King Digital (mobile-focused). The company's most popular esports franchises include Call of Duty, World of Warcraft, Overwatch, StarCraft, and Hearthstone.
Electronic Arts (NASDAQ: EA) is one of the largest video game software companies in the world, currently ranked number two throughout Europe and North America in terms of revenue. EA publishes and distributes games, content and services on a variety of platforms including consoles, PCs, mobile phones and tablets. Notable intellectual property includes established brands such as FIFA, Madden NFL, The Sims, and Battlefield, and newer releases Apex Legends and Anthem.
Esports media companies operate livestreaming platforms, entertainment properties, and / or esports events. These companies may also own or operate esports teams.
Tencent-backed Huya (NYSE: HUYA) and sister company DouYu (NASDAQ: DOYU) are two of the largest livestreaming platforms in China. Both companies operate as platforms for watching and interacting with live-streamed content focused on gaming and esports. In recent filings Huya and DouYu collectively accounted for 310 million monthly active users.
Modern Time Group (STO: MTG-B) is a Sweden-based holding company focused on esports and gaming entertainment. MTG portfolio companies include strong global brands in the industry, including stakes in ESL (an esports league and events operator), Dreamhack (the world's largest gaming and esports festival), Innogames, and Kongregate (online gaming companies). In 2019, the company completed a spin-off of Nordic Entertainment Group to become a pure-play on esports and gaming.
Turtle Entertainment's ESL (82 percent owned by MTG), formerly known as 'Electronic Sports League,' is the world's largest esports-dedicated company, offering services in gaming technology, event management, advertising, and media production.
Each year, ESL runs 13 mega esports events with thousands of attendees and millions of viewers online. Most recently, ESL One hosted the Intel Extreme Masters Major in Katowice, Poland. The event saw attendance of 174,000 alongside 230 million viewers online.
Enthusiast Gaming (NASDAQ: EGLX) is a vertically integrated gaming media, esports and live events company. The company's media segment owns and operates 100-plus gaming websites, with more than 150 million unique monthly visitors.
The company's esports division is Luminosity Gaming, which owns and manages seven esports teams including the Vancouver Titans (Overwatch) and the Seattle Surge (Call of Duty). Enthusiast also owns and operates the largest gaming expo in Canada, EGLX.
Enthusiast Gaming's digital media network of websites and YouTube channels is verified as the largest online gaming information network in the United States and the United Kingdom. The company's notable properties include Destructoid, Escapist, and The Sims Resource, whereby it monetizes via a combination of digital advertising and subscription services.
Never Enough Hardware
Gaming hardware companies produce peripherals (e.g. headsets, keyboards), gaming devices and processing units. These companies may act as endemic sponsors for popular streamers and esports organizations.
As gaming becomes more competitive and increasingly popular, the hardware sector may benefit from increased demand. There's always better tech on the horizon.
Razer Inc. (OTC US: RAZFF) is a leading gaming lifestyle brand, sporting the tagline "for gamers, by gamers." Razer is best known for its hardware segment, which includes high-performance gaming peripherals and Razer Blade gaming laptops.
Razer's software vertical includes Razer Synapse (an Internet of Things platform), Razer Chroma (a proprietary RGB lighting technology system), and Razer Cortex (a game optimizer and launcher). Razer's services business consists of Razer zGold and Razer Pay, an e-wallet targeting Gen Z.
Turtle Beach (NASDAQ: HEAR) was founded in 1975 as Octave Electronics, a company focused on music and audio-related products including analog music synthesizers and PC sound cards. Over time, the company leveraged its audio expertise and evolved into one of the world's premier gaming headset brands. Turtle Beach is credited with creating the first ever console gaming headset and is the leader in the North American console headset market.
Broadly Speaking
Broad-based companies are stakeholders in various segments in the esports value chain.
Sea Limited (NYSE: SE) is the leading digital entertainment and e-commerce company in Greater Southeast Asia, which comprises the combined region of Indonesia, Taiwan, Vietnam, Thailand, the Philippines, Malaysia and Singapore.
Formerly known as Garena, Sea was founded in Singapore in 2009. Sea's business consists of three distinct verticals: Garena (digital entertainment), Shopee (e-commerce), and AirPay (digital payments).
Free Fire, Garena's self-developed mobile battle royale, is one of the world's most popular mobile games. As of August 2019, the game had more than 450 million registered users. Garena+ is an online gaming platform. Through Garena+, the company publishes and distributes game software to Southeast Asia and Taiwan including Call of Duty: Mobile, Arena of Valor, and FIFA Online. Greater Southeast Asia is the world's fastest-growing gaming and esports market.
Tencent (HKSE: 0700 / OTC US: TCEHY) is the largest gaming company in the world. In 2018, it earned more than $19 billion in gaming software sales, representing 18.4 percent of the global market. The Chinese company owns stakes in several notable game publishers, game developers, and livestreaming platforms.
Cover the Bases with ETFs
Stock picking not your thing? There are some noteworthy ETFs that you might get into.
The Roundhill BITKRAFT Esports & Digital Entertainment ETF (NYSE: NERD) is a rules-based index designed to gauge the performance of the growing esports market. The ETF offers exposure to companies engaged in the esports and digital entertainment markets. The fund offers exposure primarily to areas such as games, hardware, and media. NERD provides broad geographical diversification, and half of its holdings are based in the US, China, and Japan.
The Global X Video Games and Esports ETF (NASDAQ: HERO) is designed to provide exposure to companies that develop or publish video games, facilitate content streaming and distribution, own and operate competitive esports leagues, or produce hardware for video games and esports.
The fund's holdings primarily operate within the consumer discretionary, communication services, or information technology sector. HERO also offers broad geographical diversification even though more than half of its holdings are based either in the US or Japan.
The Esports Sector and Its Leagues Are Set to Run Alongside the NFL, NBA and NHL
If nothing else, by now you should have a picture of the scale and growth potential of the esports sector. As a long-term, secular trend investor, I always like to be in a position where I feel confident I am honoring the sage advice of senior investment advisors of long ago who intoned the wise words "the trend is your friend."
So when it comes to future profitability in my portfolio, I think the esports sector will be a good friend to have indeed.

Blake Desaulniers, Contributor
for Investors News Service
P.S. To discover more opportunities in the hottest sectors in North America, sign up now to the Financial News Now newsletter to get the latest updates and investment ideas directly in your inbox!
DISCLAIMER: Investing in any securities is highly speculative. Please be sure to always do your own due diligence before making any investment decisions. Read our full disclaimer here.
---
Published August 2021