Five years ago, it wouldn't have been surprising to walk into a doctor's office and see a wall full of paper file folders. Accessing, sharing, and cross-referencing patients' information was decidedly 20th century — as in the 1950s.
Ok, well maybe not that bad, but still pretty analog. Granted, things had started to change back then. Admittedly, Telehealth had gained a foothold. Then came COVID.
The COVID-19 pandemic simply accelerated progress, and now Telehealth has become one of the hottest sectors.
Still, it's pretty early in the game, and that means forward-thinking investors stand to win by making the right choices in Telehealth investments today.
Telehealth Will Make a Meaningful Impact For the Foreseeable Future
According to a report by McKinsey, "Strong continued uptake, favorable consumer perception, and tangible investment into this space are all contributing to the continued growth of Telehealth in 2021. New analysis indicates Telehealth use has increased 38x from the pre-COVID-19 baseline."[1]
At the start of the pandemic in April 2020, overall Telehealth utilization for office visits and outpatient care was 78x higher than in February 2020. Suddenly, the lights had flipped on in just two short months.
Initially a safe way to access healthcare, Telehealth now offers a chance to reinvent virtual and hybrid virtual/in-person care models, with a goal of improved healthcare access, outcomes, and affordability.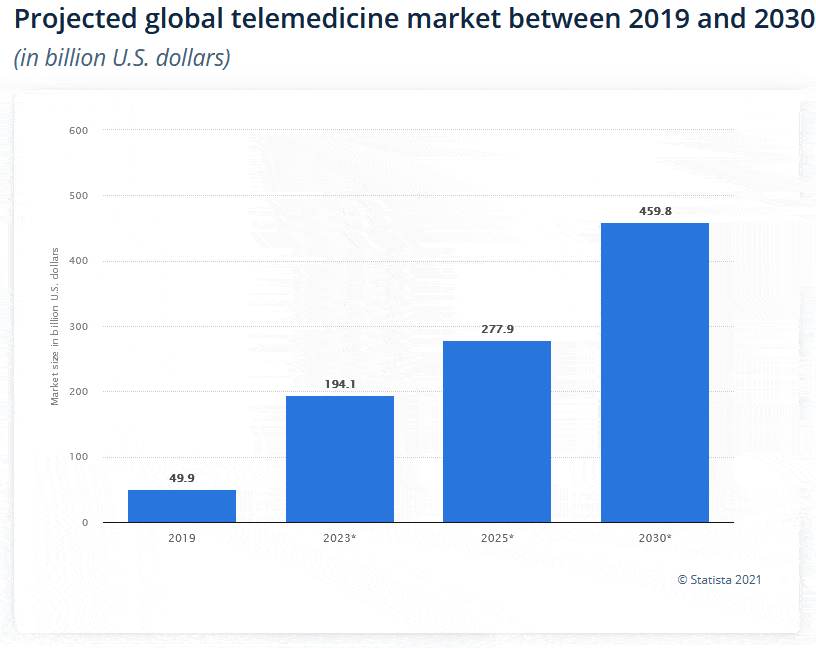 Investment markets have responded. Investment in virtual care and digital health more broadly has popped, driving further innovation with venture capital up +300% in 2020 over 2017.
Total venture capital investment in the digital health space in the first half of 2021 totaled $14.7 billion — more than all of the investment in 2020 and nearly twice the investment in 2019. This increase reflects an annualized investment of $25 billion–$30 billion in 2021 should this rate continue. In addition, total revenue of the top 60 virtual health players increased in 2020 to $5.5 billion from around $3 billion the year before.[2]
It's fair to say that Telehealth appears poised to stay a robust option for care. Strong continued uptake, favorable consumer perception, the regulatory environment, and strong investment into this space are all contributing to a high rate of adoption.
OK, so let's have a look at some Telehealth investment targets that merit the FNN Seal of Good Portfolio-keeping.
7 Healthcare Stocks to Add to Your Watchlist
Cerner (NASDAQ: CERN)
Cerner Corp. designs, develops, markets, installs, hosts and supports health care information technology, health care devices, hardware and content solutions for healthcare organizations and consumers.
The company also provides value-added services and operates in the US as well as internationally.
Of note, Cerner is working with Apple to enable patients to share personal heath data with their clinicians and family members in a secure and private way in order to facilitate more informed, meaningful conversations.
With the recently released iOS and iPad updates, patients can opt to automatically send data from their Health app, such as their heart rate and time spent exercising, to their physician. Easy to digest dashboards make it easy for physicians to review these metrics with less burden.
Cerner share prices have eased from pandemic panic-buying highs of around $82 to current support levels in the mid-$60 range, and may well be worth a good look here.
Guardant Health (NASDAQ: GH)
Guardant is a leading precision oncology company focused on helping conquer cancer globally through use of its proprietary tests, vast datasets, and advanced analytics. The Guardant Health oncology platform leverages capabilities to drive commercial adoption, improve patient clinical outcomes and lower healthcare costs across all stages of the cancer care continuum.
Guardant has important competitive advantages, including unique technology incorporating proprietary biochemistries and machine learning, demonstrated clinical utility, regulatory barriers, payer coverage, and commercial adoption.
Nuance Communications, Inc. (NASDAQ: NUAN)
Nuance provides conversational artificial intelligence (AI) to healthcare (two-thirds of revenue) and enterprise end markets. Within healthcare, in addition to owning a functional monopoly in radiology documentation, the company has a strong set of products powering the digitization of the industry.
Nuance is best known for its Dragon medical dictation product which is used by 55% of doctors in the United States. This amounts to more than 10,000 healthcare organizations, including more than 550,000 clinicians.
They are currently transitioning their Dragon medical dictation into a high-margin, recurring-revenue, cloud-based product called Dragon Medical One, which grew revenue +54% in a recent quarter, showing clear progress in the transformation.
Nuance is meeting an exploding demand for digital platforms that reduce administrative burdens, ensure accurate documentation and financial integrity, open the digital front door, and improve the quality of life for healthcare professionals and the overall patient experience.
The company has been serving the market for nearly two decades and have built the most advanced and widely-adopted portfolio of voice-enabled, AI-driven solutions available.
Teladoc Health, Inc. (NYSE: TDOC)
Teladoc describes themselves as being on a mission to empower all people everywhere to live healthier lives by transforming the healthcare experience. Recognized as the world leader in whole-person virtual care, Teladoc addresses the full spectrum of health and well-being — powered by human expertise, advanced technology and insights — to deliver improved clinical outcomes at scale.
Serving more than 175 countries and ranked Best in KLAS for Virtual Care Platforms in 2020, Teladoc Health leverages extensive expertise and data-driven insights to meet the growing healthcare needs of consumers and healthcare professionals. Catch your breath…
Teladoc share price dipped -43% over the past year. But as Teladoc has shown us in its latest earnings report, it is still growing faster than competitors. Teladoc's organic revenue grew by +41% year-over-year. The company reported total revenue of $503 million, up +108.7 percent year-over-year and +10.8 percent quarter-over-quarter.[3]
Teladoc was recently named as a vendor by Canada Health Infoway for its whole-person care services, which serves approximately 60% of Canada's population. Down Under, Philips and Teladoc have announced a strategic partnership to deliver comprehensive virtual healthcare solutions across hospitals and health systems in Australia and New Zealand.
So you tell us... Is Teladoc's stock oversold at these levels? Are we seeing a green light entry point to enter a buy order?
Change Healthcare, Inc. (NASDAQ: CHNG)
The Change Healthcare Platform provides industry-leading analytics, expansive data, and unparalleled connection and data transfer between providers, payers, and consumers to help improve workflows, increase administrative and financial efficiencies, and improve clinical decisions.
The company remains committed toward the payment accuracy business, while also focusing on healthcare plans and payers that have been generating continued double-digit growth for this business. It has been utilizing artificial intelligence (AI) and machine learning (ML) to detect inefficiencies and eliminate them from administrative processes in the healthcare system, thereby lowering costs, and providing payers, providers and patients with better outcomes.
Shares of the company have outperformed the industry over a year's time.[4]
Veeva Systems Inc (NYSE: VEEV)
Veeva Systems is a leading provider of cloud-based solutions for the global life sciences industry. Veeva's key solutions are Commercial Cloud products, offering multi-channel customer relationship management software, and Veeva Vault, offering regulated content management for pharmaceutical and biotechnology companies.
Shares of Veeva have performed strongly after the company reported better-than-expected fiscal second quarter 2021 results and raised its fiscal-year 2021 earnings and billings guidance.
Veeva's key growth driver continues to be strong adoption of Veeva Vault, with particular strength in the fiscal second quarter in its Quality Suite and Clinical Trial Management system.
Veeva is making good progress on its recent acquisitions of Crossix, which provides a platform for optimizing health care marketing, and Physicians World, which provides a physicians speakers bureau.
Since the earlier days of the pandemic in March 2020, Veeva has offered its Veeva CRM Engage products to life sciences customers for free to enable virtual sales visits. Veeva intends to convert a large portion of these new customers into annual subscription contracts, as virtual selling has become more important during COVID.
Finally, Veeva has announced the formation of a board committee to explore the conversion of Veeva into a for-profit public-benefit corporation. Veeva would be the first public company to make this change.
This would align well with Veeva's existing culture and operations in that Veeva will still have the legal duty to maximize shareholder value, and the change could potentially create greater trust in Veeva to properly handle proprietary customer data.
eHealth Inc (NASDAQ: EHTH)
eHealth is in business to "connect everyone with quality, affordable health insurance and Medicare plans." eHealth partners with over 180 top insurers to help people find essential health coverage. The company serves individuals, families, and businesses with health, dental, and vision options.
Despite the fact that it has been a cash-burner, eHealth continues to witness strong momentum in Medicare Advantage enrollment growth. The insurer has made significant progress toward expanding and enhancing the telesales organization which is expected to drive the Medicare business.[5]

A combination of strong enrollments and a continuing increase in the persistence of the existing book of business is likely to benefit the Individual, Family and Small Business segments' revenues and profit growth. Tailwinds have aided eHealth in maintaining a sustainable revenue growth trend over the past few years.
Questions remain as to whether eHealth will eventually gain a large enough market share and the corollary sales volume to reach envisioned profitability. Still, at this point, overall worth a look.
Telehealth and the Technology Surrounding it Could Rock the Market for Years
Most of the time, for most investors, most of the market is mostly noise. Yet occasionally we all experience moments of clarity; when opportunities appear so obvious you can't ignore them. Such is the case with Telehealth.
While the sector may have turned the corner and is now on the steep segment of the growth curve, it is fair to assert that it is at the bottom of the curve. And while the COVID-19 pandemic has elevated awareness and forced accelerated adaptation, there are more factors that figure into the equation.
Increasing cost pressures on facilities and practitioners, higher insurer costs and rising client premiums, demand for more personalized services, and the continued adoption of mobile communications particularly among younger people are all driving growth in Telehealth long term.
On the other side of the equation are advances in AI, more robust interconnectivity among industry segments, advances in big data and data security, and the spread of 5G bandwidth — all making an enhanced level of services increasingly possible and economically appealing.
It seems pretty clear that the time to get involved with the sector is now. The companies we've shown you today are simply a good start — the proverbial tip of the iceberg. With intelligent research and proper due diligence, savvy investors are sure to make good choices in exposure to Telehealth, and enjoy the profits of clear foresight in the future.

Blake Desaulniers, Contributor
for Investors News Service
P.S. To discover more opportunities in the hottest sectors in North America, sign up now to the Financial News Now newsletter to get the latest updates and investment ideas directly in your inbox!
DISCLAIMER: Investing in any securities is highly speculative. Please be sure to always do your own due diligence before making any investment decisions. Read our full disclaimer here.
---
Published October 2021