Finally, a marijuana stock that I want to own! This isn't just any marijuana business…
Sproutly (OTCQB: SRUTF, CSE: SPR, FRA: 38G) has made a deal for a breakthrough, patent pending discovery, whereby the active compounds, the THC and CBDs in marijuana, are recovered in water to create a range of products to supply to the Licensed Producers (LPs) and to the food and beverage industry. How big is that? Stick with me—I'm about to show you.
The ability to naturally extract cannabinoids in water is a huge step forward in delivering a wide range of medicinal and recreational marijuana products to a market clamoring for alternatives to inhaled and current generation of oil-based edible forms of consumer products.
What makes this water-based cannabis solution so much better? First, the process doesn't alter the cannabis compounds. That means consumers should expect a true-to-strain effect.
The traditional extraction methods seen today, on the other hand, using ethanol, butane and CO2, alters the cannabinoids, and in doing so destroys the strain-specific benefit. For example: It's a lot like taking a fine Pinot Noir and pasteurizing it. It might still be wine, but it's no longer a fine Pinot Noir. At least not one that I'd drink.
That's important if you're a recreational consumer, and maybe even more important if you're a medical consumer—both of whom effectively rely on a specific strain or brand characteristic for intended recreational or medicinal properties.
Second, the onset time (time to feel the effect) and offset time of this revolutionary water-based product looks to mimic the same effects as inhaled marijuana. That means consumers could feel the effects in five minutes or less, and be free from the desired effect in approximately 90 minutes, completely changing the game how cannabis is ingested with respect to current methods. It's a giant win from a marketing perspective, but I'll get into that in a minute…
Third, this revolutionary water-based scientific discovery allows Sproutly to manage the precise amount and potency consumers ingest in future consumer products. That's big because while research shows a rapidly growing demand for cannabis beverages and edibles, many consumers shy away because they are unsure just how much active ingredient and what potency they are getting.
To top it all off, and I cannot stress this enough… the company's water-based cannabinoids can be readily mixed with other liquids and stay truly dissolved in those liquids without the use of additional compounds to keep them dissolved.
Major Development & Partnership with Leading North American Brewery
That's one of the reasons why Canada's oldest and largest independent brewer has formed a joint venture partnership with Sproutly. Moosehead Breweries Ltd., with beer sales in Canada, the US, and 15 other countries around the world, wants to be in business with Sproutly as the market for cannabis beverages and edible products expands rapidly going forward. Obviously, Moosehead thinks Sproutly's natural, water-based offering is the vastly superior product.
"After careful analysis of the cannabis industry and the cannabis beverage opportunity in Canada, we believe that Moosehead and Sproutly together are well positioned to become a significant player in the category.

"The JV's ability to leverage Moosehead's rich history of building adult-beverage brands, and its established R&D and operational infrastructure, will enable the JV to bring great tasting cannabis beverages to Canadian consumers.

"The Infuz20 technology delivers a natural cannabis beverage experience, with an onset and offset time similar to traditional flower cannabis, without the need for chemical modification. We believe this will be a game changer for the sector."
— Matthew Oland, incoming CEO of the JV April 30, 2019
I have to agree. I can't overstate the importance of a natural product, rather than a chemically altered one, in this market space. Hence my position that Sproutly is a category killer, if there ever was one!
As I've already said, Sproutly's acquisition for this breakthrough science is patent pending. Maybe even more important, it would be ridiculously difficult for someone else to re-invent it. That means the company's unique advantage and position in the coming Marijuana Super-Cycle is very well protected.
12 Years of Plant Based Research and Development
The process was developed by Dr. Arup Sen, who holds a Ph.D. in biochemistry from Princeton University. He has published several dozen papers in top-ranking international journals, authored a book on bone diseases, and is an inventor on a number of US patents and numerous international patents.
He also has pending patent applications in the fields of cancer therapeutics, bone repair biologics, medical therapeutic devices, and molecular diagnostics.
In addition to Dr. Sen becoming the Chief Science Officer (CSO) and director of Sproutly Inc., Dr. Sen has over 36 years of experience in senior roles in public biotechnology and biopharmaceutical companies, and spent nearly a decade-long academic career as a faculty member at the National Cancer Institute and at the Scripps Research Institute focused on cancer research[1]… So I think he knows his stuff.
How Big is the Market Opportunity for Sproutly?
As Canada has legalized marijuana for recreational purposes, the Canadian recreational market size is estimated at up to $8.7 billion— about the same size as the Canadian market for wine.[2] That volume is generally forecast to grow to anywhere between $10 billion and $20 billion over the next five to seven years. That's just Canada, and it doesn't include another billion or more annually in the medical market.
By conservative estimates, the total North America market, including U.S.A. legalized states, is expected to approach $50 billion in the same timeframe.[3]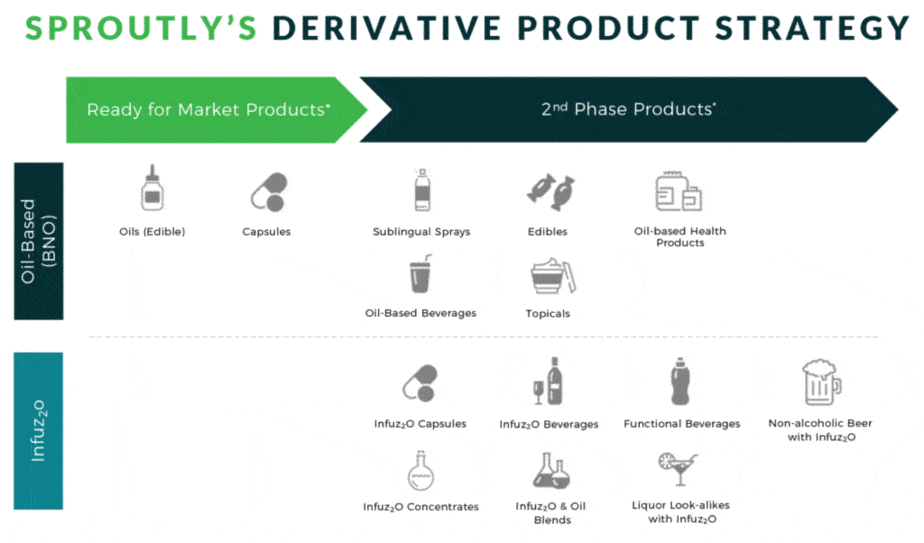 In addition, let's realize the total immediate market opportunity for Sproutly. The company has exclusive rights to the APP water-soluble technology in Canada, Australia, Israel, Jamaica, and the entire European Union. (Just about anywhere cannabis is legal). This represents access to a whopping 812,500,000 people, providing incredible international expansion opportunities.
Sproutly's newly formed joint venture with Moosehead Breweries solidifies and cements the extraction technology and provides an immediate route to a massive market, foregoing decades and countless millions in market development efforts related to potential sub-par extraction methods developed by other companies.
Moosehead has a rich history of building adult-beverage brands including the Moosehead beer brand and partnered brands such as Twisted Tea, Angry Orchard and Samuel Adams. It's the existing multiple beverage platform (beer, craft beer, cider, and adult iced tea) that could serve to form and establish an R&D and operational infrastructure—which could enable the joint venture to bring great tasting non-alcoholic cannabis beverages to Canadian consumers and potentially cannabis-infused beverages on a global scale.
The Cannabis Beverage Market is Setting Up for Explosive Growth
Constellation Brands—one of the largest alcoholic beverage companies in the world with brands such as Corona Beer and Svedka Vodka—invested US$4 billion in order to establish a foothold into the marijuana industry through owning a large stake in Canopy Growth Corp.
And recently, Molson Coors Canada, the Canadian business unit of Molson Coors Brewing Company, announced a transaction to form a joint venture to pursue opportunities to develop non-alcoholic, cannabis-infused beverages with HEXO Corp.
This collection of companies plans to collaborate on cannabis-based beverages that can be sold as adult products. I question how far their collaboration will get them when they go up against Sproutly's game changing offering.
When it comes to preferred methods of delivery, alternatives to inhaling is the place to be. Twice as many non-users in Canada have expressed interest in consuming edible cannabis products or drinks as opposed to smoking marijuana. This cannot go ignored, as consumers have indeed set the bar! I'm betting this expectation is shared among people in every other legalized country and jurisdiction.
"Legal marijuana could soon become a bigger industry than soda. It has already started putting pressure on alcohol sales, according to the investment bank Cowen. If marijuana is made legal nationwide in the US by 2030, the legal weed industry could generate $75 billion in sales by that year."
[6]
Markets for Sproutly could turn out to be much larger. For example, makers of soft drinks, seeing their sales at 30-year lows, are always looking for the next big thing. CBD-infused drinks could be the new soda, just as vitamin-infused water and coconut water have become popular.[4] CBDs are the non-psychoactive compound in cannabis, which plays well into the nutraceutical market.
As for THC-infused beverages, Sproutly's water-based Infuz2O solution will soon be available in Moosehead Breweries offerings. Make no mistake, Sproutly's water-based product gives the joint venture with Moosehead a huge, differential advantage. I'm making this claim only because right now, according to the company, this is the world's only truly natural cannabis water-soluble solution![5]
The company's Infuz2O natural water-soluble solution is totally superior to traditional oil extractions when it comes to the food and beverage markets. Part of that is due to the fast, predictable onset and offset times I mentioned above.
Compared to products made with old-school extraction methods, Sproutly's Infuz2O natural water extraction process has an onset of about five minutes, compared with around 45 minutes for oils. Offset is within 90 minutes (+/-), compared to up to four hours or more for most oil-based current offerings.
This is a critical factor in giving consumers control over the amount they ingest. We've already seen cases where people over-consume because of slow onset, or get behind the wheel of a car shortly after consumption only to find themselves highly impaired fifteen minutes later while driving. I don't want to be a passenger in that car, thanks.
Another critical factor is that Infuz2O is a totally natural product. That makes it more cost effective and safer in manufacturing, and gives food and beverage makers like Moosehead the ability to offer all-natural products, while giving consumers any health benefits they may demand, subject to the strain used.
I really like the company's go forward strategy. Sproutly has a modest, state-of-the-art ACMPR licensed cultivation facility near the Toronto city core than can cultivate and grow 1,400kg per year—producing enough marijuana for about 33 million 10mg doses of Infuz2O. AND the operation is highly scalable...
Future Commoditization Plays into Sproutly Business Plan
One of the reasons I've stayed back from marijuana stocks thus far, is the fact that ultimately, most companies operating in this space are in a commodity business. Whether you agree with me or not, that spells price competition and shrinking margins to come. No doubt, that thinking was behind a pull back on so many MJ stocks within the capital markets last year.
In this case, commoditization plays directly into Sproutly's plans. With the ability to scale beyond its Toronto facility, the company can expect to bring more product to market at a lower cost base as market flower reaches a glut, and what I am predicting to be a wholesale price fall in the years to come.
Investors are coming to the realization that going forward… it will be science and intellectual property, married with next-stage consumer products that will determine the ultimate winner.
Top Five Reasons to Consider Sproutly Today
1
Disruptive Technology - The world's first truly natural water-soluble cannabis solution for the beverage and edibles market. Solving the world's solubility issues places the company ahead of the pack, potentially redefining the cannabis industry.
2
Superior Products - Sproutly is focused on delivering to market the highest quality beverage and edible products with strain-specific benefits. Onset of effects within 5 mins and offset of effects within 90 min solves the onset/offset challenge for the beverage industry. Both its water soluble Infuz2O and Bio Natural Oil (BNO) can be extracted from specific strains and lay the foundation for future consumer products and needs.
3
Licensed Producer - The company's state-of-the-art facility is strategically located in the Greater Toronto Area, and will not only provide cultivation of dried cannabis flower… the facility will also be the initial extraction facility for its APP technology, with processing capacity of up to 10,000kg annually (100 million X 10mg doses of Infuz2O).
4
Experienced Management - Sproutly's executive management team provides decades of experience in biopharmaceutical research & development, technology commercialization, and consumer beverage & packaged goods.
5
Huge Market Opportunity - The total North America market, including U.S.A. legalized states, is expected to approach $50 billion over the next five to seven years. The joint venture with Moosehead Breweries gives Sproutly an immediate and well-established route to Canadian and worldwide markets. Sproutly Canada Inc. has the potential to offer smart investors exposure to an explosive growth market.
The First Real Player in the Upcoming Marijuana Super-Cycle is Here
Companies like Sproutly Inc. (OTCQB: SRUTF, CSE: SPR, FRA: 38G), with the ability to position themselves in a high-growth segment of the consumer goods market chain, having unique revolutionary products, stand to be big winners in the upcoming Marijuana Super-Cycle. That's why, in this investment segment, it's the only stock I currently own.

Blake Desaulniers, Contributor
for Investors News Service
P.S. To discover more opportunities in the hottest sectors in North America, sign up now to the Financial News Now newsletter to get the latest updates and investment ideas directly in your inbox!
DISCLOSURE: Sproutly Canada Inc. is a Blake Desaulniers portfolio holding. I have traded in and out of this security a number of times over the past 12 months, and will continue to trade Sproutly as profit potential arises or exists.
SPONSORED ARTICLE: Investing in any securities is highly speculative. Please be sure to always do your own due diligence before making any investment decisions. Read our full disclaimer here.
---
Originally published July 2018
Updated April 2019
Sources: