Stocks mentioned in this report: CV Sciences (OTCQB: CVSI), United Cannabis (OTC: CNAB), Walgreens (NASDAQ: WBA), Canopy Growth (TSX: WEED / NYSE: CGC), Curaleaf Holdings (OTCQX: CURLF / CSE: CURA ), Cara Therapeutics (NASDAQ: CARA), Axim Biotechnologies (OTCQB: AXIM) and Zynerba Pharmaceuticals (NASDAQ: ZYNE)
More and more doctors and their patients choose Cannabis & CBD as a safe alternative to dangerous opioids
There are a staggering 255 million opioid prescriptions written each year in the U.S.[1]
Yet, with a whopping one in three American adults still in chronic pain, opioids haven't done much to stop the suffering.
What they have done instead is cause the worst drug crisis in American history, with an estimated 2.35 million suffering from opioid addiction.[2]
In response, the Centers for Disease Control (CDC) and the American College of Physicians have issued new guidelines urging doctors to stop prescribing opioids and to turn to safer alternatives instead.
One of the alternatives getting the most attention is cannabis.
With cannabis now State legal in some form in 33 states and the District of Columbia, sales are soaring.
The cannabis revolution is just getting started
And the companies that grow and sell cannabis and hemp products are some of the fastest-growing businesses in North America.
That's good news for investors, who have pocketed gains as astonishingly high as 3,143%...and 11,344%... in stocks like CV Sciences (OTCQB: CVSI), and United Cannabis (OTC: CNAB), respectively.[3]
Those microcap stocks have already seen their biggest gains. But the cannabis revolution is just taking off, and there are dozens of stocks that are still flying under the radar, undiscovered by investors, and ready to soar.
Inc. Magazine calls cannabis "The #1 industry you need to be paying attention to."
But is the growth sustainable?
It all depends on whether the benefits of cannabis can live up to their early hype.
And from all indications, they can.
Pain-relieving properties of cannabis are well-documented
Addressing both the chronic pain crisis and the opioid crisis is a top national priority.
Research shows that cannabis effectively alleviates pain. It also reduces opioid addiction by alleviating cravings.
A comprehensive 2017 review by the National Academies of Science concluded that "There is substantial evidence that cannabis is an effective treatment for chronic pain in adults."[4]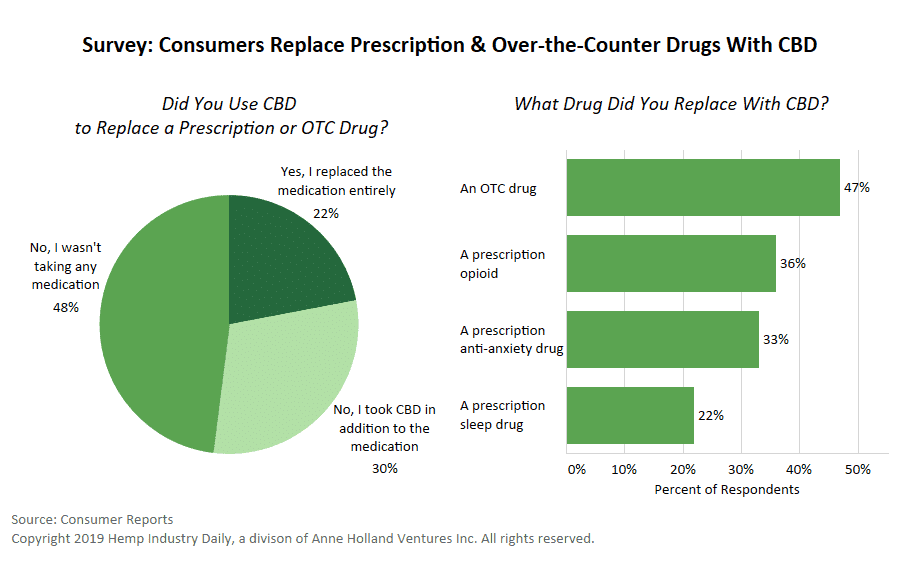 The same report noted that "medical cannabis use in pain patients was associated with a 64 percent reduction in opioid use."
Another study found that an overwhelming 97% of pain patients were able to reduce opioid use after beginning treatment with cannabis.[5]
The evidence for pain relief is overwhelming, with a total of 28 well-conducted, randomized clinical trials concluding that cannabinoids are effective at relieving pain.[6]
What's more, clinical studies show that cannabis is medically beneficial for inflammation, anxiety, and nausea.[7]
Arthritis association confirms: Cannabis eases arthritis pain
The Arthritis Foundation estimates that arthritis affects 91 million Americans. What's more, that number is expected to grow by a whopping 49% by 2040.[8]
The most common symptom of arthritis is pain, which is often debilitating.
There is evidence that cannabis helps to alleviate arthritis pain. In particular, one component of cannabis called cannabidiol or CBD for short is racking up solid endorsement as a treatment. This is the non-psychoactive drug found in both marijuana and primarily hemp.
The non-profit Rheumatoid Arthritis group says, "One of the primary CBD oil benefits for arthritis sufferers is its positive effect on pain, and research confirms it."[9]
Citing a 2017 study published in the journal Pain, the group concludes that CBD prevents osteoarthritis pain.
Sports-related pain and inflammation presents big opportunity for cannabis products
An estimated 50 million Americans regularly exercise or participate in sports, according to the U.S. Bureau of Labor Statistics.[10]
Many of these active adults already turn to cannabis and CBD to relieve pain and inflammation caused by physical activity.
Market-leading retailers are already eyeing that market.
Neiman Marcus carries "luxury" hemp-based CBD products. Amazon (AMZN) lists more than 9,000. And beauty chain Sephora dedicates ample shelf space to their line of hemp CBD products.
Even lifestyle guru Martha Stewart is on board, teaming up with market leader Canopy Growth (TSX: WEED / NYSE: CGC) to design and produce new CBD products.
It's easy to see why.
17.9 million Americans already use CBD
An estimated 17.9 million American adults now use CBD or cannabinoids on a nearly daily basis.[12]
That translates to 7% of the country's adult population, a figure that is likely to increase exponentially with the recent legalization of hemp-derived cannabidiol.
Bethany Gomez, managing director of market analysis company Brightfield Group, says "I have never seen an industry grow this quickly, and I've never seen an industry with so much headwind."[13]
And it's not just the under-50 "pot generation" that's turning to CBD.
"The American Association of Retired Persons (AARP) reports that 36% of medical marijuana prescription holders are over age 50, and that 41% of all Americans over 50 are actively considering CBD.
[14]

3 stocks aiming to offer an alternative to opioids
There are a number of companies marketing cannabis products as effective pain relievers.
But the FDA is is cracking down on them, warning that only FDA-approved drugs can make claims related to pain relief.
In July, Curaleaf Holdings (OTCQX: CURLF / CSE: CURA ) was warned against legal action if it did not stop making "unsubstantiated health claims" about its cannabis products.
While some companies like Curaleaf are jumping the gun on health claims, others are going through the right processes to test their products and substantiate their effects on human health, with the ultimate goal of gaining FDA approval.
Here are three companies to watch.
Cara Therapeutics (NASDAQ: CARA) — Cara is a biopharmaceutical company that is developing drugs that are designed to act on the body's cannabinoid receptors to treat both acute and chronic pain. In preclinical animal studies, one of Cara's developmental drugs reduced sensitivity to painful stimuli in a setting considered comparable to human conditions.
Axim Biotechnologies (OTCQB: AXIM) — Axim has more than a dozen cannabis-based drugs in its developmental pipeline, including for multiple sclerosis pain, restless leg syndrome, and side effects associated with cancer treatment. The company holds five issued patents and 12 pending patents.
Zynerba Pharmaceuticals (NASDAQ: ZYNE) — Zynerba is developing a THC skin patch designed to treat fibromyalgia, osteoarthritis, and peripheral neuropathic pain. The transdermal delivery method allows direct absorption, thus avoiding liver metabolism.The company is also conducting a clinical study of cannabidiol (CBD) in children and adolescents with Fragile X. Fragile X Syndrome (FXS) is a genetic condition that causes intellectual disability, behavioral and learning challenges and is also the most commonly known single gene cause of autism spectrum disorder.

The trial will evaluate the efficacy and safety of CBD transdermal gel (ZYN002) in children ages three through 17 years with Fragile X Syndrome.
A better solution than opioids
Cannabis and hemp-based CBD are already having a positive effect on the opioid crisis.
In fact, a study conducted just before federal legalization of CBD in 2019, as reported in the Journal of the American Medical Association (JAMA), found a 14% reduction in opioid prescriptions in states that allowed easy access to cannabis.
The study's authors estimated that the switch to cannabis reduced opioid reliance by 3.7 million doses per day![15]
Says W. David Bradford, an economist at the University of Georgia and the study's lead author, "In this time when we are so concerned—rightly so—about opiate misuse and abuse and the mortality that's occurring, we need to be clear-eyed and use evidence to drive our policies.
"If you're interested in giving people options for pain management that don't bring the particular risks that opiates do, states should contemplate…cannabis policies."
Another study reported in Clinical Pharmacology & Therapeutics found similar results. Donald I. Abrams, MD, the study's lead author, suggested that "cannabis has the potential to relieve pain and decrease use of opioids..."[16]
The conclusion is clear: chronic pain is a problem in desperate need of a solution, and cannabis, including CBD might offer the best answer today.

Cynthia Berryman, Contributor
for Investors News Service
P.S. To discover more opportunities in the hottest sectors in North America, sign up now to the Financial News Now newsletter to get the latest updates and investment ideas directly in your inbox!
DISCLAIMER: Investing in any securities is highly speculative. Please be sure to always do your own due diligence before making any investment decisions. Read our full disclaimer here.
---
Published August 2019