Forget Kentucky. Oregon is now the new home of America's hottest whiskey. The company driving the revolution is Eastside Distilling, Inc. of Portland (NASDAQ: EAST).
Since January 1, 2018, the craft distiller has seen share prices rise from $3.90 to current levels in the $7.00 range on steadily increasing sales, a line-wide product rebranding, expanded distribution, investment in additional production including canning for wine and Ready-to-Drink mixed beverages, and, to top it all off, a licensing deal with country music superstar John Rich of Big & Rich fame.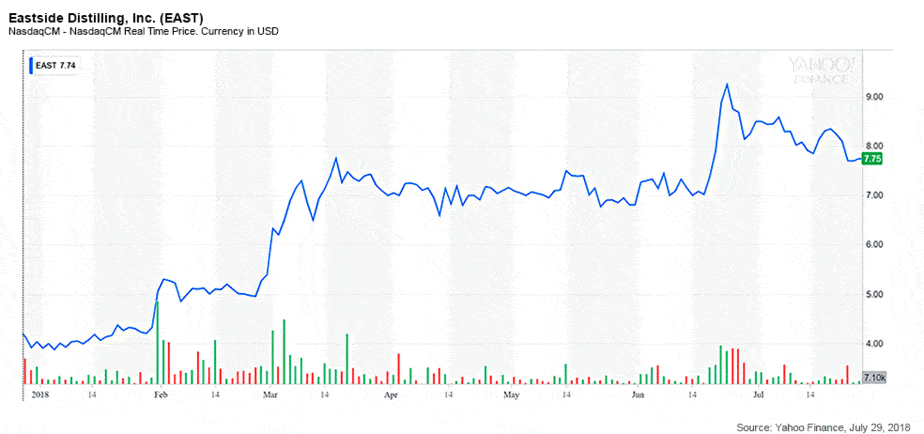 Moreover, the company has up-listed its shares to NASDAQ and stands to benefit substantially from tax reform measures aimed at boosting the fortunes of craft distillers. Not a bad showing for one year.
Yet as strong a performance as the company showed last year, the best almost certainly lies ahead. That's because 2017's achievements are only just now starting to have a real impact on Eastside's operations. Accordingly, analyst David Bain at ROTH Capital Partners recently reiterated his BUY recommendation on EAST and raised his price target for 2018 to $9.00.[1]
Craft Distilling a Growth Segment
Many of us have watched as the craft beer market won a significant share from the big brewers over the past ten years. Craft beers now account for $26.0 billion in retail sales in the US.[2]
Volumes have grown from 10 million barrels in 2010 to over 25 million barrels last year. Small and independently owned craft breweries account for 98 percent of all US operating breweries. The global craft beer market, growing at 19% annually, is expected to reach $502.9 billion by 2025.[3]
Now, a similar trend is driving a 33.4% compounded annual growth rate in the craft spirits segment—expected to reach more than $80 billion globally by 2025.[4] The number of active US craft distillers grew by more than 20% last year, and there are now nearly 1,600 operating in America. Clearly, a lot of people in the know now have their eyes on a bigger share of a fast-growing market.
Eastside Has the Right Stuff
Eastside was recently rated the best distillery in Portland—no doubt one reason that it is now the third largest distiller in the state. Its products garnered an impressive 14 medals in the 2018 San Francisco World Spirits Competition.
But there's a great deal more than a great product and a growing reputation behind the company's strong showing of late.
Eastside shows plenty of business savvy. The moves that Eastside made last year have positioned the company for outstanding growth going forward.
The people at Eastside wanted to take sales, market penetration, and distribution to a whole new level. So, in 2017, they put their heads together and created a new, core strategy going forward.
They've created a "brand factory," and have chosen to partner with Portland-based Sandstrom branding. Sandstrom bills itself as "a strategic brand design firm specializing in the creation and revitalization of thought-leading brands." Their lengthy client list, for those who care to look it up, is nothing short of top tier.[5]
Of particular note, Sandstrom has taken an ownership stake in Eastside and a seat on the board. As a result of their involvement, Eastside branding was completely revamped last year to give the company multiple opportunities to monetize portfolio assets.
Sandstrom also played a key role in bringing home a pivotal deal with country music superstar John Rich and his Redneck Riviera brand.[6]
Redneck Riviera, Rich's brainchild, "celebrates the men and women who make America the greatest nation in the world through their hard working attitude that deserves to be celebrated."
In addition to Redneck Riviera apparel, footwear, food, and beach accessories, Redneck Riviera has two honky-tonks. Redneck Riviera Vegas is now open at the Grand Bazaar Shops adjacent to Bally's Las Vegas on the famed Sin City strip, and Redneck Riviera Nashville is set to open in June of 2018 on Nashville's Lower Broadway.
As part of the arrangement, Eastside has formed the Redneck Riviera Whiskey Co., a Tennessee LLC and a wholly owned subsidiary of Eastside, as an operating entity to manage and promote sales of the whiskey and any follow-up products.
It's a promotional opportunity that can be described as nothing less than massive. The agreement is "back end," with Rich sharing in a portion of the sale of the brand, if and when the brand itself is sold to another company. In the meantime, 100% of the sales go to Eastside. That's how confident he is that this will be a hit. As you'll see later in this article, it's already paying off big time.
The second strategic component, acquisition, aims to take advantage of a highly fragmented market in the craft distillery space. The growing number of small, local distilleries provides a substantial number of target opportunities as the segment becomes increasingly ripe for consolidation.
To that end, Eastside has already completed the acquisition of a 90% stake in Big Bottom Distilling, a Hillsboro, Oregon-based distiller of award winning and super premium gins, whiskeys, brandies, rum, and American single malt whiskey.
The company has also acquired MotherLode Craft Distillery, a Portland, Oregon based provider of bottling services and production support to craft distilleries. The acquisition allows for a quintupling in bottling rate, and large volume spirit handling capability.
MotherLode also bottles "private label" craft spirits for customers who have on-premise or off-premise licenses including retail and liquor stores, bars, restaurants, events, and businesses who want to take advantage of the benefits that come from having their brand clearly printed on a label.
The third tenet of the go-forward strategy is to drive operating performance by leveraging existing investment and infrastructure. To that end, the company launched its slim line canning operation for the rapid-growth canned wine market in the first quarter of 2018.
Throwing More Fuel to the Fire
Finally, to throw a little more fuel on the fire, provides for big savings for craft distillers that could add as much as a million dollars to Eastside's bottom line over the next couple of years.[7]
All in all, not a bad way to come out of the gate for 2018. Of course the question is, what lies ahead? The answer: quite a bit of good news for investors, if the first quarter of this year is any indication.
Eastside has already reported significant increases in unit and dollar volume sales, along with improved gross margins in their Q1 financial results.
Compared to the first quarter of 2017, sales were up 70%. Gross margins increased to 49% compared to 37% for all of 2017. The company attributes the dramatic improvement to the launch of Redneck Riviera Whiskey, sales from private label and wine canning operations, as well as resumption of growth within the Pacific Northwest of the rebranded product lineup.
The company also announced that shipments of Redneck Riviera Whiskey, which first hit store shelves in February 2018, have exceeded expectations.
That brand alone could be the superstar performer of Eastside's portfolio. Already, this year, Eastside has inked distribution agreements with the Southeast's largest spirit distributors, Republic National Distributing Company, to distribute Redneck Riviera Whiskey throughout the Gulf Coast and upper Midwest, and began distribution in California with Southern Glazer's Wine and Spirits.
Redneck Riviera is currently distributed in over 25 states, including Kansas, Texas, California, Louisiana, Alabama, Georgia, Mississippi, Florida, North Carolina, South Carolina, North Dakota, South Dakota, Oregon, Tennessee, Oklahoma, Nebraska, Kentucky, Missouri, Washington, Iowa, Minnesota, Wisconsin, Alaska, Illinois and Michigan.
John Rich has been hot on the promotional trail, making appearances on national TV shows, including the Today Show with Megyn Kelly; local TV shows, including NBC, ABC, and Fox affiliates; in-store appearances to support retailers; performances at numerous events, including the ROTH Capital Partners 2018 Conference; participation in the Nasdaq Closing Bell ceremony; as well as distributor and customer events.
For investors unfamiliar with country superstar John Rich from Big & Rich, here is an example of what arguably has become one of the biggest bar tunes over the past decade… "Save a Horse, Ride a Cowboy."
Fellow country music stars Gretchen Wilson, Granger Smith and Colt Ford have agreed to serve as Redneck Riviera Whiskey ambassadors, supporting the brand and its efforts to give back to veterans' families through their social media channels, performances, and beyond.
Market acceptance for the Riviera Redneck brand is accelerating. Walmart in Florida, Louisiana and California have already approved the product; and outfits including the largest liquor retailer in Texas, Spec's, as well as one of the largest independent supermarkets in the Gulf Coast, Rouses, have begun to sell the product. Impressive, considering that Redneck Riviera only hit the market in February.
Eastside's move into a canning line for Ready-to-Drink, or RTD, beverages looks to hold a real kick, too. The category, that includes wine and pre-mixed alcoholic beverages, is a growth category.
Expected to turn in 8.2% annually according to forecasting by Technavio, the canned RTD market is still heating up. In most recent numbers available, Nielsen reports total canned wine sales up 122% in 2016 over the previous year.
The Eastside line went into production in March 2018 under an agreement with Dear Mom Wine Co., an emerging Portland-based producer of premium Oregon wines, including an Oregon red, rosé, white and soon-to-be-launched sparkling.
With a remarkably strong first quarter already in the books and a real likelihood of better results as 2018 progresses, it looks as though last year's strategic moves have already begun to pay off.
It's worth noting that, with growing success, Eastside could become an attractive target for acquisition.
Large distillers such as Bacardi, Beam, and Campari have been paying up to 20X revenue for other distillers. Brands such as Cabo Wabo, Ketel One, and Casamigos, among others, have been snapped up by big distillers looking to cash in on the market's growing appetite for craft distiller brands.
It might be tempting to think that Eastside's success is mainly the result of good timing, and in part it is. But it is good timing by design.
Eastside's Management Slate Also Goes a Long Way to Explaining the Company's Performance
Chairman and CEO Grover Wickersham has a long career building growth companies. The Harvard MBA and former SEC branch chief has a number of successes to his name, including the purchase of S&W Seed Company which he bought for $4 million and grew to $85 million through acquisitions.
In April, the company hired Robert Manfredonia as Vice President of National Accounts. Manfredonia was Vice President, National Off Premise Chains at Roust USA, the owner of Russian Standard Vodka, as well as prosecco, cognac and other alcoholic beverages.
As a VP at Rouse, Manfredonia was responsible for selling spirit and wine products to major accounts including Costco, Kroger, Spec's, Safeway and other similar accounts. Manfredonia specializes in creating private label brands for major retailers. Manfredonia has over 25 years of experience helping liquor companies drive new business growth, distributor focus and forging strong relationships with external business partners.
Extremely Tight Share Structure with Low Publicly Traded Float When Compared to Peers
The company's capital structure also looks attractive. The company has only 7.19 million shares outstanding, and a market capitalization of only $36.41 million. While EAST is carrying $1.4 million in debt, a new credit agreement recently negotiated will carry a much lower interest rate, thereby lowering interest expenses.
The company has approximately $4.1 million cash on hand. As noted earlier, US tax reform could contribute up to a million dollars to the company's bottom line over the next two years.
ROTH Capital Partners' most recent forecast shows declining losses this year turning to profit in the first half of 2019, with earnings per share of $0.27 for 2019.
All in all it's difficult to argue against a strong investment case for Eastside Distilling, Inc. — award-winning product, a powerful consumer trend, formidable branding, exploding distribution, savvy business leadership, an increasing hot acquisition market, and superstar appeal. Looks like the stars are lining up for this once humble craft distillery taking on the world from Portland.
Saddle up your horse; this could be a great ride.

Blake Desaulniers, Contributor
for Investors News Service
P.S. To discover more opportunities in the hottest sectors in North America, sign up now to the Financial News Now newsletter to get the latest updates and investment ideas directly in your inbox!
DISCLAIMER: Investing in any securities is highly speculative. Please be sure to always do your own due diligence before making any investment decisions. Read our full disclaimer here.
---
Published July 2018
Updated October 2018