Stocks mentioned in this report: Amazon (NASDAQ: AMZN), American Manganese Inc. (TSX-V: AMY / OTC US: AMYZF / FSE: 2AM), Apple (NASDAQ: AAPL), Canadian Cobalt Works (TSX-V: CCW), Ford (NYSE: F), Giga Metals Corp. (TSX-V: GIGA / OTCQB: HNCKF / FSE: BRR2), Glencore (OTC US: GLCNF/ LSE: GLEN), IBM (NYSE: IBM), LG Chem (KRX: 051910), Panasonic (OTC US: PCRFY / TYO: 6752), Tesla (NASDAQ: TSLA / FSE: TL0), UBS (NYSE: UBS, SIX: UBSG), Umicore (NASDAQ: UMICF / BXS: UMI.BR), Volvo (STO: VOLV-B)
As Cobalt Supplies Become Limited, Investors Who Position Themselves Now Could Reap the Greatest Rewards
You may not realize it, but I'm willing to bet that lithium-ion batteries are an essential part of your life. Without them, your smartphone would barely hold a charge and your laptop would definitely not fit on your lap.
These batteries usually take the shape of small, thin rectangles (pictured on the right). They are comprised predominantly of lithium, cobalt, manganese, nickel and copper, and power most of the portable tech devices that we have become so reliant on in our everyday lives…
Considering how common these batteries are, it may be surprising to hear that they have an incredibly insecure supply chain, with the brunt of the issues coming from one particular ingredient: cobalt.
This silvery-grey metal is a key element, and the most expensive raw material inside a battery.[1]
Cobalt helps reduce the charging time of a battery, increases how long a battery is able to hold a charge and, perhaps most importantly, acts as a stabilizer, reducing the likelihood of a battery overheating or combusting. [2]
And the world needs more of it…a whole lot more. It is predicted that by 2025, demand for cobalt will surge by 168%, and there is mounting concern as to how this enormous need will be met.[3]
And this is where the opportunity is. I believe that a greater understanding of the issues that revolve around this mysterious metal can allow you to spot fledging trends before the market does, capitalizing on this often very underreported sector.
Read on to learn more about the troubles with the cobalt supply chain, and what this could mean for investors going forward… your smartphone and laptop depend on it!
Geography Creates Complicated Problems
The difficulties with cobalt production center on where the majority of it is mined: The Democratic Republic of Congo (DRC), a country located in Central Africa with a population of over 90 million.
About 60% of cobalt comes from the DRC, while the remaining 40% is sourced in substantially smaller amounts from a number of other nations including Russia — which contains the highest amount of the world's cobalt outside of the DRC with approximately 7%, followed by Cuba (~5%), Australia (~5%), The Philippines (~5%) and Canada (~4%). [4]
With the DRC containing almost 10x more cobalt reserves than any other country on earth, it has been the most logical destination for production. However, there are grave human rights concerns associated with mining in the region.
Some of the main risks revolve around a practice known as "artisan mining" or ASM.[5] These are informal mining operations, usually carried out individually or in small groups, with little to no official oversight or compliance to larger industry safety standards.[6]
These miners work independently — not associated with a large scale mine — and use "simplified forms of exploration, extraction, processing and transportation," that is highly labor intensive.[7] They usually sell what they are able to mine to middlemen.
It is estimated that ASM "contributed more than 20% of the DRC's total cobalt output in 2018." [8] And in the mining-heavy region of the southern DRC, there are approximately 150,000 to 200,000 people earning a living from this line of work.[9]
This is one of the only ways in which the Congolese can directly profit from the natural resources in their country, as large mining companies that are active in the region almost always export their products for use in the developed world — with local citizens seeing very little reward.[10]
These miners are regularly "forced to look for places to dig and exploit minerals in areas that aren't authorized," or work illegally on large-scale mines. [11] This can become very dangerous.
Case in point: in June of 2019, 43 artisanal miners in the DRC were killed when hand-dug tunnels collapsed on a copper-cobalt mine site owned by Kamoto Copper Company (KCC), a subsidiary of Glencore (OTC US: GLCNF / LSE: GLEN). A British-Swiss multi-national company, Glencore had revenues of almost $220 billion in 2018. [12] Glencore claims "that the miners were working there illegally."[13]
Glencore is also currently under investigation in connection with corruption, fraud and bribery by both the United States Department of Justice as well as Britain's Serious Fraud Office.[14]
Because artisan miners have minimal oversight, there are also risks of child labor. According to the United Nations Children's Fund (UNICEF), it is "estimated that there are 40,000 children working in DRC mines."[15]
How Do Companies Handle These Human Rights Abuses?
It is clear there are major ethical issues that arise around mining in the DRC, not to mention impending PR nightmares for publicly traded companies operating in the space.
As a result, several companies have looked to implement different methods to track the production cycle of their cobalt supply including Ford (NYSE: F), IBM (NYSE: IBM), LG Chem (KRX: 051910), Volvo (STO: VOLV-B) and Apple (NASDAQ: AAPL).[16]
But no matter how many precautions are taken, illegally mined cobalt may make its way into supply chains…
Similar to how gold is sold on the black market, there exists comparable informal trading networks for cobalt. It is often sold to middlemen in the DRC, then smuggled out of the country and sold to brokers in the Middle East and China, where its production history can be forged.[17]
There are other issues related to supply as well, as cobalt is "almost always produced as a by-product of copper and nickel." [18] In 2017, about 70% of cobalt was mined as a copper by-product and 29% as a nickel by-product. [19] If these other elements are seeing low prices, then cobalt production slows as well.
These complications point to one thing…major supply shortages are certainly coming soon.
Experts Warn That Cobalt is Running Out!
Kurt House, an Adjunct Professor in the Energy Resources Engineering Department at Stanford University, as well as a founder of mining exploration company KoBold Metals, suggests that at current production rates, the cobalt supply will run out in 10 years.[20]
This situation has gotten even more urgent in the last 6 months, as Glencore (OTC US: GLCNF / LSE: GLEN) announced in August 2019 that they were shutting down the world's largest cobalt mine. It is located in the DRC and is responsible for 20% of the global cobalt supply.[21]
The company claims that the closure was a result of depressed metal prices, but it may also have been in response to the horrific deaths in June at the Kamoto site, among other "operational problems, legal challenges and a rift with Congo's government over a new mining code."[22]
As may have been anticipated, "prices for some cobalt products increased more than 30% in the days after the announcement," with UBS (NYSE: UBS / SIX: UBSG), a Swiss multi-national investment bank and financial services company, predicting that "prices for cobalt could jump 60% in 2020 and into early 2021." [23]
The need for cobalt becomes increasingly urgent when you consider the predicted uptick in adoption for electric vehicles (EVs).
Electric Vehicles Will Demand Even More Cobalt
EV batteries require almost 1,000 times more cobalt than a smartphone![24] This will create an even greater strain on cobalt supply, especially as corporations look to adopt "greener" and more environmentally friendly policies around transportation, which often include the implementation of electric vehicles.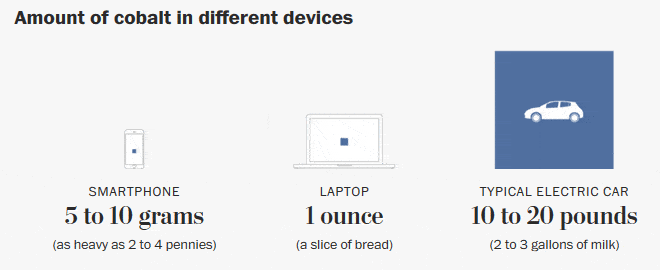 For example, in September 2019, Amazon (NASDAQ: AMZN) ordered 100,000 units of an electric delivery van produced by American start-up Rivian.[26] They intend to have 10,000 vehicles in operation by 2022, and all 100,000 vans on the road by 2030. [27]
Amazon claims "this is the largest order of electric delivery vehicles to date," and part of their "plan to achieve net-zero carbon emissions by 2040."[28]
Tesla (NASDAQ: TSLA / FSE: TL0) is also ramping up EV production but has committed to only sourcing materials from North America, although it is unclear how this goal will be achieved any time soon.[29]
They produced almost 100,000 cars in the third quarter of 2019, and if they continue production at this pace, there is simply not enough cobalt in North America to keep up with this manufacturing schedule — they will need to continue to source from other regions.[30]
Tesla Is Leading the Charge to Alternatives Batteries
Tesla has looked to adopt different kinds of batteries to minimize their reliance on Congolese cobalt and brace for shortages.
They have been working with Panasonic (OTC US: PCRFY / TYO: 6752), who are their exclusive battery cell supplier.
Over the last 6 years, they have quite impressively reduced their cobalt use by about 60%.[31] This is possible because of their current battery formulation called NCA (nickel, cobalt, aluminum) which, compared to lithium-ion batteries, uses very low amounts of cobalt.[32]
If they go any lower, however, safety and performance problems can emerge including risks of combustion.[33]
Marc Grynberg, CEO of Umicore (NASDAQ: UMICF / BXS: UMI.BR), a Belgium-based company that specializes in recycling metals and developing green energy options, thinks that "designing out cobalt…is not going to happen in the next three decades. It simply doesn't work."[34]
Panasonic announced that they were going to develop a cobalt-free battery last year, but right after this statement, it was reported that they were going to "triple [their] cobalt consumption in five years' time."[35]
Actions speak louder than words…. And it looks as if, no matter what companies are saying, cobalt is here to stay for years to come.
This leaves the cobalt market with few alternatives, besides simply trying to mine more of it outside of the DRC.
How Does Recycling Factor Into the Equation?
What is often forgotten is that cobalt is 100% recyclable — unlike other resources, including oil and gas.
Currently, about "15% of US cobalt consumption is from recycled scrap."[36] This presents a unique opportunity that may be able to help curb supply issues.
Companies like Umicore (NASDAQ: UMICF / BXS: UMI.BR) have demonstrated a sustainable business model for this, with revenues of $3.3 billion in 2018 (up 17% from the previous year).[37]
They are the world's largest recycler of precious metals and also have a large R&D department examining clean technologies, including alternative materials for rechargeable batteries.
American Manganese Inc. (TSX-V: AMY / OTC US: AMYZF / FSE: 2AM), which despite the misleading name is a Vancouver-based company, uses a patented scientific metal recycling process that allows "high recovery and purity of cobalt as well as lithium, nickel, manganese, and aluminum."[38]
They claim that their process is a "cleaner, environmentally sustainable, robust recycling alternative to current disposal methods."[39]
Even with these encouraging developments, lithium-ion batteries may just, in fact, last too long to have recycling be a major part of the supply chain.
According to Elsa Olivetti, an Energy Studies Professor at the Massachusetts Institute of Technology (MIT), "people buying [Lithium-Ion Batteries] over the next 10 years will outpace those who are getting rid of them." [40]
Increased Production in More Stable Jurisdictions
Considering the impending shortages and very few alternative options, I believe that there will be a growing urgency to develop mining projects outside of the DRC — especially in countries like Canada, which has a long-standing history with junior natural resource firms.
There are already promising companies emerging in the space, which I think should be followed closely over the next 18 months. These include Giga Metals Corp. (TSX-V: GIGA / OTCQB: HNCKF / FSE: BRR2) and Canadian Cobalt Works (TSX-V: CCW).
Both Giga and Canadian Cobalt have mining projects based in Canada (British Columbia and Ontario, respectively), and have drilled into visible cobalt. They have also both conducted metallurgical testing, indicating the potential of high-grade deposits.
I think it's worth keeping a close eye on the Canadian cobalt space, as I predict this may be one of the primary markets that suppliers will turn to in the face of political uncertainty in the DRC.
All Signs Point to More Cobalt!
It is clear that cobalt is an essential material that is needed to fuel the world's growing demand for technological advancements and devices … It's my opinion that supply will not be able to keep pace with demand.
This situation may seem dire, but I think this is the perfect recipe for a lucrative investment opportunity in cobalt.
It appears that the market has not caught on to this urgent issue, but when it does, I suspect that it will be reflected in rising cobalt prices and an increase in funding for new cobalt projects worldwide, most especially in Canada.
Make sure your laptop and smartphone are fully charged, and keep a close eye on the cobalt sector as it continues to grow.

Blake Finucane, Contributor
for Investors News Service
P.S. To discover more opportunities in the hottest sectors in North America, sign up now to the Financial News Now newsletter to get the latest updates and investment ideas directly in your inbox!
DISCLAIMER: Investing in any securities is highly speculative. Please be sure to always do your own due diligence before making any investment decisions. Read our full disclaimer here.
---
Published January 2020