Making money in the stock market isn't rocket science. Unless, that is, you're investing in, well, rocket science. Which is arguably not such a bad idea these days.
Always follow the smart money, and if it works for Elon Musk, Jeff Bezos, and Richard Branson, three of the richest men on the planet, it could work for us too. But where to start.
Billionaire investor Ron Baron, who says Tesla has made his firm 10 times its original investment, thinks SpaceX 'has a chance to be just as large.'[1]
"SpaceX I think has a chance to be just as large as Tesla."
— Billionaire Investor Ron Baron[2]
"What I want to be known as, ultimately, is not just the Tesla guy, but also the SpaceX guy," Baron told CNBC. "In the next couple years I'm going to be talking to you a lot more about SpaceX than I'm going to be able to do right now."
On a geographic basis, North America has the highest market share in the spacecraft market, primarily given the influence and sizeable space budget for the National Aeronautics and Space Administration, better known as NASA. In addition, companies in the US such as Boeing (NYSE: BA), Lockheed Martin (NYSE: LMT), SpaceX and Blue Origin are some of the more commonly recognized players that are investing in spacecraft and related technologies.[3]
Other key suppliers and related companies in the space ecosystem include Northrop Grumman (NYSE: NOC), Raytheon Technologies (NYSE: RTX), and Honeywell (NYSE: HON), just to name a few.
If ETFs happen to be your speed, then there's the Procure Space ETF (NASDAQ: UFO) — one of the few focused on the space industry. The ETF fund includes holdings in space stocks like Boeing, Maxar (NYSE: MAXR), Iridium Communications (NASDAQ: IRDM), and Airbus (OTC US: EADSY).
There's also Cathie Wood's ARK Space Exploration & Innovation ETF (BATS: ARKX), with a focus on stocks that are "leading, enabling or benefiting from technologically enabled products and/or services that occur beyond the surface of the Earth," according to the company's SEC filings.
Countdown to Opportunity
Over the past decade, investment interest in space has been headed skyward.
From 2000–2005, the industry received more than $1.1 billion in investment from private equity, venture capital, business acquisitions, awarded prizes/ grants, and public offerings. By the 2012–2017 period, the industry had received more than $10.2 billion in funding.
A number of private sector forecasters predict the space economy will continue to grow dramatically. Goldman Sachs analysts predict the sector will expand to about $1 trillion by 2040—numbers consistent with a forecast by Morgan Stanley. On the high end, analysts at BofA Securities (formerly known as Bank of America Merrill Lynch) predict the sector will surpass $3 trillion over the same period.
In the eyes of the US Chamber of Commerce, the sector will increase from approximately $385 billion today to at least $1.5 trillion by 2040. That would amount to roughly five percent of US GDP at that time, though the revenues would not all accrue to the US. This estimate is based on a growth rate of six percent per year, which is consistent with the pace of growth over the past 10 years.[4]
Last year saw the biggest private investment in the space industry to date, with space capital formation and infrastructure developing on multiple fronts...[5]
A short list of the space sectors with immediate potential would have to include Consumer TV, Radio, and Broadband; Fixed and Mobile Satellite Services; Earth Observation Services; Ground Equipment and Satellite Manufacturing; Satellite Launch Services; and, naturally, Space Debris. So there are plenty of targets coming up.
Launch Costs Go Tumbling
The rapidly decreasing cost of launch costs over the past decade largely stems from the decision of Elon Musk's SpaceX to develop a vertically integrated vehicle production line that was more reliable, adaptable, and efficient. All this enabled their development of the Falcon 9, which provides a lower cost per launch and per kg than its competitors.
Since its repeated demonstrations of reusability, SpaceX has been able to lower costs to roughly a third of that of its competitors.
Given these reductions in launch costs, the barriers to entry for the broader space industry have fallen drastically. While the largest multinational companies have long been able to deploy satellites in a range of orbits, the changing cost structure for space launch is enabling access to space for a wider range of companies and organizations.
This disruption or "democratization" of space as a new resource for these companies, instead of just a few select players, is fundamentally changing the commercial landscape.[6]
It's All About the Data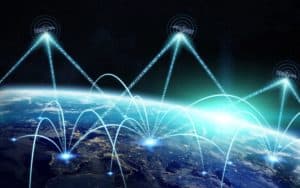 I've said it before, and I'll say it again. The most valuable commodity in the universe is data you gain and can learn from. And that's what the space industry promises to deliver in abundance.
According to Morgan Stanley, new access to satellite data is revolutionizing our approach to a myriad of environmental, social, and economic problems back on earth.[7]
"The demand for data is growing at an exponential rate, while the cost of access to space (and, by extension, data) is falling by orders of magnitude," states the firm. "We believe the largest opportunity comes from providing internet access to under- and unserved parts of the world, but there also is going to be increased demand for bandwidth from autonomous cars, the Internet of Things (IoT), artificial intelligence, virtual reality, and video."
Am I reading into the upcoming 5G revolution about to transform our world? Here on earth, we are just getting the 5G rollout happening, while bringing together multiple technological advancements far greater than the internet itself. More on this later…
In fact, as data demand surges—a trend driven particularly by autonomous vehicles—Morgan Stanley estimates that the per-megabyte cost of wireless data will be less than one percent of today's levels.[8]
Consider the disruption that alone creates, and imagine the opportunities to profit from that disruption.
Beyond the Constellation of Breathless Hand Waving
While so much of what you hear is pie-in-the-sky (forgive the double entendre), there are surely some very immediate and tangible investment opportunities in building the networks of satellites required to gather and deliver the goods.
"In many cases, satellites are the essential part of the infrastructure," said Andrew Chanin, co-founder and CEO of Procure AM, the firm behind space investment ETF, UFO (NASDAQ: UFO).
"They're operating as the digital data superhighway toll operators. So if you expect there's going to be a data explosion, satellites might be one of these more overlooked areas that are essential components in this infrastructure."
For investors looking to invest in the space industry now, satellite communications offers the highest number of pure-play public companies. Consider, for example, DISH Network (NASDAQ: DISH), which owns and operates a fleet of direct broadcast satellites. DISH used to be a service provided by EchoStar (NASDAQ: SATS), another company that provides several communications services beyond just broadcast television.
Viasat (NASDAQ: VSAT) and Loral Space & Communications (NASDAQ: LORL) both focus on broadband services, including internet, via large satellites that orbit in a fixed position but far away from the Earth to cover as much area as possible.
A growing number of satellite companies are looking to offer Internet of Things (IoT) communication services. ORBCOMM (NASDAQ: ORBC) markets itself as one of the leading providers in that niche. And, in the often-overlooked but critical business of ground stations, Gilat Satellite Networks (NASDAQ: GILT) specializes in transportable and relatively small antennae.
Creating New Constellations
The race is on to build extensive networks of hundreds or even thousands of small satellites to provide high-speed internet.
A group of satellites are often known as "constellations," but the plans of SpaceX, OneWeb, Telesat and more would launch so many satellites that they're being called "megaconstellations."
OneWeb (still private) defines themselves as a global communications network powered by a constellation of 650 Low Earth Orbit (LEO) satellites. Headquartered in London, OneWeb is enabling high-speed, low-latency connectivity for governments, businesses, and communities everywhere around the world.
OneWeb's satellites, together with a network of global gateway stations and a range of user terminals, will provide an affordable, fast, high-bandwidth, low-latency communications service connected to the IoT future, and a pathway to 5G for everyone, everywhere.
OneWeb has secured global priority spectrum, has a range of "User Terminals" in development, has a confirmed launch schedule to scale the constellation, and has installed ground stations in strategic locations around the world including Norway, Portugal, Alaska, Connecticut, Florida and more...
Throughout 2021, OneWeb will test its network and conduct demonstrations with key customers as it prepares for commercial service in areas above the 50th parallel north before end of year, and globally in 2022. Will a public offering follow?
But likely the most ambitious internet constellation effort is Musk's SpaceX and its Starlink endeavor. SpaceX completed an equity funding round of $850 million in early February of 2021, people familiar with the financing told CNBC, sending the company's valuation to about $74 billion. SpaceX's latest funding round represents a jump of about +60% in the company's valuation from its previous round in August, when SpaceX raised near $2 billion at a $46 billion valuation.[9]
This latest round of investment is what I believe will support the capital-intensive phase of the operational fielding of Starlink, plus the development of the Starship launch system. In April, SpaceX clarified that they have already tested two generations of Starlink technology, with the second one having been less expensive than the first. The third generation, with laser inter-satellite links, is expected to begin being launched in the next few months and will be much less expensive than earlier versions.
Ultimately, Starlink would include as many as 30,000 satellites when completed. Could this represent a spinoff from SpaceX?
Not Always the Obvious
Still relatively modest in scale and the smallest by total market value, thanks to the past decade of private investment, the imagery and data analysis sub-sector may be the fastest to grow in the coming years.
With all of those satellites pumping out all of that data, somebody has to turn it into usable intelligence.
Chad Anderson, CEO of small New York City firm Space Angels, sees potential from companies making use of the new flood of geospatial imagery, which he described as satellites "providing information about the world around us, spatially, so we understand where things are and where they're moving."
He compared geospatial imagery today to the development of the Global Position System, or GPS, in the late 1970s. "The GPS signals from space are incredibly valuable. The geospatial intelligence signals that we're just starting to harness today are extremely valuable," Anderson says.[10]
There are several private companies focusing on different areas of imagery and data analytics. Spire Global, Planet Labs and Orbital Insight are three "high-flying venture-backed companies" that may go public soon. I'm watching these companies closely.
So what might the knock on opportunities of space exploration be? Well here's an example. The UFO ETF (NASDAQ: UFO) has recently made Trimble Inc. (NASDAQ: TRMB) its largest holding. On the surface, the company may not have a lot of investor sex appeal, but it has consistently outperformed the S&P 500 over the past one, five, and ten-year periods.
The company provides hardware and software solutions to millions of customers across some of the world's largest industries like construction, agriculture, and transportation.
Trimble's Connected Supply Chain platform, for example, helps improve fuel efficiency and safety in long-haul trucking and freight transport, providing real-time data and analytics to back-office administrators. Likewise, Trimble's Connected Farm platform optimizes agricultural workflows, helping farmers improve crop performance and profitability.
Many of Trimble's products integrate real-time positioning technologies—this includes global positioning systems (GPS) and global navigation satellite systems (GNSS) as well as systems that use laser and optical technology to establish location. Trimble also provides data collection platforms that simplify management of this geospatial information. These technologies, in particular, lend themselves to space exploration.
Seriously, This Trend Has No End…
In the past decade, nearly $30 billion in private capital has gone to space companies. Given the forecasts from multiple sources, the industry will grow steadily as far out as anybody cares to look at five percent annually plus.
If you can get past Ray Kurzweil's somewhat bombastic declarations, you might agree with him on two points.[11] First, the universe is not made of matter, nor of energy, but rather of data. Second, people generally underestimate rates of change, and mistakenly see a linear movement rather than what Kurzweil describes as a series of "S" curves.
It's fair to argue that now, with space exploration at its early stage, we have yet to see the game go "hockey stick" growth. It is also a fair bet that it could… and you'll want to be included and on board for the early launch of this extraordinary new industry developing.

Blake Desaulniers, Contributor
for Investors News Service
P.S. To discover more opportunities in the hottest sectors in North America, sign up now to the Financial News Now newsletter to get the latest updates and investment ideas directly in your inbox!
DISCLAIMER: Investing in any securities is highly speculative. Please be sure to always do your own due diligence before making any investment decisions. Read our full disclaimer here.
---
Published April 2021